DeGeneres plays key role in making Oscars a hit (see for your selfie)
03/03/14 11:21 AM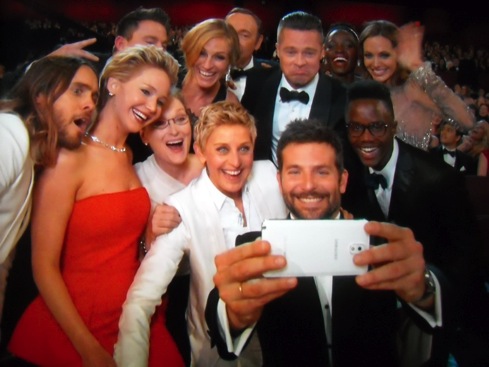 The selfie seen 'round the world on Oscar night. Photos: Ed Bark
By ED BARK
@unclebarkycom on Twitter
And the selfie goes to . . .
Never mind what else happened on Oscar night. Host Ellen DeGeneres and her successful effort to set a world photo retweet record is emerging as perhaps the most talked-about winner.
Not only that, "we have crashed and broke Twitter," she boasted from the stage after earlier wading into the audience for a star-studded group shot taken by Bradley Cooper. "We have made history. It has the most retweets ever." The total reportedly is
more than 1.3 million and counting,
nearly doubling the previous record of 780,000 on President Obama's 2012 re-election night.
Networks and awards-givers will do just about anything necessary to be social media darlings in times when live tweeting and Facebook posting are keys to both sustaining and keeping an audience. Holding a crowd's attention can be extra-important when the major winners are all pretty much as expected. Which is what happened on ABC's three-and-a-half hour Oscar-cast.
The network certainly is more than pleased with the morning after national Nielsen ratings. They say that Sunday's ceremony averaged 43.7 million viewers, making it the most-watched telecast in 10 years. (The boffo D-FW numbers for Sunday's telecast are
posted here
.)
ABC also notes that the 11.2 million tweets for this year's Oscars "out-paced last year by 75 percent." DeGeneres' overall likability obviously had something to do with that, particularly after the 2013 host, Seth MacFarlane, offended many with routines on Jews in Hollywood and stars who had showed their "boobs" on film.
Watching the Oscars a second time this morning -- after a night of live, shoot-from-the-mouth tweeting -- made me more appreciative of DeGeneres' minimalist comedy. As noted Sunday, she got off to a strong start with an amusing monologue that refreshingly came and went without any song and dance numbers or a set-up comedy film. Poor Liza with a Z absorbed her sharpest barb while seated in the audience. "One of the most amazing Liza Minnelli impersonators," DeGeneres cracked. "Good job, sir."
The humor generally was gentler, though. Riffing on nominee Jennifer Lawrence's trip-ups last year (en route to accepting her Oscar) and this year (on the red carpet), DeGeneres said, "If you win tonight, I think we should bring you the Oscar."
DeGeneres' recurring visits to the audience were her go-to gambit all night. Some of these fell flat. But the group selfie turned out to be a masterstroke after a rather awkward, elongated setup. Buying pizza for the hungry millionaires in attendance also proved to be a workable bit once an everyday delivery guy showed up with three pies. Watching Brad Pitt pass around plastic plates and gruff Harrison Ford likewise play along were more than DeGeneres could have expected. "Found" comedy is the best -- as long as one doesn't have to keep searching for it.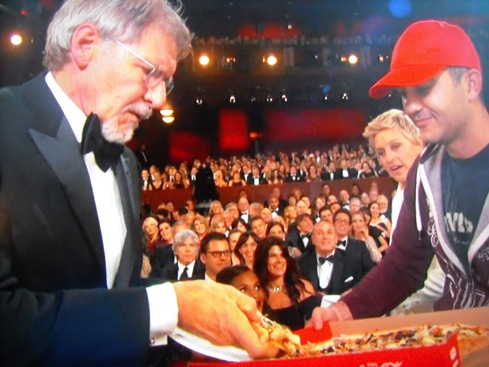 Harrison Ford preferred to have his slice fully loaded.
DeGeneres at times struggled with the TelePrompTer when she wasn't just winging it. But others had worse times, including presenter/introducers Zac Efron and most notably, John Travolta.
Introducing a performance of the eventual Oscar-winning song, "Let It Go" from the animated film
Frozen
, Travolta somehow came up with the name "Adele Dazeem" -- or something like that. The singer's name actually is Idina Menzel. You say tomato, Travolta says rutabaga.
Presenter Bill Murray worked in a nice ad lib tribute to the recently deceased Harold Ramis, mentioning
Ghostbusters, Caddyshack
and
Groundhog Day
among his many accomplishments. And Bette Midler belted out an affecting "Wind Beneath My Wings" after the annual montage of the dead, which began with James Gandolfini and ended with Philip Seymour Hoffman.
Matthew McConaughey, clean-sweeping the Golden Globes, Screen Actors Guild awards and Oscars for his lead role in
Dallas Buyers Club
, gave an entirely different acceptance speech each time out. On Sunday night, he first thanked God, "because that's who I look up to. He has shown me that it's a scientific fact that gratitude reciprocates." And so on.
The Twitter-verse typically took polar-opposite sides, with mostly either effusive praise or total damnation. Said one naysayer: "Just stop the stupid God talk."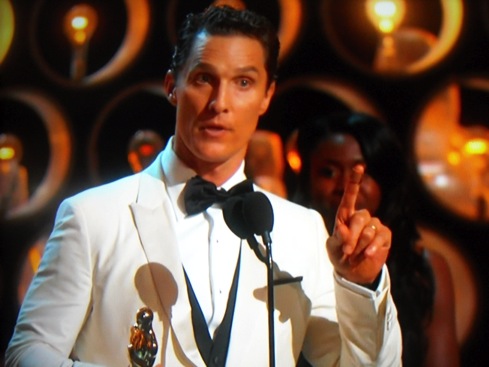 Best actor Matthew McConaughey testifies during acceptance speech.
Earlier on Oscar night, McConaughey proved to be a perfect gentleman while presenting with the now 81-year-old Kim Novak, who in recent years has survived both a fall from a horse and breast cancer. She is most famous for the classic Alfred Hitchcock film
Vertigo
.
"Glad to be here. It's been a long time," Novak said in part while McConaughey stood supportively by her side without ever cracking wise or looking askance. But the snarky tweets quickly piled up, including this one from Donald Trump: "Kim should sue her plastic surgeon!" Let a guy with hair like Trump's be the last to throw stones.
But Twitter's Tower of Babble -- mine included -- is what increasingly spikes the audiences for live "event programming." Sunday's Oscar-cast, with its star-studded selfie an additional driving force, gave both ABC and the Academy of Motion Picture Arts & Sciences ample reason to invite DeGeneres back. Her missteps will be forgotten when compared to the "genius" of arranging a picture with the likes of Brad Pitt, Meryl Streep, Jennifer Lawrence, Bradley Cooper, Jared Leto, Kevin Spacey and Ellen herself all in one big happy gaggle where everyone's a winner.
GRADE:
B
Email comments or questions to:
unclebarky@verizon.net