Viewers should get engaged with NBC's Marry Me
10/13/14 01:00 PM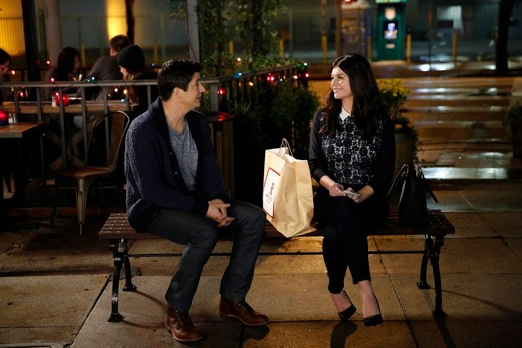 Ken Marino and Casey Wilson of new comedy Marry Me. NBC photo
Premiering:
Tuesday, Oct. 14th at 8 p.m. (central) on NBC
Starring:
Casey Wilson, Ken Marino, John Gemberling, Sarah Wright Olsen, Tymberlee Hill, Tim Meadows
Produced by:
David Caspe, Seth Gordon, Jamie Tarses
By ED BARK
@unclebarkycom on Twitter
As sitcom setups go, the opening minutes of NBC's
Marry Me
may be the best you'll see this season -- on a new
or
returning series.
It's a brilliantly conceived rant and recant introduction of principal characters Jake and Annie (Ken Marino, Casey Wilson). They've just celebrated six years together with a vacation in Mexico. But at age 32, she's tired of waiting for him to pop the key question. So upon return it's hell to pay -- but in ways she never imagined.
Wilson and
Marry Me
creator David Caspe previously collaborated on ABC's
Happy Ending
, which
basked in favorable reviews
but didn't cut it with enough viewers. They're now married in real life, and this new series is a loose adaptation of the run-up to that. Annie is volatile and gabby, Jake is calmer and less verbal. But as he tells her in Tuesday's premiere episode, "I need your explosions. You challenge me."
A flashback scene to the night they first met is brief and to the point. And there's not a speck of narration, which has been much over-used this season in an effort to dodge the bigger challenge of writing strong character dialogue.
Although more distinctive than derivative,
Marry Me
still can't escape fall's invasion of the shlubby bearded buddy. Which means that Jake's best pal is the divorced Gil (John Gemberling), who's needy, adrift and equipped with "a body like a bag of ground beef."
The pilot episode made available for review still has two f-bombs intact (they'll be bleeped or removed entirely) and a sucker punch of a line that goes like this: "We literally cannot get away from each other. We're like Paula Deen and the n-word."
Jake's widowed mom, Myrna (played by the estimable JoBeth Williams), will be a recurring character. Annie has two dads, "Kevin One" and "Kevin Two" (Tim Meadows, Dan Bucatinsky). "I am a product of an egg from a lesbian my dads no longer speak to," Annie says by means of explaining her oft-combative attitude toward moms at large. Birth by artificial insemination apparently can be a bitch sometimes.
Marry Me
runs a solid second to ABC's
black-ish
in the informal competition for best new comedy series of the fall season. Episode 1 gets off to a terrifically inventive start, with Wilson and Marino teeing things up before further hitting their grooves apart from one another. Paired with the welcome second season return of
About A Boy
, it gives NBC a smart and engaging comedy duo.
GRADE:
B+
Email comments or questions to:
unclebarky@verizon.net