Lifetime's Flowers in the Attic accentuates the development of onetime Mad Men tyke
01/16/14 11:15 AM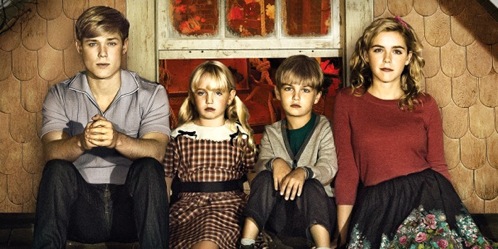 Kiernan Shipka continues coming of age in Flowers in the Attic.
Lifetime photo
By ED BARK
@unclebarkycom on Twitter
Kiernan Shipka's maturation on
Mad Men
, from little girl to resentful, searching tween, accelerates at high speed in the Lifetime movie
Flowers in the Attic
.
It's not a full-blown Miley Cyrus transformation. But Shipka clearly has bloomed beyond the point of being seriously considered for any
Polyanna
remakes. Her character's growing sexuality instead is one of the focal points of this twisted tale adapted from the same-named 1979 bestselling novel by V.C. Andrews. It premieres on
Saturday, Jan. 18th at 7 p.m. (central)
after a 1987 go-around as a feature film starring Louise Fletcher, Victoria Tennant and Kristy Swanson.
Elements of
Grey Gardens, Mommie Dearest, Whatever Happened to Baby Jane?
and even
The Diary of Anne Frank
creep into this melodrama about four kids entrapped for years in a gothic mansion by both their duplicitous mother and demonic grandmother. The whole enterprise is alternately laughable and affecting without committing the eighth deadly sin of being boring.
The Dollanganger family -- mom, dad and their four children -- initially is sunlit and almost ridiculously happy. Dad Christopher (Chat Willett) has a job that requires him to travel a lot, which makes oldest daughter Cathy (Shipka) a little blue at times. But he's otherwise a beaming, caring provider whose world revolves around the kids and wife Corrine (Heather Graham). Then comes the inevitable off-camera car accident that leaves the rest of the Dollangangers in deep debt. Dad's not coming home anymore, and the home itself is ripe for foreclosure.
"Look at me. I'm an ornament. The only thing I was ever good at was being pretty," Corinne laments. Her fallback plan is to uproot the family and move to Virginia's stately Foxworh Hall, home of her "unbelievably wealthy" parents. But they had a nasty falling out a long time ago, so some fence-mending will be necessary before Corinne can be written back into her family's will.
It's quickly evident that this will be a slow process. "Well, look what the cat dragged in," Corinne's mother, Olivia (Ellen Burstyn), says in the way of a greeting. Furthermore, "Your groveling has always bored me."
Cathy, her older brother, Christopher (Dylan Bruce), and little tyke twins Cory and Carrie (Maxwell Kovach, Ava Telek) are assured by their mom that being sequestered in a locked upstairs room with access only to the attic will be just a brief inconvenience. Before they know it, Corinne will win her sickly father over and reclaim her inheritance. This turns out to be not true. But during the long course of the kids' incarceration, they'll learn why their mother had that big falling out with her parents. And why Corinne's father can never know they even exist, let alone live under the same roof.
It all seems fairly preposterous until one takes into account that stranger things have happened in real life. Including those heinous Cleveland kidnappings of three young girls by the sub-human Ariel Castro, who subsequently hanged himself in his cell.
Burstyn's fanatical Olive Foxworth, with a growing assist from her greedy daughter, is the principal despot of
Flowers in the Attic
. The Oscar-winning actress (for 1974's
Alice Doesn't Live Here Anymore
) has been stuck with playing hissing evil-doers in her autumn years.
In
Flowers in the Attic
, she doles out punishment by lashing "sinners" with a switch. Her only lapse into human kindness is giving the kids "some real flowers for your fake garden" -- in the attic. Joan Crawford is jealous -- even from the grave.
Meanwhile, the Dollanganger siblings observe a makeshift Christmas -- the first without their father -- and eat daily from a common food basket filled with pretty much the same daily meals. Cathy and Christopher grow to have other appetites as well. The movie attempts to sensitively portray their growing physical attraction toward one another. But many viewers may still get the creeps as the story begins dividing its time between forbidden sexuality and escape plans.
The door is left wide open for a sequel. And author Andrews indeed wrote a series of five novels about the Dollanganger and Foxworth family dynamics.
Flowers in the Attic
might be best remembered, though, as another step in the process of Kiernan Shipka becoming an actress who may very well do some great things in a career that's still just barely begun. She's 14 now and still very much feeling her way. But
Mad Men's
little Sally Draper already seems like a long time ago.
GRADE:
B-minus
Email comments or questions to:
unclebarky@verizon.net