New fall season: ABC boldly tries to make magic with Once Upon A Time
10/19/11 09:37 PM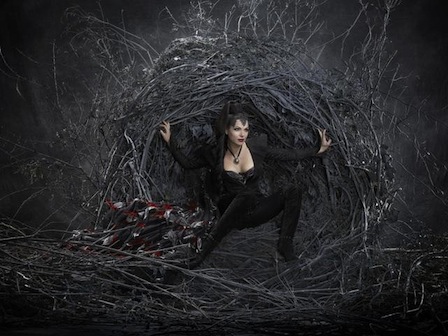 The Evil Queen weaves her pre-Internet web. ABC photo
Premiering:
Sunday, Oct. 23rd at 7 p.m. (central) on ABC
Starring:
Jennifer Morrison, Ginnifer Goodwin, Lana Parrilla, Josh Dallas, Robert Carlyle, Jared Gilmore, Jamie Dornan, Raphael Sbarge
Produced by:
Edward Kitsis, Adam Horowitz, Steve Pearlman, Mark Mylod
By ED BARK
Fairy tales can come true, they can happen to you -- not once but twice in the coming week.
NBC was supposed to be first in line with
Grimm
, but delayed its announced Friday, Oct. 21st premiere by a week to be closer to Halloween.
That leaves ABC to sally forth with
Once Upon A Time
, which probably also should have been pushed back a week -- to Halloween Eve. Instead the network's most interesting and adventuresome new fall series will be going against Fox's scheduled Game 4 of the World Series and NBC's
Sunday Night Football
. Not exactly optimum scheduling for your final autumn newcomer.
Once Upon A Time
can be a little tough to explain on paper, even though its past to present to past to present, etc. format is pretty easily grasped through the course of Sunday's premiere. But for the record, here's ABC's opening on-screen setup: "Once upon a time there was an enchanted forest filled with all the classical characters we know. Or think we know. One day they found themselves trapped in a place where all their happy endings were stolen. Our world. This is how it happened . . ."
For starters, a period Prince Charming (Josh Dallas) is seen racing into a snowy forest in search of Snow White (Ginnifer Goodwin). He finds her seemingly dead and surrounded by seven rather gnarly looking dwarfs. But as in the timeless tale, his kiss arouses her and in the next scene they're being married. Then a buzz-killing, black-leathered, cleavage-flaunting Evil Queen (Lana Parrilla) busts in to inform everyone that "I shall destroy your happiness, if it is the last thing I do."
These recurring fairy tale scenes are sumptuous to behold, giving
Once Upon A Time
a money-on-the-screen luster that you just can't get from all those spangly costumes on ABC's
Dancing with the Stars
. They time-share with the present-day, in which an orphaned bail bonds collector named Emma Swan (Jennifer Morrison) feels lonely and unfulfilled on her 28th birthday, part of which she spends duping a crook into a blind date at a sumptuous restaurant.
Emma is fated to meet 10-year-old Henry (Jared Gilmore), a plucky lad who also happens to be the son she gave up for adoption during a bad time in her life. The kid lives in Storybrooke, Maine, and also has a storybook that purports to spell out the details of how Emma is destined to save the world or die trying.
OK, maybe you're confused again. But this is fairly "plausible," at least as far as fairytales go. Storybrooke's inhabitants include modern-day versions of Snow White, Rumplestiltskin, Jiminy Cricket and other time travelers who have forgotten just who they are. But the Evil Queen, now in the form of Henry's unbending stepmother, seems to know exactly who she is. And she's still bent on having the one and only happy ending.
Emma, by the way, is the daughter of Snow White and Prince Charming. And as a newborn, she at least temporarily ruined the Evil Queen's nefarious plans by being magically transported to the future in a hollowed-out tree trunk hastily built by another fairy tale staple, Geppetto. Not that the adult Emma is completely aware of any of this. And so the story goes, with even Tinkerbelle dropping in to lay out an escape plan.
Fans of the fantastical can do far worse than
Once Upon A Time
, which manages to both stir the pulse and please the senses with its beautifully imagined medieval times. In a season that charitably can be called lackluster -- at least on the five major broadcast networks -- here's a bold effort to stand out from the pack. It'll be interesting to see how -- and how well -- it all plays out.
GRADE:
B+