NEW SEASON: CW's Hellcats bounces into view as yoo rah replica of -- "Gimme a G"
09/07/10 02:35 PM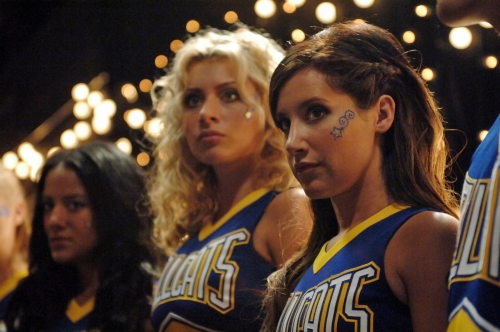 Aly Michalka (center), Ashley Tisdale of Hellcats. CW photo
Premiering:
Wednesday, Sept. 8th at 8 p.m. (central) on The CW
Starring:
Aly Michalka, Ashley Tisdale, Sharon Leal, Heather Hemmens, Robbie Jones, Matt Barr, Gail O'Grady
Produced by:
Tom Welling, Kevin Murphy, Allan Arkush
By ED BARK
Bootys are shaken -- after first being stirred -- on The CW's new
Hellcats
.
That may be reason enough for many to watch this first new fall series out of the chute. Trailing Wednesday's season premiere of
America's Next Top Model
, it's an abs 'n' ass answer to Fox's
Glee
. Instead of the occasional upbeat show tune or heartfelt ballad, viewers get a writhin', tumblin', sweat-poppin' college cheerleader tryout to "Popstar" by Pretty Little Problem.
In other words, "Cheer, Cheer for Old Notre Dame" has been supplanted by "Party like a rock star, shake it like a porn star." All on an academic scholarship, too, with coach Vanessa Lodge (Sharon Leal) willing to roll with the flow if it'll keep her program alive.
The principal Hellcats are pert 'n' peppy team captain Savannah Munroe (Ashley Tisdale segueing from her claim-to-fame Sharpay Evans role in the
High School Musical
movies) and incoming, 'tude-copping Marti Perkins (Aly Michalka). She's a pre-law student at Memphis' fictional Lancer University, where the sudden cancellation of her scholarship calls for desperate measures such as trying out for a vacant position as a, sniff, "football groupie."
"I'm not gonna let some grubby little goth insult the Lancer Hellcats," Savannah fires back. So it's on, even though Savannah at heart is a sweetie pie who later welcomes Marti as her roommate in the "Cheertown" dorm. Would she like wooden or padded hangers? Savannah has stocked their closets with a nice supply of both.
Marti's best pal, Dan Patch (Dallas native Matt Barr), happens to have the same name as a renowned turn-of-the-20th century,
champion harness horse
. But The CW's target audience of 18-to-34-year-old women is highly unlikely to know this. Just as Uncle Barky was ignorant of Pretty Little Problem's repertoire until googling. So it's a draw.
Both Dan and Marti have a strong aversion to cheerleading -- until she learns there's scholarship money to be had at the expense of an injured Hellcat named Alice Verdura (Heather Hemmens). While her wrist mends, count on her to plot non-stop against Marti, even to the point of stealing her towel in the girls' shower room. This leaves Marti in a fix until Alice's ex-boyfriend, sculpted Hellcat Lewis Flynn (Robbie Jones), comes to the rescue with a very odd bit of gamesmanship.
"Does this look crooked to you?" he asks after exposing himself to some leftover males in the locker room. "I think I might have slept on it wrong."
For some reason they flee in horror, acting as though they've just seen a giant predatory gila monster. This allows Marti to emerge from hiding.
Hellcats
doesn't have a sinister Sue Sylvester -- at least not yet. It does have an embarrassing mother, though. Gail O'Grady (
NYPD Blue, American Dreams
) is back in harness as Wanda Perkins, a sloppy drunk who means well but makes her daughter want to run as though she's just seen a giant predatory gila monster.
As in
Glee
, the cheerleading competitions are threatened with extinction by funding cutbacks. So only by qualifying for Nationals can the Hellcats save themselves from being restricted to a mundane existence of merely jumping up and down at football games. And to be spared that fate, they'll have to out-booty vaunted Memphis Christian. In God we thrust.
One of
Hellcats'
executive producers is
Smallville
star Tom Welling, who soon will embark on his final season of playing Superboy turned Superman. This may seem like an odd choice for his first behind-the-camera excursion. But there are plenty of tight-fitting costumes. And Marti has been designated as the new featured "flyer."
Both Michalka and Tisdale act and cavort with vigor. So although
Hellcats
is patently ridiculous, it also seems largely harmless. As for higher education, viewers can learn en route to next week's big competition episode that Ronald Reagan, Meryl Streep, Katie Couric and Ruth Bader Ginsburg all were once cheerleaders.
So too was the late mega-producer and Dallas native Aaron Spelling (
Dynasty, Charlie's Angels, Beverly Hills 90210
, etc), who if he were alive today might be making a series just like
Hellcats
. Bet he'd find a role for Tori, though.
GRADE:
C+