ABC's Lucky 7 hits it big once, but will need to do so twice
09/23/13 04:40 PM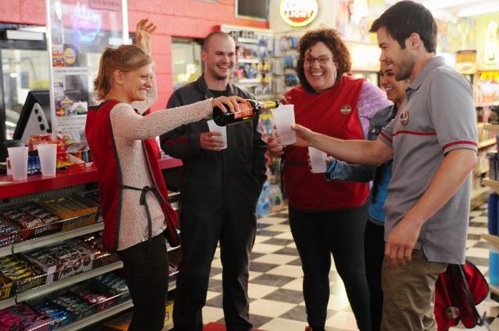 Lottery winners toast their good fortune in Lucky 7. ABC photo
Premiering:
Tuesday, Sept. 24th at 9 p.m. (central) on ABC
Starring:
Matt Long, Summer Bishil, Lorraine Bruce, Isiah Whitlock Jr., Luis Antonio Ramos, Alex Castillo, Christine Evangelista, Stephen Louis Grush, Anastasia Phillips
Produced by:
David Zabel, Jason Richman, Steven Spielberg, Darryl Frank, Justin Falvey
By ED BARK
@unclebarkycom on Twitter
Institutional memories tend to be short-term at TV networks other than CBS.
So it's probably a pretty safe bet to assume that ABC entertainment president Paul Lee has no recollection of his network's
Lottery
, which dared to go directly against
Dallas
during the height of its powers in fall 1983. Its number was soon up.
Lottery
was an anthology series, with new stories of new winners told each week. The majority of them were up against it before millions of dollars came into their ordinary lives. How they dealt with these windfalls filled up the rest of the weekly episodes after one and all were first surprised by a genial representative of Ireland's "Inter-sweep Lottery."
ABC's
Lucky 7
, based on a hit British series called
The Syndicate
, is similarly premised but with the same core characters week to week. They all work at the Gold Star Gas N' Shop, a Queens, NY establishment where customers also can get lube jobs.
The highly benevolent store manager, Bob Harris (Isiah Whitlock, Jr.), learns in the early going that his employees may all lose their jobs if a corporate takeover comes to pass. It's a good thing then that everyone -- well, almost everyone -- has been chipping in to play the weekly, seven-number Empire State Lottery, whose jackpot has grown to $45 million.
Without saying who's left out, let's look at the rest of the players -- other than the aforementioned Bob.
***
Matt Korzak (Matt Long) could really use some hard cash to get his nearly due pregnant girlfriend (Christine Evangelista as Mary Lavecchia) and their existing son out from under his opinionated mother's roof. Mary just can't take it anymore and is threatening to move in with her sister after the new baby arrives.
***
Nicky Korzak (Stephen Louis Grush) is an ex-con who served two years for grand larceny. Now he's being leaned on by thugs to whom he owes money. Let's just say that a desperate plan goes awry, plunging both Nicky and his accomplice brother, Matt, into potentially deep waters.
***
Denise Dibinsky (Lorraine Bruce), the store cashier, is overweight, overwrought and hasn't had sex with her husband in five years. Hmm, what's he up to?
***
Antonio Clemente (Luis Antonio Ramos) is the kindly, dedicated mechanic whose wife, Bianca (Alex Castillo), and their three kids remain the loves of his life.
***
Samira Lashari (Summer Bishil), second generation Pakistani immigrant and daughter of a cabbie, yearns to go to Juilliard. That would have been impossible. But now . . .
***
Leanne Maxwell (Anastasia Phillips), a single mother, has the requisite problematic past, which of course she'll try to keep hidden.
Lucky 7
is easily the most ethnically diverse new show of the fall season. And after working out a few premise-setting kinks, it also may be nigh impossible to watch just one episode. There's a pretty strong pulling power here, with relatable characters in non-glamorous surroundings suddenly striking it rich before meeting a media horde at episode's end.
What will they do with all that moolah? Who, if anyone, will break bad? How does the character on the outside looking in cope with what might have been? Or will he/she be richer for
not
sharing in the financial spoils?
As the last in line on ABC's all-new Tuesday night,
Lucky 7
has the initial earmarks of an intriguing sociological experiment. How long it can keep paying off is the major iffy question. In the British version, the cast has flipped over in each of the first two seasons, which respectively ran for just five and six episodes. The producers of
Lucky 7
say they want to keep the entire core cast intact from season to season.
The odds of being able to do that in a believable, sustaining way may be longer than actually winning a multi-million dollar lottery. But for now,
Lucky 7
is a grabber with strong potential for further viewer investment.
GRADE:
B
Email comments or questions to:
unclebarky@verizon.net