Star Melissa Peterman makes the best of CMT's shopworn Working Class
01/27/11 02:39 PM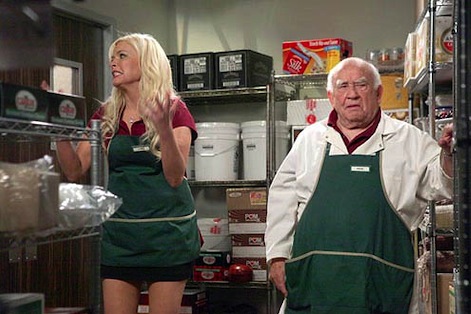 Melissa Peterman and Ed Asner have a deli moment. CMT photo
Premiering:
Friday, Jan. 28th at 7 p.m. (central) on CMT
Starring:
Melissa Peterman, Ed Asner, Steve Kazee, Patrick Fabian, Laughlan Buchanan, Courtney Merritt, Cameron Castaneda
Produced by:
Jill Cargerman, Bryan Johnson
By ED BARK
This old-timey sitcom thing is already starting to get a little -- old.
TV Land went for broad retro laughs last season with
Hot In Cleveland
, whose Betty White-powered success spawned this month's premiere of the very like-minded
Retired At 35
.
Country Music Television (CMT) took full notice and now is launching its first-ever scripted sitcom. Episodes 1 and 2 of
Working Class
, co-starring former
Reba
regular Melissa Peterman and Ed Asner in full grimace, give it the old hee-haw in back-to-back fashion Friday night.
You'll likely guess every development at least a minute or two beforehand. But Peterman's enthusiasm for her role is tangibly contagious, making it possible that a decent percentage of opening night viewers might RSVP in the affirmative to this show's overall "Ya'll come back, ya hear" motif. Besides, next week's third episode will have guest appearances by both Reba McEntire and John Schneider. Wouldn't wanna to miss that, now would ya?
Peterman is a big ol' ball of fire as Carli Mitchell, a twice-divorced single mom who's hard-pressed to provide for kiddoes Scott, Pam and li'l Will (Laughlan Buchanan, Courtney Merritt, Cameron Castaneda).
"I'm payin' bills. You guys eat. I'll eat -- next year," Carli tells her offspring in an opening kitchen scene that soon finds her trying to secretly water down the milk again.
Carli's layabout, but good-natured brother, Nick Garrett (Steve Kazee), for some reason is allowed to live rent-free in the family's convincingly ramshackle home. His next effort to help make ends meet is to go out drinking with an old high school pal named Buddy. For some reason, Carli's perfectly OK with this, resisting any urges to hit him alongside the head with that watered-down milk jug.
Cut to the Parker Foods deli section, where Carli works the counter with grumpy Korean War vet Hank Grezniak (Asner). His first words are aimed at a pampered little dog residing in a stick-thin customer's hand bag. She feeds him sweets.
"I know that mutt," Hank grouses. "Damn thing craps cupcakes." A minute or two later, Hank tells Carli that it's still "not too late to land a sugar daddy." Told that she first needs to feel a "spark," he grinds her gears with this one: "Oh grow up. You want a spark? Chew on a lamp cord."
Arrgh, it's pretty sad to see Asner this way. His crusty demeanor was dead-on funny in those gloried Lou Grant days. Now it's just off-putting, with the multiple Emmy winner looking dissipated and more than a little desperate to still feel wanted in a small-screen setting. Betty White is one thing, but Ed Asner is quite another. His voice work in
Up
was terrific. This outing is anything but.
Peterman soars above her
Working Class
environment, though, whether eager to please a man who turns out to be her boss or fending off the advances of Buddy in Episode 1 and a dentist who's well-played by guest star Ryan Stiles (
The Drew Carey Show
) in Friday's second half-hour. She even gets away with saying, "And I love you -- as a buddy -- Buddy."
Otherwise there's not all that much to like.
Working Class
pumps the laugh track with the vigor of a loan shark's deal-closing handshake. Its situations and denouements are reliably musty remnants from the days when sitcoms such as
Who's the Boss?
and
Empty Nest
stuck to the wall in one season after another.
There can be a certain comfort in turning back that clock. But for the most part, that's what reruns are for. In this case, Peterman merits an upgrade. For now, though, she carries
Working Class
on her back, straining to make this material come alive and coming amazingly close to actually pulling it off.
GRADE:
C+