Mad Men takes it easy with leisurely Season 5 start
04/01/12 10:47 PM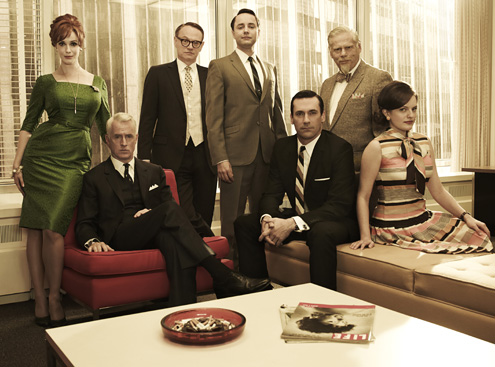 Cast members of Mad Men and their oft-used ashtray. AMC photo
Season 5 premiere:
Sunday, March 25th at 8 p.m. (central) on AMC

Starring:
Jon Hamm, Vincent Kartheiser, Elisabeth Moss, January Jones, John Slattery, Christina Hendricks, Kiernan Shipka, Jared Harris, Jessica Pare, Aaron Staton, Rich Sommer, Robert Morse

Produced by:
Matthew Weiner


By ED BARK

After a prolonged fall/winter/spring/summer/fall/winter hibernation, Mad Men at last awakes to new dawns for most of its main characters.

What else can be safely said in light of creator/executive producer Matthew Weiner's severe allergic reaction to "spoilers" of any kind? Let's try five little words: "Zoo Be Zoo Be Zoo."

They're not to be taken lightly in Sunday's two-hour Season 5 premiere of the series that put the AMC network on the map as a maker of Emmy caliber dramas. Even though the here and now tells us that AMC's The Walking Dead now greatly out-paces Mad Men in viewer popularity. It premiered on Halloween night, 2010, two weeks after Mad Men's Season 4 finale shocked the faithful with Don Draper's out-of-nowhere marriage proposal to his secretary, Megan Calvet.

Will he or won't he follow through? This central question is answered early on in an episode whose otherwise leisurely pace at times resembles a zombie's halting gait. The fashions are still smashin' and the image-makers continue to jockey for position at the still struggling Sterling Cooper Draper Pryce ad agency. But there's next to no urgency in play, at least during these first two hours. Even some devotees might get just a little itchy. Not enough to change the channel, though.

So how much time has passed between the October 1965 end point of Season 4 and Sunday night's restart? That's also supposed to be a secret, although Weiner's own devotion to detail has pretty much supplied the answer to those who want to know beforehand.

Responding to notations that Dusty Springfield's "The Look of Love" wasn't released until roughly six months after Season 5's initial time frame, Weiner said he'll remove the song and substitute another before Sunday's premiere.
Go here
if you'd like to do the elemental math after pinpointing the initial release date for the Burt Bacharach-Hal David hit.

Sunday's re-launch is book-ended -- in a rather contrived way -- by separate but related events that force a change in hiring policies by the renegade ad agency that dapper Don (Jon Hamm) forged at the close of Season 3. But it remains to be seen how much follow-through there'll be. And whether Mad Men will be able to strike the requisite delicate balance without becoming too preachy for its own good.

Other carryover questions hang in the balance. Married office manager Joan Harris (Christina Hendricks), whose husband is in the military, became pregnant after a one-night stand with philandering ad man Roger Sterling (John Slattery). What's the end result?

January Jones, who plays Don's divorced wife, Betty, had a real-life pregnancy and recently a baby boy. How much does this affect her screen time during the early stages of Mad Men's new season?

And what about the aggressively ambitious Pete Campbell (Vincent Kartheiser)? Is being married with a first child suiting him? Or is he increasingly becoming a restless apprentice Don with a collection of feigned excuses for coming home late?

The Season 5 opener also marks a pivotal birthday for Don, who's always been more of a lone wolf than a party animal. And ad woman Peggy Olson (Elisabeth Moss) remains frustrated in her efforts to make big breakthroughs at Sterling Cooper Draper Pryce.

Mad Men also finds plenty to do for middle age Britisher Lane Pryce (Jared Harris), who joined the series in Season 3 as a recurring character and now is firmly entrenched. His activities during Sunday's two hours turn out to be deliciously intriguing. Lane has come to be the series' most honorable and empathetic character, even when he's trying to be a bad boy. And Harris' performance again is a delight.

The thrill of discovery is mostly gone for Mad Men, although new converts can still start from scratch. Otherwise it's up to Weiner and his troops to provide a thrill of re-discovery while at the same time trying to meet almost impossibly high expectations.

Sunday's re-launch is hardly a major disappointment in that respect. Nor is it a slap-your-forehead triumph. As a fan from the start, I didn't love it, but liked it well enough. The Look of Love/The Nook of Like. Every great series aspires to the former but also inevitably flirts with the latter.

Resuming after more than a year and a half on hold, Mad Men has both nothing and everything to prove. Its central characters are still only as good as their last ad campaigns. And this time around, they haven't yet made the sale. Zoo Be Zoo Be Zoo.


GRADE:
B+