NBC's new fall lineup tickled by comedies, pickled by the cancellation of its fourth most popular series
05/13/12 03:32 PM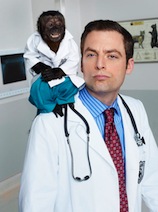 Justin Kirk, Matthew Perry will star in new fall comedies. NBC photos
By ED BARK
@unclebarkycom
NBC is primed to become a laugh factory next fall, with four new sitcoms and a grand total of 10 spread over four nights.
All of the newcomers are male-centric, with
Friends
alum Matthew Perry the most familiar face as a traumatized radio sportscaster in need of therapy.
There also are two new dramas on NBC's revamped schedule. The Peacock's Mothers' Day announcement includes an additional 10 new series awaiting midseason berths.
The musical drama
Smash
likewise is scheduled to begin its second season sometime next year, with its Monday slot after
The Voice
being taken this fall by a new futuristic drama from producer J.J. Abrams (
Fringe, Lost
).
Thanks to mega-ratings for the Super Bowl, NBC has crept up to third place among advertiser-prized 18-to-49-year-olds this season, edging out ABC while still ranking fourth in total viewers.
The Peacock's cancellation corral nonetheless is heavily stocked with last season's flops, although the axed
Harry's Law
averaged more total viewers (8.8 million) than all of NBC's returning fall series except
Sunday Night Football, The Voice
and
Smash
.
The David E. Kelley law drama additionally pulled in more than twice as many viewers per episode as NBC's reprieved
Parks and Recreation, Community
and
Rock Center with Brian Williams
. Its "crime" is that most of its audience was north of the sainted 18-to-49 demographic. This has happened many times before in the grand network scheme of things, but seldom if ever to a series that outdrew virtually everything else during what became its last season. The series starred 63-year-old Kathy Bates as caustic defense attorney Harriet "Harry" Korn. Marching orders from the AARP haven't yet been issued.
Joining
Harry's Law
in NBC's cancellation heap are
Awake, Bent, Best Friends Forever, Are You There, Chelsea?, Who Do You Think You Are?, The Firm, The Sing-Off, Prime Suspect, Chuck, Free Agents
and
The Playboy Club
.
Besides
Smash
, the announced midseason returnees are
The Biggest Loser, The Celebrity Apprentice, Fashion Star
and
Betty White's Off Their Rockers
. Although they've made the fall lineup,
30 Rock
and
Community
both are getting just 13-episode orders for what are presumed to be their last seasons.
The 10 new series earmarked for midseason are divided among three comedies, three dramas and a quartet of unscripted "alternative" shows.
Here are NBC's six new fall series:
Go On
(comedy) -- Former
Friends
star Matthew Perry, who also had a recent sitcom flop with ABC's
Mr. Sunshine
, plays bereaved radio sportscaster Ryan King, whose wife recently died in a car accident. Before returning to the air, he's ordered to undergo therapy. Laughs supposedly ensue when King "hijacks" a support group.
Animal Practice
(comedy) -- Justin Kirk (
Weeds
) stars as unorthodox New York veterinarian George Coleman, whose sidelines include poker games with a capuchin monkey.
The New Normal
(comedy) -- Bryan and David, a gay Beverly Hills couple, call on a single mother with a "checkered past" to be the surrogate mother of their first child. The two leads are played by Andrew Rannells (
Girls
) and Justin Bartha (
The Hangover
).
Guys with Kids
(comedy) -- Three thirtysomething males become new dads while also "trying desperately to remain dudes." The executive producer is Jimmy Fallon, with a cast that includes Anthony Anderson (
Law & Order
), Jamie Lyn Sigler (
The Sopranos
) and Tempestt Bledsoe (
The Cosby Show
).
Revolution
(drama) -- All electrical power vanishes, forcing earthlings 15 years removed from the present to light candles, navigate under their own power, etc. But who's behind this blackout? Get ready for a "daring coming-of-age journey to find answers about the past in hopes of reclaiming the future." J.J. Abrams is the behind-the-camera mastermind, with Giancarlo Esposito (
Breaking Bad
) the most familiar face and name in the ensemble cast.
Chicago Fire
(drama) --
Law & Order
creator Dick Wolf has a new flame in this series about Chicago firefighters. They have their squabbles, but you know what? When it's "go-time," one and all "put aside their differences and put everything on the line for each other." Groan.
Here is NBC's night-by-night fall schedule, with trumpeting scheduled to start during the network's exclusive coverage of the Summer Olympic Games.
Monday
The Voice
Revolution
Tuesday
The Voice
Go On
The New Normal
Parenthood
Wednesday
Animal Practice
Guys with Kids
Law & Order: Special Victims Unit
Chicago Fire
Thursday
30 Rock
Up All Night
The Office
Parks and Recreation
Rock Center with Brian Williams
Friday
Whitney
Community
Grimm
Dateline NBC
Saturday
Reruns
Sunday
Football Night in America
NBC Sunday Night Football
Sunday midseason
Dateline NBC
Fashion Star
The Celebrity Apprentice
Do No Harm
These are the midseason replacement troops:
Do No Harm
(drama) -- A hugely successful neurosurgeon with "deep, dark secret" one day "wakes up disoriented in a wrecked hotel room amidst several near-naked women he's never seen before." Uh-oh, his "dangerous alternate personality" has struck again. Steven Pasquale (
Rescue Me
) stars, with another
Cosby Show
alum, Phylicia Rashad, also in the cast.
Infamous
(drama) -- A detective and an FBI agent uncover multiple layers of intrigue and subterfuge after a 32-year-old heiress/party girl is found dead of an overdose.
Hannibal
(drama) -- Presenting the early years of serial killer Hannibal Lecter, who hasn't been cast yet. None-the-wiser criminal profiler Will Graham (Hugh Dancy) partners with the fava beans afficionado to solve murders.
Save Me
(comedy) -- Already loopy in real life, Anne Heche plays a Midwestern suburbanite whose near-death experience convinces her she has a "direct line to God."
1600 Penn
(comedy) -- Jenna Elfman (
Dharma and Greg
) stars as a stepmom whose husband (Bill Pullman) is also the president of the United States. NBC describes it as "
Modern Family
meets
The West Wing
."
Next Caller
(comedy) -- Comedian Dane Cook fronts this one as a "foulmouthed satellite radio DJ" (gee, wonder who he's modeled after?) who's forced to share his mike with a "chipper NPR feminist" (newcomer Collette Wolf). And here comes old reliable Jeffrey Tambor again as part of the ensemble mix after
Bent
got sent to NBC's Boot Hill.
Howie Mandel's White Elephant
(alternative) -- He hosts a game show "based on one of the most wildly popular holiday party games in America."
Surprise with Jenny McCarthy
(alternative) -- She hosts a variety show in which commoners get "surprises of a lifetime" in order to "keep viewers laughing, crying and on the edge of their seats."
Stars Earn Stripes
(alternative) -- Nine yet to be announced celebrities will be "challenged to execute complicated missions inspired by real life military exercises." Dick Wolf (
Law & Order
) and Mark Burnett (
Survivor, The Voice
) are the hitmaking executive producers.
Ready for Love
(alternative) -- Bill Rancic and Giuliana DePandi-Rancic (
Giuliana and Bill
) host a dating game produced by
Desperate Housewives
alum Eva Longoria.
ADDENDUM:
On the day after its Sunday announcements, NBC said it has ordered yet another midseason series. It's
Crossbones
, an action-adventure pirates saga set in 1715 and featuring the notorious Blackbeard.
Arrrrgh, the network has ordered 10 episodes, with production set to begin this fall. No cast has been named yet.