Leno back among the living; NBC exhales
04/28/09 08:25 AM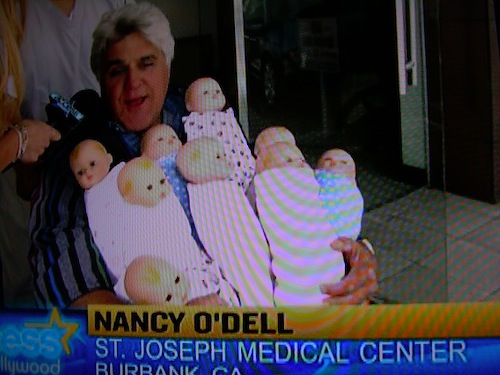 Jay Leno exits hospital before his return to Tonight. Photo: Ed Bark
By ED BARK
Jay Leno returned to his
Tonight Show
environ Monday, swine flu and octo-mom jokes at the ready.
"I ate a raw pig a friend brought back from Mexico," he said during his monologue.
But seriously folks, Leno came to work with a 103 degree fever Thursday and spent that night at St. Joseph Medical Center. He also skipped Friday's show while recuperating.
Leno's health is of no small concern to NBC, which will be bequeathing him five weekly hours of prime-time next fall after he leaves
Tonight
in the hands of Conan O'Brien, starting June 1st. Many feel that NBC is upstaging O'Brien and possibly diminishing
Tonight
by again making him Leno's followup act.
"I had a horrible dream" while in the hospital," Leno cracked. "I couldn't breathe. I felt I was suffocating. Then I woke up and realized, oh, Conan was holding a pillow over my face."
Leno also said he heard screams in an adjoining hospital room, where doctors were "trying to revive NBC's prime-time schedule."
Before re-taking the
Tonight
stage, Leno appeared in a wheelchair cradling nine baby dolls while
Access Hollywood
sycophant Nancy O'Dell asked him for comment.
"I now have the record," he crowed. "Nine kids! Take that, octo-mom!"