History channeling: a look at the first media gathering of the old/new stars of TNT's Dallas
06/13/12 09:54 AM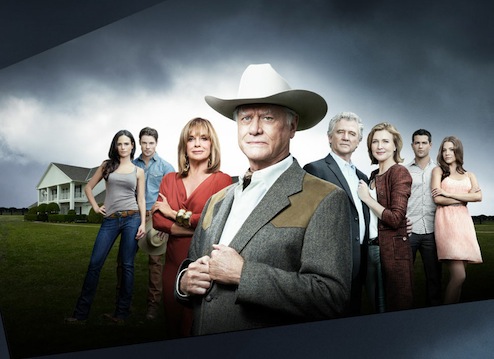 Everyone knows their place in the new version of Dallas. TNT photo
Note to readers: The reconstituted cast of TNT's
Dallas
met with the media for the first time during a mid-January session at the semi-annual TV Critics Association "press tour." We complete our trilogy of reports (a review is here and a reminiscence here) with an account of that event.
By ED BARK
@unclebarkycom
PASADENA, Calif. -- The "Big Three" of
Dallas
, as a co-executive producer dubbed them, fittingly sit front and center during a highly anticipated interview session tied to the fabled serial drama's re-launch on TNT.
Larry Hagman, Linda Gray and Patrick Duffy at times feel their ages amid the younger generation actors sharing the stage with them.
Josh Henderson, who plays J.R. Ewing's bad seed son, John Ross, remembers the original
Dallas
as his grandma's favorite TV show during the 1970s and '80s.
"I guess I was born in like Season 4 or something," he says. "I literally would run around the TV and be told to shut up while they (his family) were watching it."
Henderson later is asked how it felt to be "slapped by the iconic J.R." during a clip shown to TV writers before the cast and producers took questions from a hotel ballroom full of TV writers.
"It was an honor, actually," he says. "And I asked for more takes. I told him, 'Just go ahead and hit me.' It's amazing to see them and their characters come back to life, and to be part of it."
TNT initially has ordered 10 episodes of
Dallas
, with the completed first episode sent to "press tour" attendees several weeks before this gathering. Duffy's Bobby Ewing easily has the most screen time among the Big Three. And his opening scene health scare (to say more would be a heavy-duty spoiler) fuels much of the action to follow in the series' initial hour.
Duffy says the three originals are in every episode so far, with eight of the 10 hours already filmed on location in Dallas.
"That's why we wanted to do the show, because we're trying to tow the load as much as everybody else," he says. "The younger people have more stamina. But we're here and we're performing the functions we did in the original
Dallas
."
He then dubs Hagman the show's "Obi-Wan" before co-executive producer Cynthia Cidre emphasizes that the Big Three were never intended to be used as "bait for the new show . . . It was really to integrate them fully with the new cast."
Hagman, recently diagnosed with an undisclosed but treatable form of cancer, is mostly working half-days on the new
Dallas
. But he's still very much a key player, whether slapping Henderson's John Ross or spitting out dialogue such as "I hate to hit a man below the belt, but you know I will."
He re-booted himself as J.R. in order to "work at 80," Hagman says. "How many people do you know working at 80? And doing a job that he loves with the people he loves. Oh yeah, I'm a very lucky man."
Gray, who as Sue Ellen Ewing endured numerous indignities from J.R. before divorcing him, got a chance to slap him in the chops in a scene filmed the day before the cast headed West for this interview session.
Hagman blurts this out before Gray says, "Sshh, you're not supposed to say that."
"Oh, sorry, I take it back. Don't print that," he says before Gray rejoins, "But it was great."
The Big Three made two
Dallas
TV movies and then had a cast reunion special after the series ended its 1978-'91 run on CBS. But Duffy says he never envisioned doing a weekly
Dallas
series again.
"It was the heartbreak of my career because these are my two closest friends," he says of Hagman and Gray. "And I knew somewhere in my heart that we could never work together again because the three of us couldn't come into a scene without everybody saying, 'Oh, there's J.R., Sue Ellen and Bobby.' And that hurt me. I really wanted to work with them again. So this is the best thing that could happen in my career life."
"I got a tear in my eye," Hagman says, seeming to actually mean it.
"He woke up again," Duffy jabs before Gray says the original
Dallas
"should have been a sitcom because I laughed every single day we were on the set. And nothing has changed. Nothing."
Well, there is the matter of shower scenes. Bobby took the most famous one in TV history in May 1986 after Duffy left the show a season earlier to pursue a movie career that never really clicked. Bobby supposedly had died in a fiery car wreck, with J.R. and wife Pam (Victoria Principal) among those gathered around his death bed. But the writers brought him back to life by having Pam awaken to find him happily sudsing. The previous season and its creative misdirections were then written off as Pam's bad dream.
That was then, though. At age 62 (he's since turned 63), "I don't do showers anymore. That's these guys," Duffy says, pointing to Henderson and Jesse Metcalfe, who plays Bobby's son, Christopher, on the new
Dallas
.
By the way, Metcalfe was born in the same year that the original
Dallas
premiered.
"They really bring the history," he says of Hagman, Duffy and Gray. "We're just kind of, you know -- I don't want to say the 'fresh legs' -- but we're the next generation. We're just carrying the torch, but they set the tone."
Henderson then ups the ante, recalling his first scene with Hagman's J.R.
"If you guys saw the pilot, you saw the scene where his eyes opened and he just looked at me. I don't want to say I almost peed my pants, but it electrified the room. It's amazing to see them and their characters come back to life."
Duffy says it's all been a "seamless transition" from the
Dallas
of old to TNT's new day.
"It was like snapping your fingers," he says. "And we were Bobby, Sue Ellen and J.R. again -- with no interspersing of time in between."