Mark Cuban and Kym Johnson: He's lovin' it
08/30/07 11:05 AM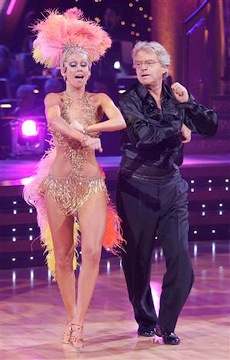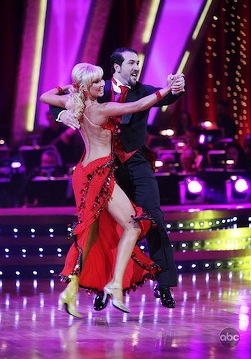 Dancing with the Stars pro Kym Johnson has made both Jerry Springer and Joey Fatone look good. Can she do the same for Mark Cuban?
By ED BARK
Dallas Mavericks owner and
Dancing with the Stars
contestant Mark Cuban had his first close encounter Wednesday with Kym Johnson. You might say he's mightily impressed with the sculpted blonde's overall attributes.
"She is amazing. She is bright, funny and obviously a fabulous dancer," Cuban said in an email sent Wednesday night. "She's also patient, laughs at my jokes and did a great job teaching me the foxtrot today."
Cuban's almost as complimentary about his team's high draft picks. But Kym Johnson plays in another league. Her moves on a dance floor amount to a knee-buckling crossover dribble followed by a rim-rattling slam dunk. Or something like that. Anyway, her game plan is to take Cuban deep into
Dancing
's fifth edition, which premieres Sept. 24th on ABC. Earlier this year, Johnson and former boy band singer Joey Fatone placed second to champ Apolo Anton Ohno and pro Julianne Hough.
"I was a fan. Now I'm a huge fan," Cuban said of his new business partner. "And I told her I wanted the Fatone weight loss plan she put Joey on, too."