New series review: Wife, Mom, Bounty Hunter (WE tv)
04/19/07 02:35 PM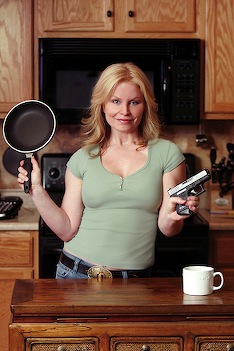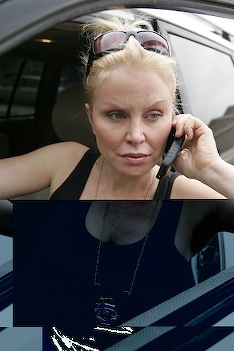 Premiering:
Friday, April 20 at 8 p.m. central (9 eastern) on WE tv
Starring:
Sandra Scott
Produced by:
Steven Cheskin, Annabelle McDonald, Fenton Bailey, Randy Barbato
By ED BARK
Formerly a pro wrestler and now a pistol-packin' mama, Sandra Scott supposedly tracks "the most wily and dangerous criminals" in Pinal County, Arizona.
Substitute "pathetic and harmless" to get much closer to the truth of
Wife, Mom, Bounty Hunter
, a less than spine-tingling new reality series premiering Friday on WE tv.
Sandra must have encountered far more fake danger in the ring, where she grappled under the name Tiffany Mellon for five years on
G.L.O.W.: The Gorgeous Ladies of Wrestling
. In
WMBH's
opening hour, our heroine and her two burly assistants, J.D. and Theresa, arrest a cadaverous, joke-crackin' bag and a very meek guy, both accused of drug possession. You can cut the tension with a Fisher Price play scissors.
Off-the-job domestic adventures are supposed to pick up the slack. After all, it's "chaos" in the kitchen every morning, with two dogs, two cats, two daughters and a husband underfoot. But an early tight shot of Sandra's cleavage turns out to be more riveting. As noted, she's packin'.
Given recent events, it's more than a little disconcerting to see the bounty hunters gleefully shopping for weapons near the start of the show. Sandra admires "a very sexy gun" before they all take a little target practice. Yes, these are the good guys, but still.
Tragedy later ensues when one of the Scott family's twin chihuahuas, Buddy, trespasses into a neighbor's yard and is killed off-camera by another dog. Sandra gets the news from husband, Ron, while she's on the job.
"I'll talk to you later," she tells him. "I gotta go make an arrest right now."
Things then get cloyingly maudlin when Sandra then breaks the news to her 15-year-old daughter, Sabree. Frankly, these scenes seem rehearsed, even if they aren't. And a horrid soundtrack definitely doesn't help matters. Still, R.I.P., little Buddy. At least you got a little TV face time.
WMBH
also includes an unusual exchange between Sandra and the haggard fugitive Victoria, who proclaims, "I'm on my period" while being handcuffed.
To which Sandra retorts, "I started my period this morning, too, OK. And my dog just got killed by my neighbor's dog."
WE tv has ordered 12 episodes of
WMBH
, which will be downsized to half-hour dollops after Friday's debut. The network is still No. 3 in cable's TV-for-women league, behind her highness Lifetime and plucky Oxygen.
This latest effort looks way too forced to be entirely real. Even so, not much happens anyway. Life is much more complicated on
The View
.
Grade:
D+