Public Morals gives TNT a sharply defined period cop drama
08/25/15 08:29 AM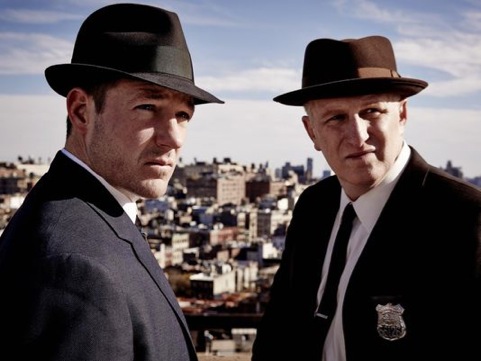 Two dicks, a fedora and a pork pie in Public Morals TNT photo
Premiering:
Tuesday, Aug. 25th at 9 p.m. (central) on TNT
Starring:
Edward Burns, Michael Rapaport, Elizabeth Masucci, Katrina Bowden, Ruben Santiago-Hudson, Austin Stowell, Wass Stevens, Brian Wiles, Neal McDonough, Brian Dennehy, Robert Knepper, Kevin Corrigan, Aaron Dean Eisenberg, Keith Nobbs, Patrick Murney, Lyndon Smith, Cormac Cullinane
Produced by:
Edward Burns, Steven Spielberg, Justin Falvey, Darryl Frank, Aaron Lubin
By ED BARK
@unclebarkycom on Twitter
Everybody cracks wise in
Public Morals
, a crisp and lively new TNT series that might actually generate a little buzz for the oft-overlooked "We Know Drama" network.
Set in 1960s New York and also set initially to The Doors' version of "Back Door Man," it mixes tough-talking vice cops on the take with turf-protecting crime bosses and their not always subservient underlings. Short tempers abound, as do swaggering, sharp-dressing and women who know what they want. "Bullshit" is the operative denunciation, and it's used with impunity in the four episodes made available for review.
Actor Edward Burns created the series and also stars in it as plainclothes officer Terry Muldoon. He has a sharply drawn wife, Christine (well-played by Elizabeth Masucci), and a simpatico partner named Charlie Bullman (Michael Rapaport again in solid form after a bravura guest shot in this season's
Louie
).
Muldoon, Bullman and their hats patrol the boiling Hell's Kitchen neighborhood, where prostitution, gambling and other illicit vices are managed rather than quashed. Protection payments are expected in return. Otherwise you're goin' downtown.
Burns, whose character also is the father of three children, gives himself plenty to do in Tuesday's premiere hour. He rasps his way through meaty chunks of verbiage, laying down the law on both the streets and the home front, where trouble-prone 13-year-old son James (Cormac Cullinane) is on the receiving end of some very blunt tough love.
"Try a softer touch with him," his wife advises.
"The line between the good guys and the bad guys is very thin," he retorts after repeatedly deriding his oldest son for being both an "asshole" and a "moron." But the kid seems to be getting the message, and willingly leads the family in grace before a family dinner in Episode 2.
Public Morals
otherwise is teeming with supporting players, none more vivid than the redoubtable Brian Dennehy as Irish crime patriarch Joe Patton. Dennehy doesn't pop in until Episode 2. But boy, does he pop, particularly when belittling his trigger-happy son, Rusty (Neal McDonough). There's another terrific scene in Episode 3, with old Joe telling a shaky subordinate mobster known as "Smitty" (fine work by Kevin Corrigan) how it's gonna go down in the aftermath of a lethal hit at the end of Episode 1.
Three of the first four hours end with murders. But the violence isn't of the blood-spurting type -- not yet anyway. One of Burns' co-producers is Steven Spielberg, who's never been big on buckets of blood. The beatings also are quick and efficient.
Interestingly,
Public Morals
shares the same name as an instantly canceled 1996 comedy series about the NYPD vice squad. Produced by Steven Bochco (
Hill Street Blues, NYPD Blue
and TNT's current
Murder in the First
), it was widely derided before its premiere for a coarse approach that included use of the term "pussy posse." Bochco reluctantly excised those words from the on-air first episode, but CBS decided to make it one and done for
Public Morals
. Those who missed the show on the night of Oct. 30, 1996 were fated to never see it at all.
Peter Gerety, who co-starred in the original
Public Morals
, has a recurring role in the far superior TNT version as Muldoon's acerbic father. And yes, the term "pussy posse" is used in Episode 2. There'll be no uproar this time.
Public Morals
has many characters to service. And by the end of the first four of 10 Season 1 episodes, viewers have been given a fair chance to get a handle on most of them.
Robert Knepper, best known as the sadist from
Prison Break
, registers as the hard-bitten Capt. Johanson while rookie Jimmy Shea (Brian Wiles) is quickly introduced to a world of cops who know that much of their bread is buttered with kickbacks.
Sean O'Bannon (Austin Stowell) is the volatile young cop son of a brutal, drunken mobster while plainclothes vice officer Vince Latucci (Wass Stevens) is a sharp-dressed man with an even sharper-tongued wife. Deirdre Duffy (Lyndon Smith), sister of a two-bit hood fresh out of jail, takes a strong liking to Sean's manly looks and ways while a schoolteacher/prostitute named Fortune (Katrina Bowden) draws closer to Muldoon's partner, Charlie.
Burns, the overall architect, convincingly acts his part while also bringing a sense of order to all of these proceedings. New TNT programming head Kevin Reilly has said he's re-positioning TNT as an edgier network with more challenging fare. The second coming of
Public Morals
, in an altogether different form, looks to be a strong step in that direction. It clicks, crackles and arrests attention with a blend of compromised cops, assorted criminals and homier family values.
GRADE:
B+
Email comments or questions to:
unclebarky@verizon.net