Hagman still a lifesaver in early Season 2 episodes of TNT's Dallas
01/25/13 10:06 AM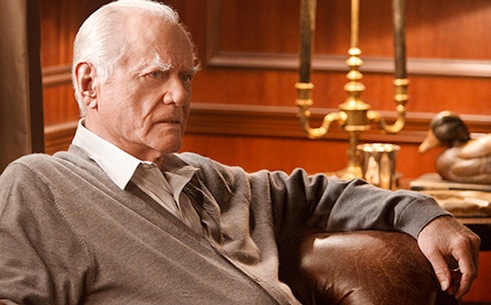 Larry Hagman begins his last roundup as J.R. Ewing. TNT photo
By ED BARK
@unclebarkycom
Commanding center stage seldom if ever presented a problem for Larry Hagman in his signature role of J.R. Ewing.
But now every sighting is something of an event as TNT's
Dallas
fires up a 15-episode sophomore year with back-to back episodes on Monday, Jan. 28th (
8 to 10 p.m. central
).
Hagman completed filming on about one-third of
Dallas'
second season before dying on Nov. 23rd at age 81. The show's executive producer, Cynthia Cidre, recently told
TV Guide
that a new murder mystery, with echoes from the "Who Shot J.R.?" phenomenon of more than three decades ago, will be hatched in tandem with J.R.'s funeral on the March 11th episode.
"We all felt having J.R. die of natural causes would have been completely inappropriate not only to the character, but also to Larry Hagman," Cidre said. It also would deprive the show of a very promotable storyline. Which of course is the bottom line.
For the immediate future, though, Hagman's J.R. is still standing, wheeling and dealing. He's relatively little seen in Monday's first episode but is very much in play during the second hour. Fans can first glimpse him with his feet up on nefarious son John Ross's desk after he sneaks into his office over the protests of a secretary.
"Don't worry about it," John Ross (Josh Henderson) says. "You know how slippery snakes can be."
To which J.R. retorts, "Now that ain't a way to talk about your father."
Dallas
ended last season with the revelation that Christopher Ewing's (Jesse Metcalfe) now estranged wife, Rebecca Sutter (Julie Gonzalo), in reality is Cliff Barnes' scheming daughter, Pamela Rebecca Barnes. Those wheels keep turning in the early going, with Pamela angling for a 30 percent share of Christopher's fledgling methane company while John Ross plots to screw one and all with help from his daddy.
Other storylines include Sue Ellen's (Linda Gray) continuing run for governor in the face of bribery charges and Ann Ewing's (Brenda Strong) pursuit of her long-lost daughter while husband Bobby (Patrick Duffy) frets and occasionally flares up.
John Ross also deeply resents the rekindled romance/alliance between Christopher and Elena Ramos (Jordana Brewster). This leads to J.R.'s signature, symbolic scene early in Episode 2. John Ross seethes at the sight of Christopher and Elena smooching on Southfork Ranch property before the old man sidles up behind him and casts a long, figurative shadow.
"Makes you wanna punch somethin', doesn't it?" he says.
"I don't feel anything," John Ross lies before J.R. lays out his essential rules for prospering at the expense of others: "It's OK if you do," he counsels. "You're young. Use it. Love. Hate. Jealously. Mix 'em up and they make a mean martini. And when we take over Ewing Energies, you'll slake your thirst -- with a twist."
He then pats his son on the shoulder and smiles that diabolical smile before the opening credits and ever-resonant theme song kick in. It's as perfect a scene as
Dallas
has ever had. And all because of Hagman's rock-steady grip on the role of his lifetime.
The first season of TNT's
Dallas
reboot was far better than many had anticipated. These early stages of Season 2 likewise keep the faith.
The Ewings are still prime-time's serial drama royalty, not from the standpoint of prestigious awards but from the sheerly entertaining, oft-dopey melodrama of it all. Threats, vows, sex, scandals, chicanery, etc. "Bidness" as usual, even if it's on a much smaller ratings scale than those Big Tex CBS glory years.
Hagman's J.R. Ewing still roams this land, chortling, winking, hood-winking and occasionally actually doing a semblance of something nice. Watch for a tender, very well-played scene between J.R. and Sue Ellen at the close of Monday's Episode 2. It comes shortly after he's typically complimented John Ross by telling him, "Good Boy. Son, you've got the devil in you."
J.R.'s better angel just never could get the upper hand.
Dallas
soon will face a bumpy afterlife without him, even while milking his death for a few more twists and turns. If only it were all a dream. Been there, done that.
GRADE:
B
unclebarky@verizon.net