FX's Sons of Anarchy gets its bikers back on track
09/02/11 03:08 PM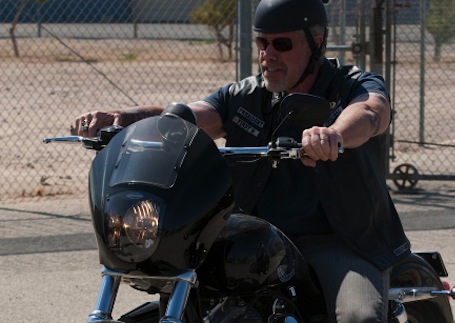 Wheel deal: Ron Perlman is still SOA's top SOB. FX photo
By ED BARK
Fourteen months behind bars have not exactly been a deterrent for eight rough 'n' tumble members of the Sons of Anarchy Motorcycle Club, Redwood Original.
They're released en masse -- and very theatrically so -- in the opening Season 4 montage of FX's most popular series ever, particularly among elusive young male viewers. Last year's
Sons of Anarchy
averaged 4.412 million viewers per episode, surpassing the season highs of FX stalwarts such as
The Shield, Nip/Tuck
and
Rescue Me
, which will have its series finale on Wednesday, Sept. 7th.
SOA
re-guns a night earlier, on
Tuesday at 9 p.m. central.
And in the season opener alone, there's a wedding; a gangland-style mass execution; an even more gruesome payback killing in the prison infirmary; a seemingly sincere vow to go straight by the club's featured young lion; and a new, stern sheriff in the northern California town of Charming. He's played by Rockmond Dunbar, who used to be on the lam in Fox's
Prison Break
.
FX sent the season's first three episodes for review. I'm still not a full-blown fan, but there's a definite latent appreciation for what still amounts to
The Sopranos
on two-wheelers.
Ron Perlman, as increasingly amoral club president Clarence "Clay" Morrow, can't match the presence or the power of James Gandolfini's Tony Soprano. But you wouldn't to face him in a bar fight -- or cross him in any way, shape or form.
Headstrong stepson Jackson "Jax" Teller (Charlie Hunnam), Clay's heir apparent, risks doing just that by vowing to "start fresh somewhere" with pediatrician Tara Knowles (Maggie Siff) as his bride. But first he needs to "make myself some bank." And the fastest way to both freedom and a big payday appears to be signing off on an unholy alliance with a drug-running Mexican cartel. The Sons so far have specialized in illegal weapons dealing, which is considered honorable under their twisted code. But coke smuggling? Some of the club's veteran members would sooner sit through a Maurice Chevalier film festival.
Caught in the middle is Clay's leathery wife, Gemma (Katey Sagal),
SOA
's steely Mama Bear/Carmela. She has a conscience, albeit a malleable one. But drug-running is abhorrent to her, as is Clay's verbal strong-arming when she finds out.
The so-called good guys of
SOA
can't be Boss Hogg buffoons. Otherwise the series completely loses its edge. The aforementioned Dunbar's Sheriff Eli Roosevelt is a sturdy addition in that respect. But the most intriguing new lawman is assistant United States district attorney Lincoln "Linc" Potter, who's terrifically played by Ray McKinnon. He steals all of his scenes as a semi-eccentric master planner who rides a Harley, sports long hair and a beard, but wants the Sons done and gone.
Kurt Sutter,
SOA
's creative mastermind, has kept the scripts tight and the action invigorating. He gets a gold star for that, but none of his characters merits a good conduct medal. This is, after all, a drama in which a new and deadlier gun is a prized wedding gift while the marital vows include a promise by the groom to "treat you as good as my leather and ride you as much as my Harley."
FX still wouldn't have it any other way. Beginning with
The Shield
, it's forged a brand identity all its own, with seriously flawed males wearing anti-hero hats at best. The hairy beasts in
Sons of Anarchy
now and then may generate a few little pitter-pangs of sympathy. But in reality they're mostly ruthless brothers in arms dealing, protecting their turf by any means necessary while erstwhile law enforcers brand them "white trash barbarians."
It's pretty good stuff.
GRADE:
B+