What would Trump do without his enemies of the people -- or they without him?
02/22/17 10:26 AM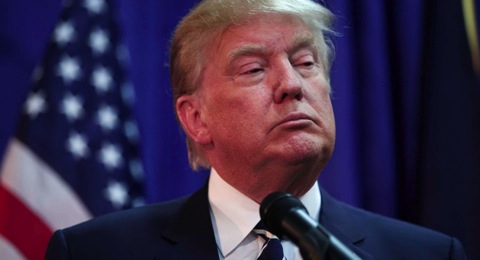 By ED BARK
@unclebarkycom on Twitter
No one needs and feeds off the "enemy of the American People" more than the man who designated certain TV networks and a newspaper as such.
And in fairness, they may need him even more.
President Trump recently went "full Mussolini," as former pal and now antagonist Joe Scarborough put it this week, with a Tweet that seemed to put the First Amendment in his crosshairs. Here's exactly how it read, with Trump's caps included: "The FAKE NEWS media (failing @nytimes, @NBCNews, @ABC, @CBS,@CNN) is not my enemy, it is the enemy of the American People!"
In other words, all were found guilty of reporting something Trump didn't like. Or perhaps it was the "tone." Because all is rather quickly forgiven if you say something nice about this very thin-skinned leader of the free world. He'll then lick you like a puppy dog.
Some among the President's five singled-out enemies of the people are taking offense publicly while perhaps privately rubbing their hands with glee. Why? Trump has been very good for their bottom lines.
The "failing"
New York Times
, for instance. In last year's fourth quarter (October to December), the newspaper reported its biggest digital subscriber increase in five years. Trump's frequent diatribes against the
NYT
, usually via Tweets since he became President, are a wealth of free advertising. Or "click bait," if you prefer. Supporters and adversaries alike want to see the latest. The newspaper clearly is not in Trump's corner. This is an indisputable fact. But Trump's return fire, always accompanied by the word "failing," doesn't hurt even a little bit. On the contrary, it only further builds the brand. The far less-maligned
Washington Post
should be so lucky.
How about CNN, television's prime repository of "fake news" in Trump's view. After enabling his candidacy by carrying virtually every utterance during the primary campaign, the granddaddy of cable's 24-hour news networks has shifted to more of an attack mode, perhaps in part out of guilty atonement. Trump claims to "never watch" CNN, but has an uncanny ability to criticize what he doesn't see. According to Nielsen Media Research, CNN enjoyed a 54 percent increase in total day viewership in 2016 as compared to 2015. Its Monday through Friday prime-time performance was even better -- up 77 percent from year-to-year.
The increases were stronger in the key advertiser target audience for news programming, 25-to-54-year-olds. The "fake news" network was up 56 percent in total day viewership and 80 percent in weeknight prime-time.
Trump's house organ, the Fox News Channel, had far lesser year-to-year increases, paced by a 36 percent boost in 25-to-54-year-olds for its prime-time fare. MSNBC, part of NBC Universal's news division and thereby included in the President's enemy of the people slam-banger, enjoyed the biggest increases of all. They included a 132 percent boost among 25-to-54-year-olds for MSNBC's prime-time menu. MSNBC is still running third in the cable news network ratings, behind FNC and CNN. But both enemies of the people gained ground on FNC during the long-and-winding 2016 presidential campaign.
Saturday Night Live
, which actually does do "fake news," isn't part of NBC's news division. But the "totally biased, not funny" show, according to one of several anti-
SNL
Trump tweets, so far is drawing its largest audiences since the 1994-'95 TV season. The most recent first-run
SNL
episode, hosted by Trump impersonator Alec Baldwin on Feb. 11th, had the highest ratings for an individual show since Oct. 19, 2008, when Baldwin, Sarah Palin and Tina Fey all made guest appearances.
CBS is in similar straits -- and loving every minute of it.
Late Show with Stephen Colbert
is not part of the news division either. But it's been on a prolonged ratings surge during Trump's presidency, beating onetime kingpin Jimmy Fallon's
Tonight Show
for three consecutive weeks in total viewers although still trailing by increasingly smaller margins among advertiser-prized 18-to-49-year-olds.
Colbert has been pounding away at Trump for months, and without making that much headway during the presidential campaign. But since Trump became President, the host in essence has become late night television's voice of the loud and dogged resistance. Fallon in comparison still makes nice after being pilloried by many for playfully ruffling Trump's hair during his most recent appearance on the
Tonight Show
. But Colbert shreds Trump at the start of every
Late Show
. And he's finally gained traction while Fallon's wheels spin.
As for the fifth enemy of the people, well, ABC News is doing just fine lately.
World News Tonight
currently ranks No. 1 in total viewers, with the
NBC Nightly News
(a fellow enemy) just a bit behind. The two networks trade places among 25-to-54-year-olds, with the
Nightly News
having a small advantage.
So here's the messy truth, which also happens to be a same-named CNN show hosted periodically by Trump adversary Van Jones.
The President's enemies of the people would be true enemies of his only if they all somehow agreed to declare a moratorium on Trump coverage for perhaps a week. Trump has two cravings above all others -- attention and adulation. They're coupled with a persecution complex and an insistence on controlling everything. Imagine if his enemies all of a sudden covered everything except Trump. It would drive him crazier than many think he already is. WHERE ARE MY ENEMIES? WHY HAVE THEY FORSAKEN ME?
On the other hand, you can't just stop covering the President of the United States. So a moratorium is out of the question and always will be. In reality, though, where would
The New York Times
, CNN, ABC, NBC and CBS be without Trump -- both on the news and entertainment fronts? Almost without question, they'd all be in worse shape financially. And Colbert certainly wouldn't be on the surge he's currently enjoying. Don't even think about taking away his Trump toy. He'd sooner lose a toe.
So yes, the First Amendment must be protected from Trump's dictatorial bent. But those on his silly "enemy of the American people" list aren't fighting only to preserve the foundation of democracy. Trump has also been their cash cow. And what CBS chairman Leslie Moonves said a year ago -- and now wishes he hadn't -- is still perhaps the messiest truth of all.
Trump's candidacy "may not be good for America, but it's damn good for CBS," Moonves proclaimed at the Morgan Stanley Technology, Media & Telcom Conference in San Francisco.
The campaign is a "circus," he added, but "Donald's place in this election is a good thing . . . The money's rolling in and this is fun. I've never seen anything like this, and this is going to be a very good year for us. Sorry. It's a terrible thing to say. But bring it on, Donald. Keep going."
Boy, has he ever.
Email comments or questions to:
unclebarky@verizon.net