FX's Justified remains on target as Season 4 marks its territory
01/07/13 01:12 PM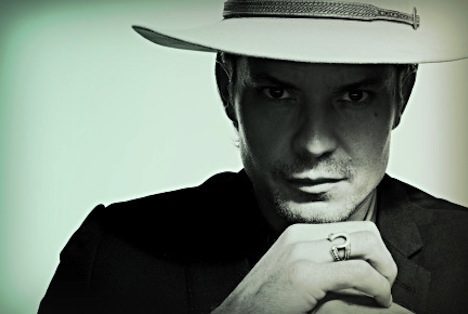 Timothy Olyphant draws a bead as Justified's Raylan Givens.
FX photo
By ED BARK
@unclebarkycom
Forget about any state-of-the-art forensics or by-the-book police procedure.
Justified
is back, and there's not a lot of need for that stuff in gnarly Harlan County, Kentucky.
Season 4 of FX's best ongoing drama series fires up on
Tuesday, Jan. 8th at 9 p.m. (central).
. It's still a case study in economical dialogue with an oft-sardonic bite. Elmore Leonard, on whose writings the series is based, and executive producer Graham Yost remain good shepherds of a law 'n' disorder hour that's never quite received the recognition it deserves from Hollywood's trophy-bearing awards industry.
Tuesday's return is buoyed by a 30-year-old cold case and the arrival in town of a tent preacher whose conversion rate is threatening the drug-dealing livelihood of ne'er-do-well Boyd Crowder (series regular Walton Goggins). These are further vexations for Deputy U.S. Marshal Raylan Givens (Timothy Olyphant), whose imprisoned father Arlo (Raymond Barry) knows far more than he'll tell about a long-hidden "Panamanian diplomatic bag" found within the decaying drywall of his dumpy home.
"That mystery bag thing is givin' me a little bit of a Marshal stiffy," Raylan's boss, Art Mullen (Nick Searcy), says early in Episode 2. Perfectly delivered lines like that keep ringing the bell in
Justified
, which can be violent at times but not in the excessive mode of two other current FX dramas --
American Horror Story
and
Sons of Anarchy
.
Besides "Preacher Billy" (Joe Mazzello),
Justified
also is giving Boyd Crowder a new partner in crime this season. He's Colton Rhodes, a former trouble-prone military police sergeant played by the always welcome Ron Eldard (
Black Hawk Down
). Add Robert Baker (
Leatherheads
) as another wrong-side-of-the-tracker named Randall Rusik. He's both handy with his fists and a past participant in a very hands-on relationship with Raylan's girlfriend, Lindsey Salazar (Jenn Lyon).
Olyphant, who previously excelled as lawman Seth Bullock in HBO's
Deadwood
, remains perfectly in tune with the key of low key. This is further demonstrated Tuesday in his early scenes with a gabby drug dealer who winds up in the trunk of his car. Raylan gave him fair warning to shut up.
Justified
's deft blend of main, supporting and guest characters is unequaled in the crime drama realm. It keeps going about its business, getting better than ever each season with a restrained but gripping approach that's also sure to wear well decades from now.
GRADE:
A
unclebarky@verizon.net