Same old, same old: 30 Rock, Mad Men again head their classes while HBO leads all networks
07/16/09 08:24 AM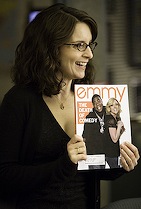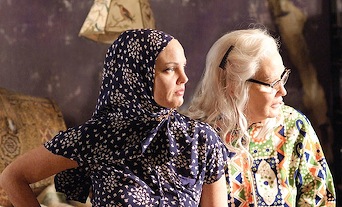 30 Rock's Tina Fey; Drew Barrymore, Jessica Lange of Grey Gardens
By ED BARK
NBC's
30 Rock
and AMC's
Mad Men
again topped their fields among comedy and drama series while HBO notched another chart-topper with
Grey Gardens
in prime-time Emmy nominations announced Thursday morning.
Rock
led all programs with 22 nods, upping its total from 17 last year.
Mad Men
replicated the 16 nominations it received in 2008.
Grey Gardens
, starring Jessica Lange and Drew Barrymore as a batty mother-daughter duo, nabbed 17 nominations in supplanting last year's HBO pacesetter,
John Adams
. The complete 39-page list of nominees is
here
. Or if you'd rather just hit the high points, go
here
.
Emmy voters expanded the drama and comedy series fields to seven from the traditional five.
A quintet of the drama nominees --
Mad Men
, Fox's
House
, ABC's
Lost
, Showtime's
Dexter
, FX's
Damages
-- were repeaters from last year, with AMC's
Breaking Bad
and HBO's
Big Love
both joining the party for the first time.
Among comedy series,
30 Rock
, NBC's
The Office
and HBO's
Entourage
all repeated. The surprise new nominee, Fox's
Family Guy
, joins Showtime's
Weeds
, CBS'
How I Met Your Mother
and HBO's
Flight of the Conchords
among this year's Emmy contenders.
Mother
supplants CBS'
Two and a Half Men
, which wasn't nominated after three straight years among the Emmy elite.
The expanded fields still didn't help NBC's Austin-made
Friday Night Lights
, the most undeservedly overlooked series since Emmy snubbed
Homicide: Life on the Street
throughout its run.
FNL
received a lone nomination this time -- for "Outstanding Casting." A pity.
HBO again led all networks with 99 nominations, up from 85 last year. NBC was runnerup with 67 nominations, compared to 50 last year.
Besides the aforementioned frontrunners, the Academy of Television Arts & Sciences heaped double-digit nominations on HBO's
Into the Storm
(14); NBC's
Saturday Night Live
(13); HBO's
Generation Kill
and PBS/BBC's
Little Dorrit
(11 each); and ABC's Academy Awards telecast, ABC's
Dancing with the Stars
and HBO's
Taking Chance
(10 apiece).
CBS'
The Amazing Race
, which got seven nominations, will have a chance to cop a seventh consecutive Emmy in the "Outstanding Reality-Competition Category." No other series has won since the category was created in 2003.
Neil Patrick Harris, who will host the Sept. 20th Emmy ceremony on CBS, received a best supporting actor nomination for his role as Barney Stinson on
How I Met Your Mother
. It's his third Emmy nomination, but so far he's come up empty.
Other acting nominees will have chances to extend longer losing streaks. Oddly enough, they're led by Bob Newhart, who so far is 0 for 5 but has another shot for his role in TNT's
The Librarian: curse of the Judas Chalice
.
Steve Carell of
The Office
and Sandra Oh of ABC's
Grey's Anatomy
both received their fifth nominations, and hope to be first-time winners. Ellen Burstyn, nominated for a guest role in NBC's
Law & Order: Special Victims Unit
, also is Emmy-less in four previous tries.
Hugh Laurie of
House
, Charlie Sheen and Jon Cryer of
Two and a Half Men
and Kyra Sedgwick of TNT's
The Closer
are among those stepping to the plate for the fourth time after being denied thrice.
In the rich-get-richer category, Alan Alda has notched his 33rd nomination for a guest stint on
30 Rock
. He's won six times.
Two other TV legends, Carol Burnett and Ed Asner, also are in the hunt again. Burnett's guest shot on
Law & Order: Special Victims Unit
has won her a 23rd nomination after six previous wins. Asner, who guested on CBS'
CSI: NY
, has added a 17th nomination, with seven wins already in hand.
Other noteworthy Emmy tidbits:***
Michael J. Fox could receive the biggest ovation of the evening if he wins for his recurring character of Dwight on FX's
Rescue Me
. He's also been nominated for the ABC special
Adventures of An Incurable Optimist
. These are his 11th and 12th nomination, with four previous wins.
***
Longtime toiler in the trenches Ken Howard, who memorably starred in CBS'
The White Shadow
a generation ago, has his first ever nomination for a supporting role in
Grey Gardens
.
***
Who know what Shirley MacLaine might say if she claims a statue for the title role in the Lifetime movie
Coco Chanel
. It's her sixth nomination, with one previous win.
***
HBO's hottest series,
True Blood
, received just three nominations, none in major categories.
***
Previous Emmy darlings
Desperate Housewives
(ABC),
ER
(NBC) and
Ugly Betty
(ABC) received just two nominations apiece.
***
Big Love
's nomination as best drama series oddly was the series' only recognition. Besides the aforementioned
Friday Night Lights
, other notables on the one-and-done list include Fox's
Bones
, USA's
Burn Notice
, TNT's
The Closer
, NBC's
Chuck
, CBS'
The Mentalist
, FX's
Rescue Me
, ABC's
Scrubs
, CBS'
CSI: NY
and ABC's
According to Jim
.
Yes, we live in an Emmy world where
According to Jim
can get as many Emmy nods as
Friday Night Lights
. And FX's
The Shield
was shut out entirely for its last season. Inexplicable.