PBS gets cracking with splendid new Holmes in Sherlock
10/22/10 04:03 PM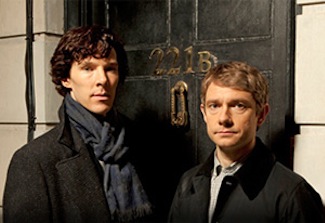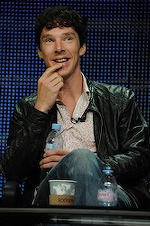 Benedict Cumberbatch and Martin Freeman as Holmes & Watson; Cumberbatch at recent PBS session in Beverly Hills PBS photos
By ED BARK
This time around Sherlock Holmes has his own popular website. And his playground is in present-day London, where the cocksure detective's hunches, deductions and brain storms on paper might seem antiquated amid all the forensic advances.
No worries, though. PBS'
Sherlock
, airing under the
Masterpiece Mystery
banner for the next three Sunday nights, is a bouncy and crackling good "re-imagining" of the Baker Street sleuth and his at times reluctant partner, Dr. John Watson.
In this version, Watson (Martin Freeman) is recently returned from Afghanistan, where he was wounded in combat. He relies on a cane, has recurring nightmares and is looking for a roommate. A matchmaker of sorts sets him up with Holmes and his open-minded landlady, Mrs. Hudson (Una Stubbs). The address is still 221B Baker Street, the Sherlock abode ever since Sir Arthur Conan Doyle first put him into action in the late 1800s.
Holmes (Benedict Cumberbatch) is first seen whipping a corpse in a morgue with a riding crop to raise some bruises in hopes of determining the time of death. He seems to have a little bit too good of a time doing it. But this is a guy with both an other-wordly air about him and the unbridled nerve to exclaim, "Four serial suicides, and now a note. Ah, it's Christmas!"
The first case is subtitled "A Study In Pink." which unfolds in 90 minutes time on
Oct. 24th at 8 p.m. (central) on KERA/13 in D-FW
. The next two chapters, on Oct. 31st and Nov. 7th, go by the names of "The Blind Baker" and "The Great Game."
The prime-time terrain is just about choked with crime-solving dramas. Still,
Sherlock
producers Steven Moffat and Mark Gatiss (who also deftly plays the mysterious Mycroft) find some novel ways to twist and turn Sunday's opening yarn. It turns out that the four deaths in short order weren't self-induced as Holmes initially thought. This only makes it all the better.
"We've got ourselves a serial killer," he exudes. "I love those. There's always something to look forward to."
Cumberbatch, a reed-thin actor with a sharply triangular face, plays Holmes as a mile-a-minute talker whose riffs sometimes can be a bit hard to lasso. But he does enunciate well. And the banter between Holmes and Watson is frosting on this cake. Which of course, it must be.
Sherlock
can be very serious-minded as well. A climactic cat 'n' mouse faceoff between Holmes and the killer is superbly played and full of revelations about what makes both of them tick.
Freeman likewise is very good as Watson, particularly during a prolonged give-and-take with Mycroft in which the latter seeks to bribe him.
Sherlock
co-stars Rupert Graves as detective inspector Lestrade, who invariably turns to the mercurial Holmes when a case stumps his force. There's also the very snide Sgt. Sally Donovan (Vinette Robinson), who's convinced that Holmes is a "psychopath" destined to be a killer himself someday if he becomes too bored.
"I'm a high-functioning sociopath," Holmes snaps at another cop. "Do your research."
Do yourself a favor and give this latest depiction of Sherlock Holmes a spot in your TV viewing regimen. But wait in vain for him to say "Elementary, my Dear Watson." They don't know each other quite well enough for that yet. But maybe it'll happen sometime during their next two adventures.
GRADE:
A