A second helping of the story behind Thanksgiving in PBS' The Pilgrims
11/24/15 09:56 AM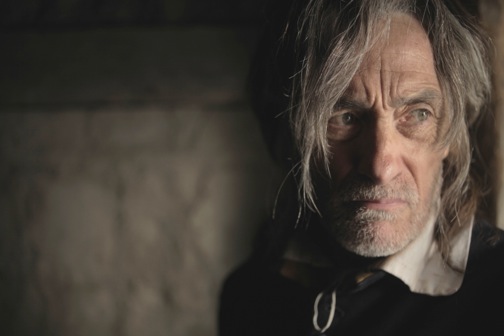 Roger Rees gives his final performance in The Pilgrims. PBS photo
By ED BARK
@unclebarkycom on Twitter
As turkey comparisons go, this one's drier with less savory stuffing but gets the job done if you're hungry for a second TV depiction of how Thanksgiving came to be.
Previously reviewed in these spaces, National Geographic Channel's two-part, four-hour
Saints & Strangers
tells this tale vividly and touchingly, with Vincent "Pete Campbell" Kartheiser its centerpiece in his first post-
Mad Men
outing.
PBS' two-hour
The Pilgrims
(Tuesday, Nov. 24th at 7 p.m. locally on KERA13 and repeated on Thanksgiving Day)
airs under the
American Experience
umbrella and is notable for the late Roger Rees' last performance. Both Rees and Kartheiser play stout of heart religious separatist William Bradford, who became the governor and driving force of the Plymouth settlement. Similarities end there in terms of where they find themselves.
Rees' version of Bradford is near death. Shot mostly in extreme closeup, he muses and reflects upon his New World experiences and steadfast faith in God's will. In
Saints & Strangers
, Kartheiser's Bradford is no less God-fearing but brand new to the experience of being a stranger in a strange land after that arduous journey aboard the Mayflower in the fall 1620.
Narrated by actor Oliver Platt, the PBS version is from Ric Burns, Ken's under-recognized younger brother. Aside from Rees' intermittent acting -- and a pre-teen seen as the younger Bradford --
The Pilgrims
is strictly a docu-film with the usual heavy doses of talking head authors and historians. It offers a much lengthier back story for Bradford, who in his homeland of England suffered the loss of both his parents by the time he was seven years old.
Once in the New World, the stories of the Pilgrims and the original native American settlers pretty much dovetail factually in both productions. But if you're going to sit still for one of them,
Saints & Strangers
is a considerably more satisfying and immediate experience. It humanizes both sides of the Plymouth equation while
The Pilgrims
is almost unrelentingly somber and comparatively at a distance.
"It must have been overwhelming," historian Sarah Hardman Moore says of the constant hardships endured. Well, yes, you could say that. But
Saints & Strangers
shows it.
A majority of the various experts are women, which is a nice change of pace. Kathleen Donegan, billed as a "literary critic," is given major chunks of audio time. Wampanoag tribe historian Linda Coombs says the first Thanksgiving feast shared by the Pilgrims and Wampanoags was barely a footnote in written accounts of those times. "The rest of it is fluff that's been added over the centuries," she sniffs.
Rees, who died in July of cancer at age 71, brings heart and presence to the role of a physically failing Bradford. And an interesting postscript details the long search for his historically vital manuscript, which had gone missing for 80 years.
The Pilgrims
ends up doing its duty, providing a solid meal in the process.
Saints & Strangers
gets the drumstick, though. It's simple a more watchable and palatable feast.
GRADE:
B
Email comments or questions to:
unclebarky@verizon.net