All new Tuesdays and end of Idol highlight Fox's new season plans
05/11/15 10:06 AM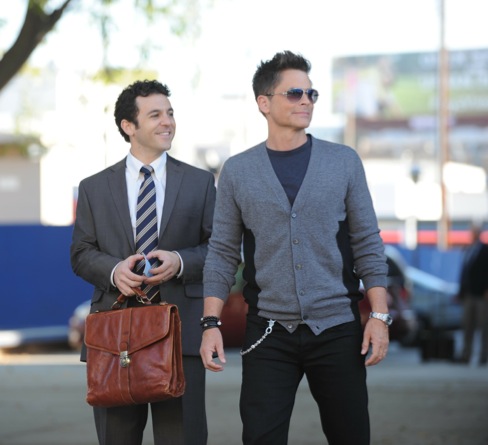 Ben Savage, Rob Lowe star in The Grinder. Fox photo
By ED BARK
@unclebarkycom on Twitter
Fox struck it rich this past midseason with the new serial drama
Empire
. Now it will enter the new season by saying goodbye to the midseason series that made the network super-rich.
Monday's announcement of five new fall series was overshadowed by Fox's decision to end
American Idol
after a "season-long celebratory event." Holdover judges Jennifer Lopez, Harry Connick Jr. and Keith Urban will return for the show's 15th and final season, which as usual will start in January.
Idol
, which premiered on June 11, 2002 and made Kelly Clarkson of Burleson, TX its first champ, once ruled prime-time as no series ever has with multiple nights of singing and judging that crushed all competing programs. The show made a household name of super-acerbic Simon Cowell while also launching the careers of Carrie Underwood, Jennifer Hudson, Katharine McPhee, Chris Daughtry and Adam Lambert among others.
Rival networks eventually developed their own long-running talent competition shows in response to
Idol
's runaway success. They include ABC's
Dancing with the Stars
and NBC's
America's Got Talent
and
The Voice
, which quickly became more popular than
Idol
during its declining years.
Meanwhile, Fox will sail into fall with an all-new Tuesday prime-time lineup while also adding two other new series. The cancellation bin from last season is piled high with
Backstrom, The Mindy Project, Glee, The Following, Weird Loners, Utopia, Gracepoint, Red Band Society
and
Mulaney
. The previously announced ancient Egypt series
Hieroglyph
was mummified before ever getting on the air.
Besides
Empire
, Fox is returning two other freshman series from last season --
Gotham
and
The Last Man On Earth
. The network also will present
Grease: Live
as a one-night event on Jan. 31st, with Julianne Hough and Vanessa Hudgens among the announced stars.
The X-Files'
, six-episode "event series," with David Duchovny and Gillian Anderson reprising their original roles, will launch on Sunday, Jan. 24th following the NFC Championship game.
New Girl
also is being held until January, when it will air on Tuesday nights with "virtually uninterrupted" new episodes.
Here are Fox's five new fall series:
The Grinder
(comedy) -- Rob Lowe plays a famous lawyer at a career crossroads while Fred Savage chips in as his brother. Lowe also is fronting NBC's new
You, Me and the End of the World
, but Fox says he'll be fully committed to its series.
Grandfathered
(comedy) -- John Stamos stars as playboy bachelor Jimmy Martino, who suddenly learns he's a grandpappy. So dagnabbit, now he "has to unlearn a lifetime of blissful selfishness and grapple with the fact that he went straight from single to grandfather in six seconds." FYI, Jimmy didn't know he had a son either.
Scream Queens
(comedy-horror) -- Producer Ryan Murphy (
Glee
and FX's
American Horror Story
franchise) sets this one in a sorority house "rocked by a string of murders." But pledges are still lining up, because this, after all, is television. Jamie Lee Curtis stars along with Emma Roberts,
Glee
alum Lea Michele, Nick Jonas, Ariana Grande and Niecy Nash. Fox promises one fresh victim per episode in a series that's "part black comedy, part slasher flick."
Minority Report
(drama) -- It's adapted from the same-named futuristic film by Steven Spielberg. And had they waited just another year or two, they might've gotten the fast-fading Tom Cruise. Instead the best-known cast member is Wilmer Valderrama from
That '70s Show
.
Rosewood
(drama) -- Morris Chestnut is center stage as the optimism-fueled "Beethoven of private pathologists." In other words, he's Quincy without all the ranting, performing autopsies that help the Miami P.D. solve crimes.
Here is Fox's night-by-night fall prime-time lineup:
MONDAY
Gotham
Minority Report
TUESDAY
Grandfathered
The Grinder
Scream Queens
WEDNESDAY
Rosewood
Empire
THURSDAY
Bones
Sleepy Hollow
FRIDAY
Masterchef Junior
World's Funniest
SATURDAY
College football
SUNDAY
NFL on Fox runovers
The OT/Bob's Burger's
The Simpsons
Brooklyn Nine-Nine
Family Guy
The Last Man On Earth
Fox also has these new midseason bench players.
The Guide to Surviving Life
(comedy) -- A batch of largely unknown young actors -- such as Jack Cutmore-Scott -- explore "what we all go through on our way to figuring out what life is all about."
Bordertown
(animated comedy) -- From the Seth MacFarlane factory, it's a "satirical look at the cultural shifts occurring in America" -- namely in a Southwest desert town on the U.S.-Mexico border. Voice-over talent includes Hank Azaria, Alex Borstein and Judah Friedlander.
The Frankenstein Code
(drama) -- A "modern reimagining" of Mary Shelley's poignant horror classic.
Lucifer
(drama) -- Beezlebub also gets a makeover in this contemporary saga of a bored as hell Lord of Hell. So he ends up running a trendy, upscale L.A. nightclub named Lux. You can't make this stuff up, and it's unclear why they try.
Email comments or questions to:
unclebarky@verizon.net