Herman's hermitage: HBO presents extended Broadway production of Pee-wee's Playhouse
03/18/11 09:55 AM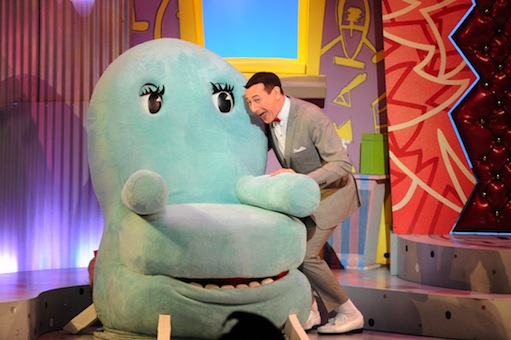 Pee-wee snuggles up with an open-armed Chairy. HBO photo
By ED BARK
It's Broadway gospel that the show must go on, except perhaps in the case of the interminably delayed
Spiderman
.
HBO's
The Pee-wee Herman Show on Broadway
, premiering
Saturday, March 19th at 9 p.m. central
, provides further evidence that a show can go on for too long. Although it must be said that the audience in attendance at the Stephen Sondheim Theatre is hyper-enthusiastic throughout this 90-minute re-do of
Pee-wee's Playhouse
, which originally had a Saturday morning CBS berth from 1986 to 1991. Perhaps Pee-wee (Paul Reubens) first plied them with lots 'n' lots of heavily sugared candies. Or other sensory stimuli.
Anyway, it's a long pull that can be fun and funny -- and more than a wee bit tedious. But TV viewers have an advantage the theater audience didn't. Many of Pee-wee's reactions, and those of his characters, are caught in close-up. Which is a considerable plus for us. Ask those who were seated in the balcony.
Still, "I know you are, but what am I?" has its limits. As do jokes that are aimed at the kid in all of us, but nonetheless land with a thud.
"It took me six months to cure that jerky," says Cowboy Curtis, played by Laurence Fishburne in the original
Playhouse
and now by Phil LaMarr.
"Oh, no, what did it have?" replies Pee-wee.
HBO says its presentation was filmed "immediately following" the show's successful run from Nov. 11th, 2010 to Jan. 2nd of this year. The playhouse as some of us once knew it is meticulously recreated in all of its day-glo glory. And just about all of the main human and non-human characters are back, with the exception of Captain Carl (played by the late Phil Hartman) and Reba the Mail Lady (Emmy-winner S. Epatha Merkerson of subsequent
Law & Order
fame).
Reubens/Herman begins the show with a hearty "Good morning, boys and girls." Seemingly everyone in the audience happily responds in unison before he leads them in a completely straight Pledge of Allegiance.
Two actors return from the old days. Lynne Marie Stewart again plays the flirty, gaudy Miss Yvonne while John Paragon voices the wish-granting Jambi the Genie, who's seen only from the neck up in a bejeweled box. Pee-wee keeps wishing he could fly, but of course can't achieve liftoff until a big finish you know is coming.
CBS abruptly dropped its
Playhouse
repeats in 1991 after Reubens, now 58, was arrested for allegedly exposing himself in a Florida movie theater. The Broadway show doesn't go there. But it does include several out-of-place double entendre jokes ("Wow, you sure got a big hose," Pee-wee tells a firefighter) and a brief pro-gay marriage message. Pee-wee also shows off his "abstinence ring."
If there's a show-stealer, it's the King of Cartoons, buoyantly played by Lance Roberts (in place of predecessors Gilbert Lewis and William H. Marshall). The King immediately makes his presence felt before Pee-wee amusingly gathers an armload of snacks for the cartoon at hand.
A new character named Sergio (Jesse Garcia) is a Mr. Fix-It brought in to wire up Pee-wee's new computer. The perils of fixated social networking eventually are exposed before order is restored after a blackout.
Pee-wee's Playhouse
also triggered several successful feature films, and Reubens reportedly is in talks with director Judd Apatow (
Knocked Up, Superbad
) to make a new one.
Movies allow Pee-wee to get out and about.
The Pee-Wee Herman Show on Broadway
, stuck within the confines of his playhouse, provides more than a little too much of what used to be a pretty good thing. Better for it to be served in those manic but economical half-hour Saturday morning doses.
GRADE:
B