Chasing down The Fugitive is well worth the marked-down Complete Series DVD price
07/01/15 10:30 AM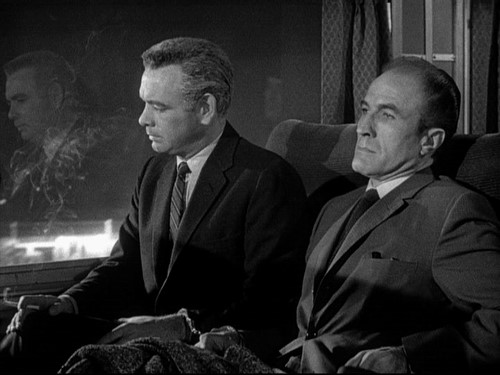 Dr. Richard Kimble & his dogged nemesis, Lt. Philip Gerard.
By ED BARK
@unclebarkycom on Twitter
Prime-time TV's original running man, Dr. Richard Kimble, spent four seasons and 120 episodes under the cloak of numerous aliases and in the arms of women he couldn't have.
Meanwhile, an obsessed Lt. Philip Gerard pursued him in fine grim-faced form while Kimble himself sought to apprehend the "One-Armed Man" he believed had murdered his wife in Stafford, Indiana on the very fateful night of Sept. 19, 1961. Two years later, after exhausting all appeals, the convicted Kimble was aboard a train and en route to the death chamber while handcuffed to Gerard. Un-billed, all-business narrator William Conrad, TV's future
Cannon
, put it this way in the pilot episode: "Richard Kimble ponders his fate as he looks at the world for the last time and sees only darkness. But in that darkness, fate moves its huge hand."
It was my favorite TV drama as a high school kid. And now the complete series, on 32 discs, is newly available via CBS DVD -- even though the series originally aired on ABC.
You won't have to pay an arm -- or a leg -- for it. Although retailing for $79.99, it's currently available for $46.00 on
Amazon.com
. There's no explanatory booklet or any "Extras" of any import. But you can bask in the beautifully remastered, crystal-clear episodes back when an hour of TV, minus commercials, had more than 50 minutes of actual program content. Subtract 8-to-10 of those minutes from today's dramas.
The Fugitive
, with David Janssen as Kimble and Barry Morse as Lt. Gerard, premiered on Sept. 17, 1963 and ended on Aug. 29, 1967 with a very satisfying and still pulsating resolution of the case. The denouement ranked as the most-watched series episode ever, and held that position until the Feb. 28, 1983 two-and-a-half-hour finale of
M*A*S*H
.
A big-screen version of
The Fugitive
, with Harrison Ford and Tommy Lee Jones as the two principals, became an even bigger success in 1993, with seven Oscar nominations and a win for Jones as Gerard. A 2000 CBS version, with Tim Daly and Mykelti Williamson, ended up as one of that season's biggest flops.
As "A Quinn Martin Production" -- which a booming voiceover made very clear -- black-and-white episodes of
The Fugitive
first joined ABC's Tuesday night lineup in tandem with the network's
The Greatest Show On Earth
and opposite two variety series (CBS'
The Garry Moore Show
and NBC's
The Bell Telephone Hour
). At the height of its ratings powers,
The Fugitive
rose to No. 5 on the Nielsen charts in Season 2. It never moved from its original 9 p.m. (central) Tuesday slot. Imagine that.
Networks increasingly were going to color by the time of
The Fugitive
's premiere. But
The Fugitive
stuck to b&w until its final 1966-'67 season. And the vivid visual crispness of those 90 pre-color episodes makes one wish they had stayed the course.
Episode 1 took its time, with Conrad's narrative voice escorting viewers through the train derailment that freed Kimble, his first on-camera fake identity (James Lincoln), a lonely bus ride after six months on the lam, etc., etc.
"Another journey, another place," Conrad intones. "Walk neither too fast nor too slow. Beware the eyes of strangers. Keep moving."
This time it was Tucson, where Kimble ends up working as a bartender at "The Branding Iron." But Conrad keeps talking: "Look closely. Be sure of this. They'll never stop looking. He'll never stop. Not Lt. Gerard."
Morse, as Gerard, finally gets the first words from a character. But it's not until the 4 minute, 32 second mark, when he says after circling a map, "Somewhere in there. I'm sure of it."
Janssen, as Kimble, doesn't get to speak until the 7:16 mark. He's at the Branding Iron now, with guest star Vera Miles mournfully playing "I'll Never Smile Again" on the piano. Fellow guest star Brian Keith quickly comes into view and looks extra-menacing in black-and-white as a surly, heavy-drinking, insanely jealous wife-beater named Ed Welles. His estranged spouse, Monica Welles (Miles), has been trying to escape him in tow with their young son. As was inevitably the case with
The Fugitive
, Kimble gets caught in the middle while also racking up his first of many heartfelt smooches.
The episode still holds up well, even when Kimble stays in his sport coat, dress shirt and tie while joining Monica and her son at the dusty Wonderland amusement park. The kid turns out to be quite a slugger, winning a baseball bobble head doll that today would be very collectable. But my wandering eye also noticed a bigger carnival game prize -- a miniature Willie Mays figure among others from the Wisconsin-based Hartland Co. It's now worth several hundred dollars. I still have my Ernie Banks statue from more than 50 years ago.
Anyway, Kimble eventually spills out his past to Monica, who nonetheless wants to run off with him. But it's not meant to be. Longing looks are exchanged before the weekly "Epilog" finds Kimble on the run again, stopping only to pick up and pet a stray kitty cat before walking off into the nighttime mist while the horn music swells to the size of a 30-foot wave. Whatever the caliber of individual episodes, it's impossible to fall asleep for long. One of those big, brassy soundtrack bursts will make you wide-eyed again in a hurry.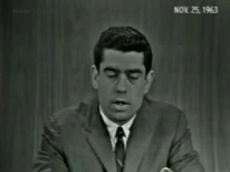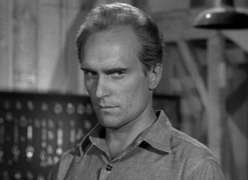 Guest stars Brian Keith (in 1st episode) and Robert Duvall (eps. 4-5).
The Fugitive
's guest star contingent, some of them largely unknown at the time, also included Bruce Dern, Kurt Russell (as Gerard's son), Beau Bridges, Charles Bronson, Ossie Davis, Mickey Rooney, William Shatner, Tuesday Weld, Carroll O'Connor and Robert Duvall.
Duvall, used to
much better effect as a heroin addict
in an episode of the 1960s series
Route 66
, is somewhat peripheral in the two-part "Never Wave Goodbye" story that consumed episodes 4 and 5 of
The Fugitive
. He dons a Norwegian accent to play the distrustful, guilt-ridden half-brother of Karen (Susan Oliver), the latest comely woman to fall under Kimble's spell (this time he's Jeff Cooper) after he drops in to work for a Santa Barbara sail maker.
Meanwhile, Gerard again is disappointing his young son, "Flip," who yearns to go camping and fishing with his dad. But a planned trip again is waylaid after Gerard gets a new lead.
These episodes mark the closest encounter between Gerard and his prey since they sat shackled together in each episode's introduction. They first re-glimpse each other at the Hall of Justice after Kimble comes to believe that the one-armed man he seeks is incarcerated there.
Part Two of "Never Wave Goodbye" finds Kimble and Karen striving to fake their deaths during a big dinghy race while Gerard again closes in. "If it works, Karen, we'll see if Gerard will chase a ghost," Kimble tells her.
But the single-minded Gerard will go to the ends of the earth to capture Kimble. He'll also get into a flimsy raft, which capsizes near some rocks and leaves him in danger of drowning. Witnessing this, will Kimble do the right thing? Yes, things get more than a bit far-fetched. But no, the episodes do not entirely sink or stink dramatically, even if the expectations of a bravura performance by Duvall go unmet in the end.
Episode 14 of Season One, "The Girl From Little Egypt," turns out to be pivotal in flashing back to some of what happened before and during the night when Kimble drove home after arguing with his besotted wife. Helen and Richard again had clashed over her refusal to adopt a child after she delivered a still-born boy and learned she couldn't conceive again. Kimble spotted a fleeing one-armed man up-close before he found Helen dead and eventually took the rap for it.
The flashbacks are from a semi-conscious, sweat-drenched Kimble, who finds himself in a hospital after a bereft young flight attendant accidentally runs him down. By the end of the hour, he's convinced her that the married guy she had fallen for is nothing but a promise-breaking heel. After a last supper with her at a Mexican eatery, Kimble's again aboard a bus with "his only companion -- hope."
By the way, this time he had masqueraded as George Browning. The aliases were always pretty generic and nothing on the order of Herbert Kluffenberg or Giancarlo Esperanza. Other false identities throughout the long run of the series included Jim Fowler, Ray Miller, Al Fleming, Bill Carter, Harry Carson, Joseph Walker, Larry Talman, George Porter, George Paxton and George Norton. (Yeah, he did seem to have a jones for George.)
He's Nick Peters in the Season 2 finale, a rousing tale in which Steve Forrest plays the amoral owner of the crumbling, nearly bankrupt Jungle Land zoo. Kimble takes on a job cleaning animal cages and eventually finds himself in one. Will Gerard capture him as well? Or will an old tiger tamer with a wishy-washy conscience come to his aid before the cops close in?
The Season 3 finale has Kimble, as Tony Carter, working on a derrick barge off the California coast. Guest star Murray Hamilton is the bossman and Antoinette Bauer plays the fetching lady of interest, Coralee. A ship "accident" leaves a crew member dead and Coralee again branded a "Jonah" who has a history of causing bad things to happen.
Kimble commiserates with her, of course, stealing kisses and embraces while also taking a hard sucker punch to the head from a dense crew member. Authorities eventually close in, this time without Gerard, before another last-ditch escape puts Kimble on another bus out of town. Watch for a virtually unrecognizable Dabney Coleman, without a mustache, as a well-meaning cop named George Graham.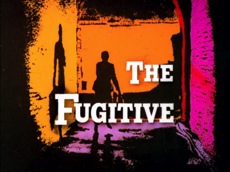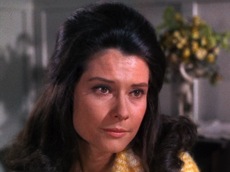 The series finale & the climactic girlfriend, played by Diane Baker.
All of these close calls and cut-short romances led to the denouement that viewers wanted and that ABC finally was persuaded to give them after
The Fugitive
was canceled.
"The Judgment," Parts 1 & 2, spread over two weeks in late August, 1967, provide Kimble with his last alias (Frank Davis), his last girlfriend (a keeper named Jean Carlyle) and the closure he'd so desperately sought through four years of trademark mouth twitches and crushing angst.
It's perhaps a little weird to hold back on "spoilers" more than four-and-a-half decades after the finale aired. But several new generations have no clue what happened. And even those who were eyewitnesses at the time have likely forgotten many of the details. Myself included.
So suffice it to say that this is no David Chase open-ended goodbye to
The Sopranos
. Nor does it have the full-blown ridiculosity of the
Dexter
finale.
The Fugitive
instead pays back the faithful with a genuinely thrilling action sequence followed by a heartening Epilog. Its venues range from a strip bar featuring "Topless Watusi Dancers" to the Los Angeles Zoo to an abandoned amusement park that once urged one and all to "Be A Real Swinger! Ride the Imported South Sea Thrill, the Fantastic MAHIMAHI."
Epilog: The late Janssen, who died in 1980 at the age of 48, never won an Emmy Award for his portrayal of Richard Kimble but was nominated three times. Morse, a British actor who lived to be 89, was never nominated for the role of Gerard. But the series itself won the 1966 Emmy as "Outstanding Dramatic Series."
All these years later, it rates as an "Outstanding Bargain" for those who want to revisit
The Fugitive
or discover it for the first time.
Email comments or questions to:
unclebarky@verizon.net