Glory Daze goes to the back of the class with hackneyed college try
11/15/10 02:12 PM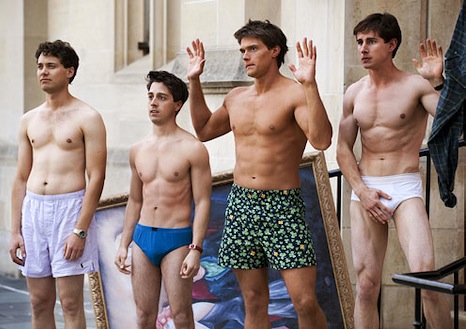 A typically subtle scene from the new Glory Daze. TBS photo
Premiering:
Tuesday, Nov. 16th at 9 p.m. (central) on TBS
Starring:
Kelly Blatz, Matt Bush, Drew Seeley, Hartley Sawyer, Julianna Guill, Tim Jo, James Earl, Josh Brener, Tim Meadows
Produced and created by:
Walt Becker, Mike LeSieur
By ED BARK
Kids bent on heading off to college at their parents' expense might want to keep them away from TBS'
Glory Daze
.
Because if they see it, you might well end up in welding school.
Launching Tuesday,
Daze
is dedicated to the proposition that institutions of higher learning are sham fronts for four years of non-stop drinking, drugging, screwing, hazing and ogling. OK, maybe that's basically true. But this is no
Animal House
-- because it's not nearly as artful.
Daze
instead is a truly dreadful one-hour comedy that's clumsily executed on all fronts besides resorting to some truly jaw-dropping racism.
It all originates at a fictional Indiana University, circa 1986, where wide-eyed Joel Harrington (Kelly Blatz) is instantly taken with all the writhing, partying co-eds populating the campus grounds. So is his dad (an embarrassing cameo from Brad Garrett), who drives the family car into a tree while also taking in the sights. Mom is played by former
Saturday Night
star Cheri Oteri, who's equally grating.
Joel's initial dorm roommate is the very nerdy Zack Miller (Josh Brener). But he's soon in the company of three fraternity-pining pals named Eli Feldman (Matt Bush), Jason Wilson (Drew Seeley) and Brian Sommers (Hartley Sawyer). They're respectively a virgin pretending he's a stud, a straight arrow conservative and a reluctant baseball jock.
Supporting players include an embarrassingly token Asian named Alex Chang (Tim Jo) and the beauteous Christie De Witt (Julianna Gulli), who turns out to be taken.
Shopping for a frat house, the boys climactically visit hard-partying, imperious Omega Sig. This is the sort of exclusive club that uses a pint-sized Mexican who wears an oversized sombrero doubling as a chip 'n' dip tray. The miniature, mostly mute Mex later is pushed around in a grocery store cart by his white Omega Sig puppeteer.
One of the principal would-be pledges eventually says in passing that Omega Sig might be a little racist. But does that deter them from wanting to join? Not at all. And wait'll you see the scene where an officious black cop tazes a jailed student in the shorts. He doubles over, and you're supposed to do likewise -- with laughter.
Another
SNL
alum, Tim Meadows, shows up in the regular role of Professor Haines, who delights in belittling his students. The university baseball coach adds to the overall ambience by relating how his dad took him to a whore house at age 12 to teach him the difference between love and sex.
Glory Daze
belies the tiresome TBS slogan "Very Funny," instead opting for an antonym of that. It's also the worst new series of the season, falling just short of stupendously bad before settling for remarkably stupid.
GRADE:
D-minus