Denis Leary's EMT comedy Sirens leers and veers on USA
03/05/14 02:22 PM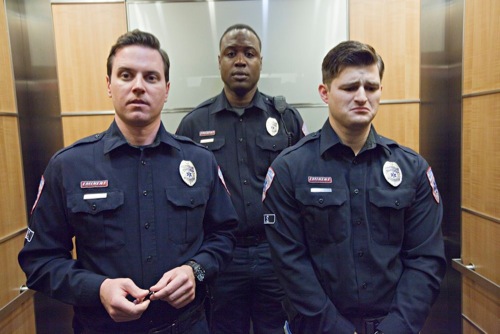 Michael Mosley, Kevin Daniels, Kevin Bigley star in Sirens. USA photo
Premiering:
Thursday, March 6th at 9 p.m. (central) with back-to-back episodes on USA network
Starring:
Michael Mosley, Kevin Daniels, Kevin Bigley, Jessica McNamee, Bill Nunn
Produced by:
Denis Leary, Bob Fisher, Jim Serpico, Tom Sellitti
By ED BARK
@unclebarkycom on Twitter
This time he's behind the camera. Denis Leary otherwise is in
Rescue Me
mode with
Sirens
, an oft-explicit scripted comedy series about Chicago-based EMTs.
You can find it, oddly enough, on the USA network, which otherwise is without any original sitcoms. Instead it's home to quippy one-hour dramas such as
Psych, Royal Pains, Suits
and
White Collar
.
Three episodes of
Sirens
were made available for review. But for some reason none of them are Thursday's pilot episode, which will immediately be followed by a second half-hour subtitled "A Bitch Named Karma."
The diciest of the bunch, "Rachel McAdams Topless," has been saved for next week. This is the one where featured rescuers Johnny, Hank and Brian (Michael Mosley, Kevin Daniels, Kevin Bigley) let it all hang out with discourses on porn, human penises and horse penises before responding to a false alarm that finds all three of them stunned by the sight of an elderly couple having relations in their kitchen.
"That was the California Raisins making a sex tape," says Hank, who's openly gay and in a subsequent episode references "blow job" and Neil Patrick Harris in the same riff.
The series' fourth regular character is Theresa (Jessica McNamee), a Chicago cop who used to date Johnny. But some of
Sirens'
best scenes involve gruff EMT bossman "Cash" (Bill Dunn), a recurring character who's in two of the three episodes sent to TV critics.
Lenny Clarke, a favorite of Leary's from
Rescue Me
, and Jean Smart drop in to play Johnny's parents in the "Famous Last Words" entry. Mom's "in my sexual prime" -- or so she thinks -- and dad has been estranged from his son since taking up with a stripper named Coco when Johnny was just 13. But were there extenuating circumstances? Meanwhile, it's good to see Clarke has kept the weight off and if anything is even trimmer. Here's to his health. He's one of the industry's really nice guys, even if his on-screen persona is still built around ample loud braying.
USA has ordered 10 episodes of
Sirens
, which at its best is dumb fun. Johnny, Hank and rookie EMT Brian of course keep making a fine mess of things. They also mesh together pretty well in a series that bracingly is without a detracting laugh track.
Many viewers may not laugh all that much on their own either. But there are amusements to be had in
Sirens
, including Brian's worshipful respect for Rob Lowe's
The Christmas Shoes
. Man does not live by porn alone it seems.
GRADE:
B-minus
Email comments or questions to:
unclebarky@verizon.net