Ben and Kate gives Fox another doofus male (to go along with its cartoon characters)
09/19/12 02:29 PM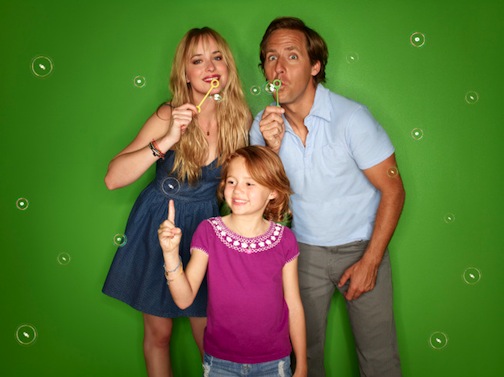 The big dummy's on the right in Ben and Kate. Fox photo
Premiering:
Tuesday, Sept. 25th at 7:30 p.m. (central) on Fox
Starring;
Nat Faxon, Dakota Johnson, Maggie Elizabeth Jones, Lucy Punch, Echo Kellulm
Produced by:
Dana Fox, Peter Chernin, Katherine Pope, Jake Kasdan, Neil Goldman, Garrett Donovan
By ED BARK
@unclebarkycom
Where would the sitcom world be without all those misfit males?
The loudmouth neanderthal. The clueless bumbler. The callow cad. The anal fixator. The flat-out doofus.
Women probably could make something of a case for themselves, too. But this fall's new crop of comedies is trading heavily on lead characters with nut sacks attached. All right, we're crude, too.
Ben Fox of Fox's
Ben and Kate
falls into the category of 100 percent doofus. As with CBS'
Partners
, he's drawn from a real-life situation. The principal creator of the series, Dana Fox, has a brother named Ben. And as she puts it in a creatively written Fox publicity release, "When I was little, my older brother used to punch me so hard he'd knock the wind out of me and then he'd make an awesome game out of convincing me he knew the precise medical way of getting my breath back. Somehow, I worshipped him for saving me rather than hating him for hurting me. Who knew all those years ago that he was preparing me to make a TV show?"
Write what you know, as they say. And Dana Fox has penned a pretty funny first episode of
Ben and Kate
, which will be part of a new Fox comedy Tuesday along with holdovers
New Girl
and
Raising Hope
plus fellow newcomer
The Mindy Project
.
Dana's alter ego, Kate, is well-played by Dakota Johnson. Her five-year-old daughter, Maddie (Maggie Elizabeth Jones), is the product of a lout who's seen literally running away from her once he gets the news of her pregnancy in a flashback scene.
Kate now works at a bar and grill in tandem with a requisite saucy Brit named BJ (Lucy Punch), described by Fox as "an all-around hot mess." She's constantly encouraging Kate to get out there and be somebody -- or at the very least bed somebody. And Kate in fact has been dating a studly sort named George, even though they haven't done it yet.
Not to worry, though. "I'm amazing at gettin' laid," Kate assures the doubting BJ. "Before Maddie was born, I was out there crushin' ass left, right and center."
The very hyper Ben (Nat Faxon) has blown back into town after the only girlfriend he ever called "Mrs. Ben Fox" asked her to give him a call. He instead arrives in person, only to learn that . . .
In some ways, Kate might as well be Ethel Mertz telling Lucy Ricardo, "I'm not getting sucked into another one of your hare-brained schemes." Instead she says this to Ben, but of course won't be able to resist him.
The Tuesday, Sept. 25th premiere episode includes a funny scene in which Ben stifles an assortment of curse words by talking gibberish while in the company of the impressionable Maddie. Faxon's performance is reminiscent of what Will Ferrell might have done with this role a dozen or so years ago. Which by and large isn't bad.
Ben of course will have to move in with Kate, ostensibly to help her take care of Maddie. Not that he has any strong ties to Sacramento, where he's been residing without a job.
Ben and Kate
can be a bit grating and certainly isn't all together great. But its small ensemble -- which also includes Ben's pal, Tommy (Echo Kellum) -- is clicking pretty well for starters. Dummies of the male persuasion will continue to find work in sitcoms good, bad and great. This one shows overall signs of intelligent life -- with apologies to Ben.
GRADE:
B-minus