PBS' Sherlock further livens up Sundays with three more splendid adventures
05/04/12 12:58 PM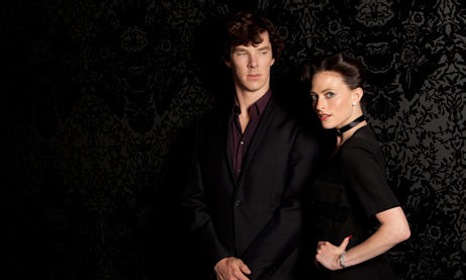 The man himself and dominatrix Irene Adler in Sherlock. PBS photo
By ED BARK
@unclebarkycom
Curt as ever but mesmerized by a wily
femme fatale
, PBS' version of Sherlock Holmes is back with three more brainy whodunits on a night already filled to overflowing with other high-quality options.
Season 1 was mighty tasty
. And the Sunday, May 6th return (
8 p.m. central
) is even more so thanks to Lara Pulver's portrayal of the slithery Irene Adler in a case entitled "A Scandal in Belgravia."
It's been quite a long wait. Airing under the
Masterpiece Mystery
banner, the first three 90-minute episodes of
Sherlock
premiered in the U.S. in October and November of 2010. The third one, subtitled "The Great Game," ended in cliffhanger fashion with Holmes (Bendict Cumberbatch) and nemesis Jim Moriarty (Andrew Scott) in a standoff while Watson (Martin Freeman) had a bomb strapped to him.
Sunday's return picks up exactly at that point, with matters quickly resolved. Then it's on to a blackmail caper involving the British Royal family. That's where Adler steps in as a dominatrix at the center of this swirl. Her motto is "know when you are beaten." And she first greets Holmes in the nude, although her privates aren't about to be shown on public television.
"Look at those cheekbones," Irene says approvingly. "I would cut myself slapping that face. Would you like me to try?"
Holmes is a bit taken aback but is soon rejoining, "Stop boring me.
Think
. It's the new sexy."
Set in present-day London,
Sherlock
isn't always easy to follow. But in this case -- and in these cases -- that's not much of a drawback. The fun is in the snappy dialogue and the impeccable actors delivering it. As when Holmes later tells his elderly and suddenly under duress landlady, (Una Stubbs), "Don't snivel, Mrs. Hudson. It'll do nothing to impede the flight of a bullet."
Holmes obviously retains his perfunctory air, whether in the company of Watson, the authorities, his stern, older brother Mycroft (co-executive producer Mark Gatiss) or cat lady Adler. But she's not someone to trifle with, and Holmes finds her to be both intoxicatingly smart and even alluring. He's not much for the ladies, preferring the company of himself. This is pretty tempting, though -- and on so many levels.
Cumberbatch again is first-rate as the cocksure, enigmatic Holmes, with Pulver a wonder as his would-be seductress. A surprise ending also is in store before
Sherlock
continues on the next two Sundays with "The Hounds of Baskerville" and "The Reichenbach Fall," during which Moriarty makes a re-entrance.
A Season 3 is planned, with production tentatively scheduled to start in early 2013. For some of us, this is much better news than the plans to go forward with a third edition of PBS'
Downtown Abbey
. All things considered,
Sherlock
is made of sterner stuff, including its title character's ever-brusque demeanor.
No need to change a thing. But ample need to activate recording devices when the Sunday night alternatives include AMC's
Mad Men
and
The Killing
, HBO's
Game of Thrones, Girls
and
Veep
, ABC's
Once Upon A Time
and CBS'
The Good Wife
. Happy watching -- one or all.
GRADE:
A