The Simpsons go Lego in Episode 550
05/01/14 02:49 PM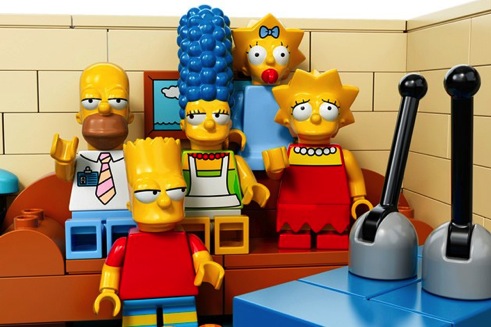 The Simpsons as Legos in "Brick Like Me" episode. Fox photo
By ED BARK
@unclebarkycom on Twitter
Homer Simpson has always been a blockhead but until now, never a Lego.
That's been remedied in the 550th episode of
The Simpsons
(
Sunday, May 4th, 7 p.m. central
), which reassembles Homer, Marge, Bart, Lisa and Maggie in detachable parts.
The "Brick Like Me" episode is visually striking and verbally amusing. It also goes to show that the creative team behind this amazingly enduring series can still marshal forces for a "labor of love, but also a labor of work" that took two years to complete, according to Fox publicity materials.
In the Lego world of
The Simpsons
, Bart's school can completely crumble and then be rebuilt to his specifications. Limbs and heads are detachable, too, with various characters long accustomed to living in pieces.
It's all part of Homer's fantasy world, which becomes very real to him when he sees a "hideous flesh monster" in the bathroom mirror. That would be the old Homer, whose hands "looked like snakes made of meat," he tells Marge.
How the Simpsons became Legos -- and how they revert back -- is inventively written and depicted. Instrumental in the transitions is a boxed Perky Patty's Princess Shop that Homer buys for his oldest daughter.
Besides the five principal Simpsons, most of the show's longtime supporting characters also are at least fleetingly seen as Legos. Roughly two-thirds of the episode is one big block party. Or as the Rev. Timothy "Tim" Lovejoy puts it in a sermon, all of Springfield's creatures great and small are made of "acrylonitrile butadiene styrene, or in the common tongue, plastic."
The Simpsons
, in its 25th season, isn't the razor sharp, renegade cartoon series it used to be. But every season still has its moments, and the trippy May 4th Lego episode definitely is built to last.
GRADE:
A-minus
Email comments or questions to:
unclebarky@verizon.net