Hoff the Record migrates from the UK to AXS TV
03/31/16 11:33 AM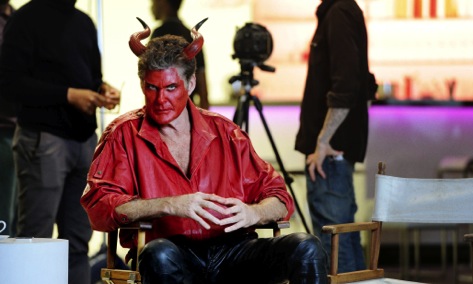 He's David Hasselhoff and no, we're still not. AXS TV photo
Premiering:
Thursday, March 31st at 8 p.m. (central) on AXS TV
Starring:
David Hasselhoff, Fergus Craig, Ella Smith, Asim Chaudhry, Mark Quartley, Brett Goldstein, Craig Roberts, Miranda Hennessy, John Macmillan
Produced by:
Iain Coyle, Richard Watsham, Eric Gardner, Richard Yee, Krishnendu Majumdar
By ED BARK
@unclebarkycom on Twitter
There's just no way that David Hasselhoff is going away.
Still milking
Knight Rider, Baywatch
and even that viral video of him crawling around drunk trying to eat a cheeseburger, he's back on TV in the United Kingdom-produced
Hoff the Record
. The six-episode "mockumentary," starring Hasselhoff as Hasselhoff, launches Thursday, March 31st in the U.S. on Mark Cuban's AXS TV.
The bloodlines are pretty decent. Richard Yee and Krishnendu Majumdar, listed as co-producers, also worked on Ricky Gervais'
An Idiot Abroad
. So there are some amusements here and there, with the 63-year-old Hasselhoff debasing himself when called upon while also doing more lumbering than acting. AXS TV sent the entire series for review and your friendly content provider somehow got through them all with minimal leakage from the old brain pan.
The premise finds Hasselhoff as a has-been seeking to "reinvent" himself in the UK. His inept, latter day manager, Max Coleman (Fergus Craig), greets him warmly: "Hasselhoff, you randy old horn dog!"
Hoff's other principal caretakers are coarse driver Terry Patel (Asim Chaudhry) and plus-sized production assistant Harriet Fitzgerald (Ella Smith), who painfully yearns to be useful. The first new career possibility is a bio-pic in which Hasselhoff expects to play himself from at least age 18 on, but is continually rebuffed by snooty young director Josh Brooke-Webb (Craig Roberts).
Vain-glorious Hoff finds himself mentally bent, spindled and mutilated by all of this. After all, he crows, he's the guy who "helped" to bring down the Berlin Wall by singing "Looking For Freedom" atop it back in 1989.
By the end of the first episode -- spoiler alert -- Hasselhoff discovers he has a son named Dieter (Mark Quartley) from what turned out to be an amorous night in Berlin with a groupie. "David is renowned for being the most fertile celebrity in the business," manager Max tells the camera near the start of Episode 2.
Hoff's future misadventures range from reluctantly endorsing a new aftershave scent (while costumed as the devil) to deluding himself into believing he can be a U.N. ambassador. "It's what I did on
Baywatch
every single episode. Resolve conflict," he reasons. Or perhaps Hoff instead can be "the face of a global charity" or make a quick $250 grand by performing three songs at a birthday party for a despotic warlord who's a big fan.
It's all meant to be "cheeky," and occasionally beats a slap in the face. Rather than building comic momentum, though,
Hoff the Record
sinks too deep into its overall cheesiness before melting down in the end. The numerous references to
Knight Rider
and
Baywatch
(but no mention at all of
America's Got Talent
and A&E's disastrous
The Hasselhoffs
) are thoroughly played out by the time Hoff declares in Episode 6, "I can save the world, man. That's what I wanna do."
In what's more or less his real life, Hasselhoff will be appearing in the upcoming
Sharknado 4
and also has a cameo in a scheduled 2017
Baywatch
feature film starring Dwayne "The Rock" Johnson in Hoff's former lead role of lifeguard Mitch Buchannon.
Hoff the Record
in contrast allows him to be fully front and center while also sporting a big "Don't Hassel the Hoff" tat on his back with an accompanying picture of himself. As sight gags go, it's a pretty sad one.
GRADE:
C-minus
Email comments or questions to:
unclebarky@verizon.net