Reviewing Netflix's Bloodline based on viewing all 13 Season 1 episodes
04/15/15 01:40 PM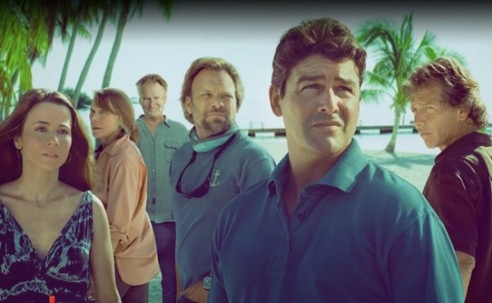 The Rayburn brood has issues, secrets, scar tissue. Netflix photo
Premiering:
All 13 Season 1 episodes currently streaming on Netflix
Starring:
Kyle Chandler, Ben Mendelsohn, Sissy Spacek, Linda Cardellini, Norbert Leo Butz, Jacinda Barrett, Jamie McShane, Enrique Murciano, Chloe Sevigny, Katie Finneran, Steven Pasquale, Mia Kirschner, Eliezer Castro, Glenn Morshower, Sam Shepard
Produced by:
Todd A. Kessler, Glenn Kessler, Daniel Zerman
By ED BARK
@unclebarkycom on Twitter
Bloodline
has been in the Netflix pipeline for several weeks. But with so many other new dramas of note and only so many hours in a day, it's time hasn't come until now on unclebarky.com.
The streaming network made three of the 13 Season 1 episodes available for review before
Bloodline
went full monty on March 20th. But I've found it far better to watch an entire season before making a judgment. This isn't possible in the case of most TV series. On Netflix it's the norm.
So should you make the full 13-episode investment and then look forward to Season 2, which has already been ordered? Or is this a lengthy journey toward no particularly good end?
Well, the ending is ominous. But the trip is absolutely worth it. Buoyed by a bravura performance from Australian Ben Mendelsohn (
The Dark Knight Rises
) as prodigal son Danny Rayburn,
Bloodline
is an absorbing, fractious family drama that captivates despite giving away Season 1's major development in the very first hour.
The hook is embedded nonetheless. How did deputy sheriff John Rayburn (Kyle Chandler of
Friday Night Lights
fame) get to the point of setting a boat on fire with his dead older brother, Danny, on board? What drove him? What drove Danny? Chandler's narrative voice further dangles the chum: "What we did to our brother, we had to do. Please don't judge us. We're not bad people. But we did a bad thing."
Bloodline
's executive producers -- Todd A. Kessler, Glenn Kessler, Daniel Zerman -- were also the team behind FX's acclaimed
Damages
. They're crafted an atmospheric, hellish tale set in a seeming south Florida paradise. The Rayburns of Monroe County, which includes the Florida Keys, have run a namesake getaway hotel since 1968. Patriarch Robert Rayburn (Sam Shepard) started it from scratch with his wife, Sally (Sissy Spacek). Besides Danny and Johnny, their brood also includes youngest son Kevin (Norbert Leo Butz), a beer-sucking underachiever, and daughter Meg (Linda Cardellini), whose prowess as an attorney attracts outside interest.
Danny, a drug-imbibing, hard-drinking, chain-smoking ne'er-do-well, has his reasons for being a misfit. As a kid he endured extreme trauma tied to the drowning death of his sister, Sarah, who was 10 years old at the time and the apple of the old man's eye. How and why this happened is slowly revealed throughout Season 1 via flashbacks and verbal recollections. A haunted and victimized Danny hasn't been the same since. But he returns to the fold for a big family celebration tied to the dedication of a pier in honor of the Rayburns. Bad things quickly begin happening, with all eyes repeatedly returning to the family's designated pariah.
Mendelsohn is good enough in this role to equal and sometimes surpass Matthew McConaughey's portrayal of addled, cosmic Rust Cohle in Season 1 of HBO's
True Detective
. He's chilling, heart-breaking, cocksure and ever-volatile without being violence-prone. Danny instead is accustomed to being on the receiving end, de-valuing his worth in the process. His lone "friend" in town is Eric O'Bannon (Jamie McShane), a crum-bum parolee prone to involvement in illicit activities. Eric's sister, Chelsea (an effective Chloe Sevigny from
Big Love
), is a hard-working but also hard-partying nurse who sees something in Danny that hardly anyone else does except Mama Sally Rayburn. She has her reasons, though. And they're rooted in guilt.
Spacek gradually gets much more to do as the series develops. Don't get too used to Shepard, though. As usual, he's not up for any long hauls these days. Still, his character's shadow is imposing and particularly indelible in Danny's tortured memories.
Chandler is sturdy and puffier-faced as the "responsible" son who's invariably trusted to take care of things. The role tends to be somewhat suffocated in the early going by Mendelsohn's almost hypnotic work as Danny. Chandler gets his own ball rolling, though, with Episodes 12 and 13 in large part belonging to him.
It's an open question whether
Bloodline
can resume at high throttle without Mendelsohn's full participation in Season 2. Flashbacks from his recent life could further flesh out Danny and keep Mendelsohn in recurring view if the producers choose to go that way. But in the here and now, prepare to be continually blown away by the depth and passion he brings to a character you won't soon forget.
Bloodline
gives Netflix yet another first-rate series in league with
House of Cards
and
Orange Is the New Black
. Performance-wise, it already stands at the head of that class, with Ben Mendelsohn clamping down, making his mark and driving this series to the next level.
GRADE:
A-minus
Email comments or questions to:
unclebarky@verizon.net