Code Black is latest candidate to end CBS' long medical drought
09/29/15 05:10 PM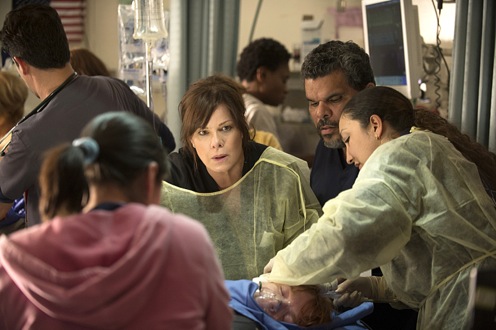 Marcia Gay Garden ramrods the ER in Code Black. CBS photo
Premiering:
Wednesday, Sept. 30th at 9 p.m. (central) on CBS
Starring:
Marcia Gay Harden, Bonnie Somerville, Raza Jeffrey, Luis Guzman, Melanie Chandra, Harry M. Ford, Benjamin Hollingsworth, William Allen Young
Produced by:
Michael Seitzman, David Marshall Grant, Bretty Mahoney, Molly Newman, Ryan McGarry, Marti Noxon, Linda Goldstein Knowlton
By ED BARK
@unclebarkycom on Twitter
Crime dramas? CBS long has had a boatload of 'em, with the
CSI
and
NCIS
franchises in particular spinning off multiple successful descendants in the past 15 seasons.
On the medical front, though, that same 15-year span has quickly put these CBS medical hours in the morgue:
City of Angels, Presidio Med, 3 lbs, Dr. Vegas, A Gifted Man, Miami Medical
and
Three Rivers
. The network hasn't had a hit hospital drama since
Chicago Hope
stopped beating in May of 2000.
But you know what they say in the TV profession: "Take two aspirin and pitch me in the morning." Which brings us to
Code Black
, an unrelentingly urgent series about a Los Angeles ER under a heavier than usual siege of new arrivals. Escapist fare it's not, unless you want to run and hide after reading the opening printed prognosis. "Code Black: An influx of patients so great, there aren't enough resources to treat them. The average ER is in Code Black five times per year. Angels Memorial Hospital in L.A. is in Code Black 300 times per year."
It all starts with playfully gruff senior nurse Jesse Sallander (Luis Guzman) telling a quartet of incoming residents, "I'm your mama." The "daddy" is Dr. Leanne Rorish (Marcia Gay Harden), an all too typical rebel who flaunts procedure and regularly clashes with fellow ER vet Dr. Neal Hudson (Raza Jaffrey). "You're the doctor they want," she sasses him in the early minutes of Wednesday's premiere. "I'm the doctor they need." And in case that doesn't come across, Rorish later informs him, "Sometimes you just gotta be a cowboy, Neal."
Harden is a fine actress, but the show's writers too often give her heavy-handed lines that are the equivalent of cauterizing a head wound with a blow torch.
"You want it straight? Or you want doctor talk?" she asks a hysterical young woman whose father is in very bad shape.
Other supporting characters fare no better. Spunky resident Christa Lorenson (Bonnie Somerville), who's older than her three peers, gives Rorish a dose of her own cliche medicine by telling her, "In my experience, tragedy either softens you or hardens you." The ER's longest-serving doc, Rollie Guthrie (William Allen Young), can't cure his penchant for calling resident Angus Leighton (Harry M. Ford) a "young squire." As in, "Abracadabra. That's why we're here, young squire. Never forget that." Pass the Pepto, please.
The first episode takes place entirely in the frenetic workplace, save for some rather far-fetched ambulance-in-a-traffic-jam heroics by resident Lorenson. Other sights and sounds include a patient vomiting on himself after his badly fractured leg is snapped back into place without anesthetic. Meanwhile, mops are kept very busy sopping up blood.
The patients keep on coming, with the inevitable "Code Black" called during an order-barking feast of chaos.
Things perhaps will calm down somewhat in subsequent weeks, although the title of the series almost ensures at least one weekly trip into full-blown mayhem. Indeed, by the end of the opening hour, Dr. Rorish again finds herself in the grips of another full-blown assault via an apartment fire that's left 22 of its residents in need of immediate treatment. "Daddy" and "Mama" exchange knowing, collegial looks before plunging back in. They're in their element again, even if many viewers at this point might be feeling the urge to check out.
Epilogue: Even with CBS' long history of medical malpractice, there's still cause for hope via less than imposing time slot competition from NBC's
Chicago P.D.
and ABC's
Nashville
. That certainly beats going against Fox's
House
or NBC's
ER
or ABC's
Grey's Anatomy
in their respective heydays. So perhaps CBS executives at some point will be able to tell
Code Black
's producers the same thing that hard-charging Dr. Rorish grudgingly tells resident Lorenson. Namely, "You did good." And yes, there surely will be more cliches where that came from.
GRADE:
C
Email comments or questions to:
unclebarky@verizon.net