Still a keeper: Justified's back with Season 5
01/07/14 12:06 PM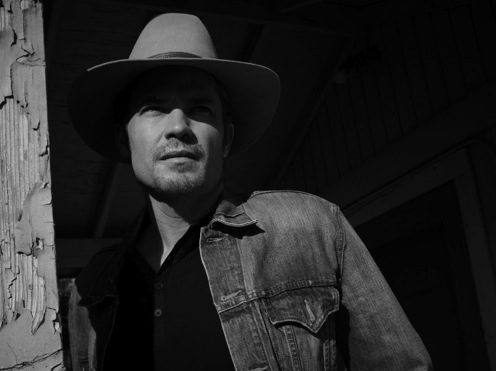 Still sturdy: Timothy Olyphant as deputy U.S. Marshal Raylan Givens.
FX photo
By ED BARK
Never fear. The Harlan County, KY of FX's
Justified
remains mostly dirty to the touch, a breeding ground for knuckle-draggers and a few somewhat higher forms of low-life.
They continue to lie, cheat, steal, deal and kill while thin-smiling deputy U.S. Marshal Raylan Givens (Timothy Olyphant) strives to keep a semblance of order. But even by its standards, the Season 5 premiere episode (
Tuesday, Jan. 7th at 9 p.m. central
) is a mayhem-filled blood-dripper.
It's also bloody well done, which is hardly surprising. One of prime-time's most under-recognized series (still no Emmy nominations for best drama) is now forging ahead without the late Elmore Leonard, on whose writings it's based and who died in August. He considered
Justified
to be the best realization of his work, not that unfortunate adaptations such as
The Big Bounce
caused him to lose any sleep.
"Oh God, and they made it twice. It wasn't bad enough the first time," Leonard said in what turned out to be his last public appearance with the
Justified
cast and producers during a January 2012 session with TV critics.
Still, he never veered from his initial goal of writing with the hope of big payoffs down the road.
"I think any writer is a fool if he doesn't write for money," Leonard said. "There's got to be some kind of incentive in addition to the product. It all goes together. And it's fun to sit there alone and think of characters and get them into action, and then get paid for it."
The first two episodes of the new season retain Leonard's economy of words and actions, although the body count seems to be a victim of inflation. Raylan's old buddy and current nemesis, Boyd Crowder (Walton Goggins), is particularly active on this front. His face is thrice bloodied, although it only hurts once. Boyd otherwise is dispensing fierce punishment in one scene and on the receiving end of collateral spattering in the other.
Justified
's principal new plot line is the incursion of the Crowes, a bad-ass Florida brood looking for a change of pace crime venue. "Dixie Mafia" kingpin Wynn Duffy (Jere Burns) also is back, working the heroin trade with Boyd. An impromptu trip to Detroit is necessary when a drug delivery ends up not being as advertised.
Boyd otherwise is intent on freeing his fiancee, Ava (Joelle Carter), from prison, which will require some expensive buying off. The principal woman in Raylan's life, Winona Hawkins (Natalie Zea), is now in Florida with their baby daughter. She got out of town after a hit man came calling. Raylan is all sweet talk via Skype, but it's clear he also wants to keep his distance for both of their sakes. By Episode 2, another potential bunkmate is in the picture.
Justified
, which will have 13 episodes this season, is still a very gray-shaded morality play. Raylan, product of a ne'er do well father who mostly taught him wrong, is trying to steer a middle path between outright anti-hero and white-hatted Dudley Do Right. It's not his fault that he's often dealing with despots to whom a code of ethics is nothing more than a spit bucket.
But even the scummiest of scum bags can be swayed by Raylan's no frills ways of verbally laying down the law. After all, he's still got the badge behind him if gunplay ends up being a last resort. And in Episode 2, it's a joy watching Raylan talk turkey with a bearded drug lord who's got a couple of teens in his pincers.
Justified
may never get the trophies it deserves. Neither did NBC's
Homicide: Life on the Street
or HBO's
The Wire
. Fans of these shows can live with that, though. Just keep doing what you're doing,
Justified
. That's reward enough.
GRADE:
A-minus
Email comments or questions to:
unclebarky@verizon.net