Wedding bell ding-dongs: Ashton Kutcher finds something new to punk
04/16/07 09:13 AM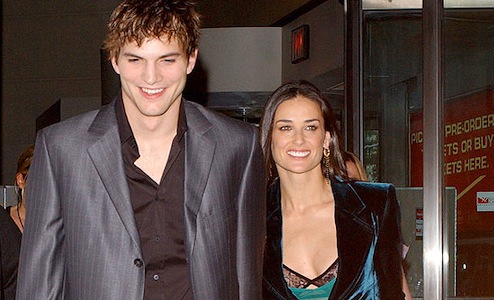 Ashton Kutcher and Demi Moore managed a crash-free wedding.
By ED BARK
No, they're not going to be crashing, punking or junking up anyone's funeral. At least not for now.
"I think that might be a little morbid for my taste," says Ashton Kutcher, whose new
The Real Wedding Crashers
is set to premiere April 23 on NBC in place of
The Black Donnellys
.
Kutcher and his producing partner, Jason Goldberg, put
Punk'd
in the pop cultural lexicon before hitting it big a second time with the comparatively genteel
Beauty and the Geek
.
Their latest goof-off assumes that weddings often are inherently boring for both the vow-takers and assembled guests. So the bride and groom are in on these particular jokes, with help from five undercover wedding crashers.
Being punk'd are all those people who've thought enough of the newlyweds to shower them with Target gift cards. In the opening episode, a fake preacher has a coughing fit, the wedding cake winds up on the floor and a server keeps heisting still half-full plates.
"We're not jamming this down anyone's throat," Kutcher says in a teleconference. "If someone had an issue with it, well, then they're not really thinking about the bride and groom. Because this is what they want . . . I don't think we're turning the wedding into shambles. What we're doing is enhancing the experience for everyone and making it a day you'll never forget."
Besides, with divorce rampant, "I have to question how sacred it really is," Kutcher says of marriage, American style.
His own much-publicized union, with Demi Moore, is still intact after a Sept. 24, 2005 wedding that "only a few people on the planet knew about." Ergo, it wasn't punk'd, crashed or even turned into a week-long event on
Entertainment Tonight
. But Kutcher says he doesn't mind efforts to mess with his head because "if you're going to dish this out, you have to be able to take it."
The former
That '70s Show
star doesn't appear on camera in
Real Wedding Crashers
and has never crashed one himself.
"My wife and I crashed a party up the street from us at one point," he says. "Our whole goal was to go in, get one drink and leave."
Kutcher acknowledges being successfully punk'd just once -- by presidential candidate John Edwards. He boarded the Democrat's campaign plane with a big bag that had been cleared for security. But then Secret Service agents quarantined him and said the bag had a bomb in it and would have to be detonated on the tarmac. That shook Kutcher up a bit.
"So I think they actually got me on that one," he concedes.
NBC has ordered six episodes of
Real Wedding Crashers
, with all of the nuptials originating from Las Vegas. The show's five fakers were all "ordained" in Sin City, enabling them to marry couples without any re-do's, Kutcher says.
The show doesn't mess with any religious elements in the ceremonies, although Kutcher has "never seen spirituality as a serious thing." As a kid, he didn't get it when mom told him to keep quiet in church. "You mean Jesus didn't laugh?" he'd wonder.
Kutcher of course anticipates widespread mainstream appeal for the show, even though A-list producer David E. Kelley's
The Wedding Bells
recently got canceled by Fox after just four episodes.
"I think the audience range is vast," Kutcher says. "Anyone who has ever worn shoes will like it. If you've had a haircut in the last seven years, you're going to like the show."
That pretty much deals out the Abominable Snowman. A pity.