Fallon's first Tonight Show is A-OK whenever U2 takes charge
02/18/14 11:53 AM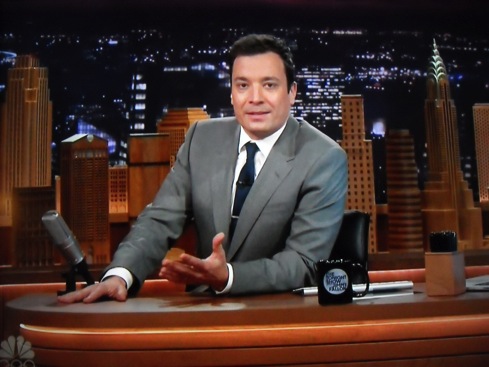 Jimmy takes the wheel, originating The Tonight Show from New York for first time since Johnny Carson went West in 1972. Photos: Ed Bark
By ED BARK
@unclebarkycom on Twitter
Let me entertain you, America. Please!
Or to try it another way: Love love him do. You know he loves you.
Jimmy Fallon's inaugural
Tonight Show
Monday positioned him as the clear, affection-dispensing koala bear of late night hosts in competition with the comparatively dyspeptic David Letterman and the still much snarkier Jimmy Kimmel.
Buoyed by two blow-away performances by U2, Fallon got past a rather obsequious start in which he walked viewers through the basic mechanics of a monologue and said he'd be doing 10 minutes worth every night in case the Jay Leno faithful might have thought otherwise.
Fallon also stressed that he's just a 39-year-old, happily married, proud new dad and former small-town guy who's now living a dream and aiming to please. His stockily built parents were in attendance to laminate those mainstream credentials. And NBC didn't shy away from showing them frequently in the early minutes.
The bread and butter of TV profitability may be younger audiences. But you don't want to entirely kiss off the older crowd. Leno remained No. 1 across the board based on "tonnage." He pounded all comers in total viewers while also luring a high enough percentage of 18-to-49-year-olds to more narrowly rule that roost. NBC and Fallon's producer, Lorne Michaels, know that a true hit show needs both Grandpa Amos and Timmy Texter. Particularly in a very crowded late night arena where eyeballs are at a premium.
"I"ll make fun of everybody," Fallon assured his opening night audience. "Anyone I can make fun of I will. My goal is just to make you laugh and put a smile on your face so that you go to sleep with a smile on your face and live a longer life. Isn't that the whole goal of what we're doing? Have fun?"
Milton Berle couldn't have said it any better during his reign as NBC's first star some 65 years ago. Fallon then went behind the
Tonight Show
's new multi-blue curtains for a re-introduction by announcer/sidekick Steve Higgins. A volley of amusing Winter Olympics jokes followed before the host first sat down at his new desk with the cool mock Manhattan skyline backdrop. Fallon thanked filmmaker Spike Lee for the show's likewise new opening setup and promised that U2's performance "is going to blow your pants off." He had that right.
Then came a bit of business involving all those "surprise" celebrity walk-ons that really aren't surprises at all. Leno's final
Tonight Show
, on Feb. 6th, included a seven-member parade orchestrated by guest Billy Crystal and culminating with appearances by Carol Burnett and Oprah Winfrey. Fallon ended up doubling down after saying that a buddy owed him $100 after betting he'd never host the
Tonight Show
.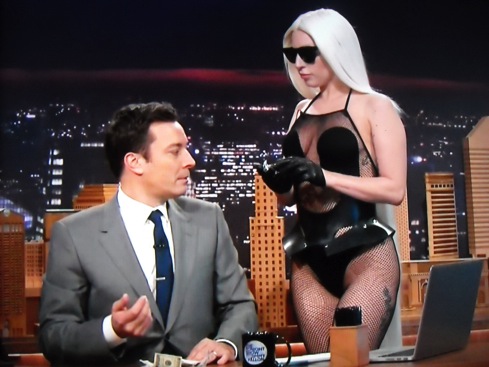 Lady Gaga was among those paying off her fake losing bet.
In strode Robert De Niro to plunk down a Benjamin. Thirteen -- count 'em, 13 -- more celebs followed to the tune of an escalating audience whoop-o'-meter. Tina Fey, Joe Namath, Joan Rivers, Seth Rogen, Lady Gaga, Mike Tyson and Kim Kardashian -- to name a few. (Kardashian played both sides after also dropping in to usher Leno out.) Last in line was Stephen Colbert, who dumped a bucketful of pennies on both the host and his desk. After taking a selfie, he crowed, "Welcome to 11:30 (ET), bitch!" The celebrity procession could have been shorter, but Colbert definitely nailed the landing.
First guest Will Smith and Fallon returned after a commercial break to lay down "The Evolution of Hip-Hop Dancing," a followup to the gone viral "Evolution of Mom Dancing" in which the host and First Lady Michelle Obama made a perfect pair on his old NBC
Late Night
show.
Smith and Fallon got through this one all right, but it was nothing to text home about. Then came the first of U2's show-stoppers, a performance of their new "Invisible" single atop the 70-story Rockefeller Center.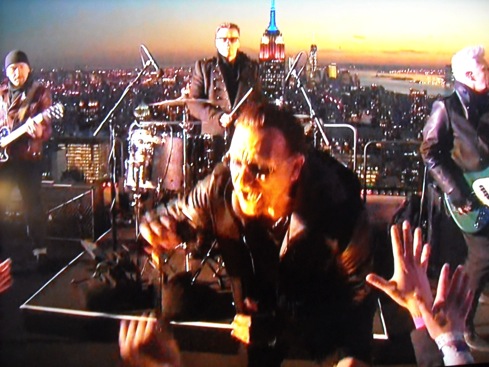 Bono and U2 showed they weren't' afraid of heights Monday night.
Paced as always by Bono, U2 showed that New York City is breathtaking at dusk from on high. Some live tweeters feared a trip, stumble or fall, but most were captivated by a sight like no other in the history of late night talk. Letterman and guests used to drop watermelons onto the Manhattan pavement from a fairly lofty perch. Those visuals now seem like caveman drawings.
Fallon's sit-down interview with Smith was mostly a goo-fest, with the host asking for advice on how to handle the pressure and the guest telling him that the earlier celebrity turnout proved how much support he has. "I love you," Fallon told Smith after handling him four custom-made t-shirts picturing Will, his wife, Jada, and their two children, Jaden and Willow.
It's likely to pretty much be this way where guests are concerned. Fallon really isn't interested in bringing any "edge" to his interviews. He wants all guests to feel comfortable, safe and therefore willing to participate in the various bits and competitions that set Fallon's
Late Night
apart from the crowd. It might well work for him, but there's also the risk of becoming a veritable Sammy Maudlin (the suck-up host of some hysterical
SCTV
sketches). Leno wasn't exactly a buzz saw in interviews, but Fallon in comparison may be a butter knife. Letterman and Kimmel also have far sharper teeth, but Fallon is banking on boyish likability as his strong suit.
Monday's show otherwise had a big finish, again thanks to U2. Fallon asked them if they'd like to show their musicianship by going acoustic while seated on the
Tonight Show
couch.
"Like one of those spontaneous show business moments where they appear from behind the couch?" Bono cracked. Beautiful.
The Edge began strumming the opening chords to "Stairway to Heaven" before the band settled into their planned performance of the Oscar-nominated "Ordinary Love" from the film
Mandela: Long Walk to Freedom
.
It proved to be magical, with
Tonight
's The Roots band later joining in while Bono's voice rang out like a perfectly chiming church bell. It gave Fallon's first show an indelible send-off while also making Bono and U2 the best late night talk show guests in recent memory. There really should be a separate Emmy for that.
Fallon will do it all over again Tuesday with another imposing group of guests -- Jerry Seinfeld, Kristen Wiig and Lady Gaga. He'll need time to settle in and find his way while the Leno crowd decides which host to embrace or whether to tune out all together. Even at age 39, though, Fallon comes off as the kind of kid you'd like to take home to meet your middle-aged or elderly parents. He certainly can be a charmer, although sometimes you need a little roughage, too.
Email comments or questions to:
unclebarky@verizon.net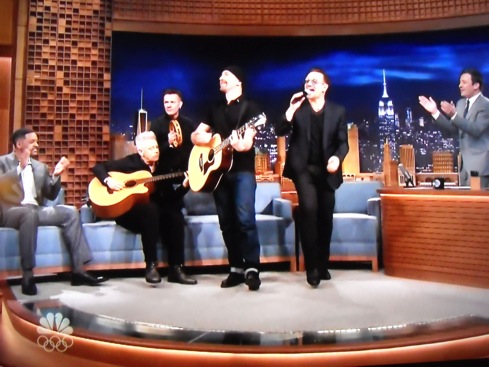 U2 wraps it up, and all is well for now in the Tonight Show realm.