More comic book character heroics in The CW's DC's Legends of Tomorrow
01/20/16 08:14 AM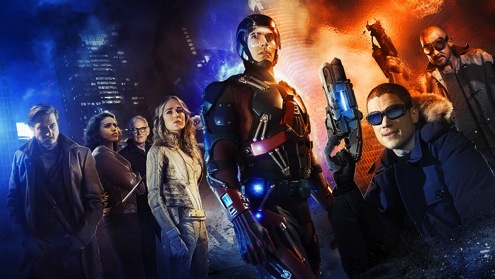 The gang's all here in DC's Legends of Tomorrow. CW photo
Premiering:
Thursday, Jan. 21st at 8 p.m. (central) on The CW
Starring:
Arthur Darvill, Brandon Routh, Caity Lotz, Victor Garber, Dominic Purcell, Wentworth Miller, Ciara Renee, Falk Hentschel, Franz Drameh, Casper Crump
Produced by:
Greg Berlanti, Marc Guggenheim, Percy Jackson, Sarah Schechter, Andrew Kreisberg, Phil Klemmer, Chris Fedak
By ED BARK
@unclebarkycom on Twitter
Comic books starring superheroes used to cost a dime.
Now movies and TV series about their exploits are a dime a dozen.
Coming soon:
Deadpool
, starring one of Marvel's same-named avengers, is due in theaters on Feb. 12th. The bigger cheese,
Batman v Superman: Dawn of Justice
, is scheduled for a March 25th release.
Television takes its latest turn first, with the fourth comic book series helmed by Greg Berlanti following
Arrow, The Flash
and the past fall's
Supergirl
. This one, The CW's
DC's Legends of Tomorrow
, has a comparative bevy of justice-seekers. Paired with another like-minded series,
The 100
, it arrives on Thursday, Jan. 21st with the first of an action-packed, banter-laced, two-part scene-setter.
CW is almost entirely otherworldly at this point, save for
Jane the Virgin
and
Crazy Ex-Girlfriend
. Both have basked in critical acclaim and even a few awards. But it's
Arrow, The Flash, The 100, iZombie, The Vampire Diaries
and old-timer
Supernatural
that have re-branded the network as a place where fan boys and girls can gather as one and let their pulse rates run wild. ABC and Netflix are the small screen's Marvel repositories. But on CW, young gun sci-fi has become a way of life -- and seemingly a sound business plan.
Legends of Tomorrow
begins in London, 2166, where "The Second Blitz" completes the very evil Vandal Savage's (Casper Crump) nefarious plan to conquer the "entire planet." Underscoring his super-villainy, he presides over the up-close gunning down of an unarmed mother and her young son. A pity then that Savage also has been "blessed with immortality."
But wait. Could Savage be stopped if someone traveled back in time and altered the course of his savagery? The man for the job is Rip Hunter (former
Dr. Who
co-star Arthur Darvill), who hops aboard the very cool and sprawling Wave Rider, which is co-piloted by a holographic "interactive artificial consciousness" named Gideon.
Journeying to 2016, Hunter recruits eight helpmates, including The Atom (Brandon Routh); White Canary (Caity Lotz); Hawkman (Falk Hentschel); Hawkgirl (Ciara Renee) and Firestorm (Franz Drameh), whose mentor, Professor Martin Stein (Victor Garber), is also half of Firestorm.
The other two are surly villains Mick Rory and Leonard Snart (Dominic Purcell and Wentworth Miller from Fox's old
Prison Break
and soon the network's
Prison Break
reboot). Their principal assets are guns that can either freeze targets solid or burn them to bits.
Both Purcell and Miller also have been recurring characters on
The Flash
. Charitably put, the still baby-faced Miller is still ridiculously bad in a sinister guise. And Purcell's Dirty Harry growling doesn't fare much better.
After the usual round of playing hard to get -- "You got the wrong guy. Hero ain't on my resume," Snart unconvincingly snarls -- the eight join Hunter in his valiant attempt to "travel through time to capture Savage before he grows into the monster he becomes." Viewers also learn that Savage's immortality can be ended if he's killed in just the right way.
They first wind back to 1975 and several venues within that year. Some solidly staged action scenes ensue while more cliches also fire away.
"At my age, you never know how many adventures you have left," Prof. Stein observes.
"I like being part of a team, man," his protege, Firestorm, replies after first recalling how cool it was to have teammates who had his back as a high school football star.
Next week's Part 2 heightens both the stakes and the supposedly inviolable time-traveling "rules." There's also an unfortunate scene in which Snart calls The Atom a "shrinking schmuck."
Accompanying publicity materials warn reviewers against revealing eight specific plot points throughout the first two hours. So let's just say that this is a talkie filmed in color -- and that one of the Legends seemingly isn't destined to fight again.
Unlike
The Flash, Arrow
and
Supergirl
, there arguably are too many characters to service here. Add a lot of attendant gobbledygook and mostly shopworn banter. At this point, executive producer Berlanti likely has one too many comic book superhero series to helm.
Legends of Tomorrow
so far provides evidence that he's maxed out. But it's hard to refuse both the money and a network that keeps asking for more.
GRADE:
C+
Email comments or questions to:
unclebarky@verizon.net