New series review: Creature Comforts (CBS)
06/03/07 02:29 PM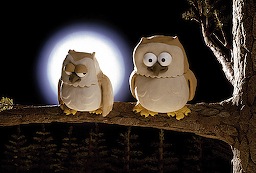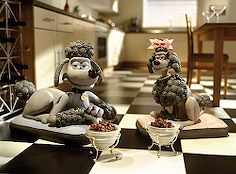 Owls and poodles help to make Creature Comforts a hoot and a howl.
Premiering:
Monday, June 4 at 7 p.m. (central) on CBS
Starring:
: A menagerie of animated fish, fowl, animals, insects, etc.
Created by:
Nick Park
By ED BARK
By all means put words in their mouths. Because pigs, alligators, horses, bees, owls, dogs, cats, monkeys, rabbits and other non-humans prove to be very able stand-ins for America's upright citizenry.
CBS'
Creature Comforts
, niftily adapted from the same-named British series, is bitingly, inventively and seriously funny. Monday's premiere turns words on their ears in ways that make this show the long, hot summer's surprise comedy cool spot.
Everything about it is simply irresistible, whether the humor is gamey, cuddly or very obvious on the face of it. As when a porcupine mouths a human saying, "I'm not really scared of needles."
Dialogue is drawn from interviews with so-called "ordinary Americans" who pour out their views on topics such as "Secrets & Lies" and "Animal Magnetism." A wide variety of stop-action creatures take it from there. They're all brought to life by Aardman Animations, which also made the much-praised feature films
Chicken Run
and
Wallace & Gromit: The Curse of the Were-Rabbit
.
We begin with an out-of-body segment that's not really typical of the show. A man discoursing on wine is turned into two dogs sniffing another's butt.
"It smells pretty ripe," says one of the canine connoisseurs. "I'm getting medium to dry notes."
Most of the humor is more in character. A "Pets at the Vet" segment is built around humans talking about their ailments and attitudes toward doctors.
Its fine, feathery centerpiece is two love birds perched in a hanging cage, with the female ticking off a long list of bodily breakdowns. A perfect match of words and images is finally punctuated by, "I'm constipated constantly."
The trick is in matching the creatures to the human voices. And these are inspired matches throughout, whether it's a bee with a coughing fit or a little fish in a tank marveling, "Dry skin. Can you believe it?"
At times bawdy but never a crass menagerie,
Creature Comforts
is witty and pretty and wise. Humans have seldom had it so good. All they have to do is be heard but not seen. Far better to let an elderly monkey start telling America, "I was eatin' a banana . . ."
Grade:
A