Splitting Up Together gives ABC another family-driven comedy with a personality all its own
03/26/18 03:47 PM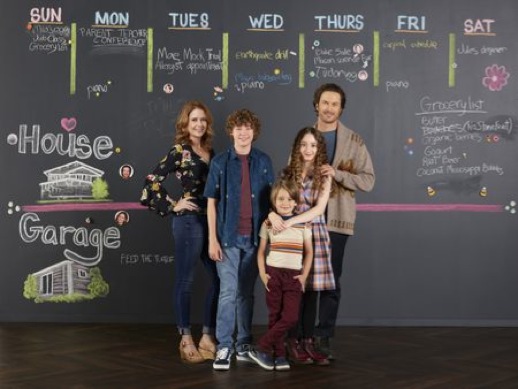 Separated . . . with children in Splitting Up Together. ABC photo
Premiering:
Tuesday, March 27th at 8:30 p.m. (central) on ABC
Starring:
Jenna Fischer, Oliver Hudson, Bobby Lee, Lindsay Price, Diane Farr, Olivia Keville, Van Crosby, Sander Thomas
Produced by:
Emily Kapnek, Mette Heeno, Ellen DeGeneres, Jeff Kleeman, Mie Andreasen, Hella Joof
By ED BARK
@unclebarkcom on Twitter
Gwyneth Paltrow and Chris Martin chose to call it "conscious uncoupling" when they busted up in 2014. ABC has a better idea -- the snappy new comedy series
Splitting Up Together
.
Jenna Fischer and Oliver Hudson winningly play the parental unit, dividing their time on the same property in the interests of keeping their three kids from being too traumatized. It's based on the Danish sitcom
Bedre Skilt end aldrig
, which possibly might be useful to know if you're on
Jeopardy
someday.
There hasn't been any unfaithfulness, just a loss of faith. Lena (Fischer) and Martin (Hudson) haven't had sex in two years during the course of digging big ruts in their lives. Basically put, she felt him to be too lazy and irresponsible while he thought her to be too anal and controlling.
So why not try this? One parent will live in the re-appointed garage for a week while the other gets the house as a whole but also responsibility for daughter Mae (Olivia Keville), older son, Mason (Van Crosby), and his baby brother, Milo (Sander Thomas). After a week, you swap, oftentimes with a high five.
Splitting Up Together
otherwise is populated with the couple's married best friends, Arthur and Camille (Bobby Lee, Lindsay Price), and Lena's busybody sister, Maya (Diane Farr). Entering in Episode 2 (one of four made available for review) is a younger stud named Wes (guest star Trent Garrett), who's so considerate and knowing that he may well have descended from heaven. Wes is still hanging in there with Lena through Episode 4 while Martin is somewhat thunderstruck. He's secretly been trying to get Lena back by taking dancing lessons in hopes of remedying something he didn't do at their wedding reception.
Fischer, formerly of
The Office
, is very high on appeal here. "I want to be with someone who wants to tear my clothes off," her character says in Episode 2. "Well, obviously not my high-end pieces."
Lena finally finds the temerity to showcase herself in Episode 4 -- via a low-cut dress that makes her look simply smashing. Hope it's OK to still say that. If not, then the world has gotten way too clenched up to be any fun at all anymore.
Martin's efforts to be more skillful at various household chores, including cooking, are another selling point of
Splitting Up Together
. The dinner he's just made in Episode 2 "looks like dog barf," says youngest son, Milo. "But it tastes great!" This may seem like a small victory. It's also one to savor.
Splitting Up Together,
whose executive producers include Ellen DeGeneres, is a plus mark in a season that's been notable for broadcast network reboots and spinoffs, but short on new comedies of any import. ABC has far more family-driven sitcoms than any of its rivals.
Splitting Up Together
shows that the network is still finding new ways to make them work just fine.
GRADE:
B+
Email comments or questions to:
unclebarky@verizon.net