Psst, here comes Lifetime's The Secret Life of Marilyn Monroe
05/29/15 12:39 PM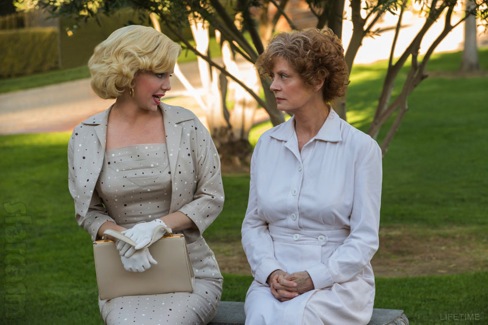 Kelli Garner and Susan Sarandon star as Marilyn Monroe and her mad mama Gladys in The Secret Life of Marilyn Monroe. Lifetime photo
Premiering:
Saturday, May 30th at 7 p.m. (central) and continuing on Sunday at the same time on Lifetime
Starring:
Kelli Garner, Susan Sarandon, Jeffrey Dean Morgan, Emily Watson, Jack Noseworthy, Stephen Bogaert
Produced by:
Jonathan Koch, Steve Michaels, Keri Selig, Stephen Kronish
By ED BARK
@unclebarkycom on Twitter
Inhabiting Marilyn Monroe requires the look, the curves, the vulnerability and the breathy little girl intonations, not necessarily in that order.
Kelli Garner checks out on all four in Lifetime's
The Secret Life of Marilyn Monroe
, a four-hour film that somewhat separates itself from the many others with its up-close look at the title character's very mentally ill mother.
Gladys Mortenson (Susan Sarandon) was a publicly unseen and haunting presence throughout her daughter's life. Most of her time was spent in asylums. But according to this adaptation of J. Randy Taraborelli's same-named book, the former Norma Jeane Mortenson never stopped trying to reconnect with her. It's an increasingly affecting tale, with Garner emoting convincingly throughout while Sarandon submits to an unflattering role that requires her to be both plain-looking and often painfully plain-spoken.
The structure of the film otherwise is typical of the biopic genre. A fictional psychiatrist named Alan DeShields (Jack Noseworthy) appears at the outset to audition as Marilyn's latest caretaker. He then becomes her sounding board, with the film flashing back and forth to an assortment of high and low points in Marilyn's life. By the end of the film she trusts him enough to make another appointment. Perhaps he really can help her. But alas, this is the last day and night of Marilyn's life. She's been dead for nearly 53 years now. But the fascination never ceases -- or desists.
Marilyn's mother, as depicted in the film, is a religious fanatic with paranoid delusions and curt dismissals of just about anything her daughter does. She wears a nurse's outfit in order to make her feel in control. And in one of the film's more searing scenes, Gladys gives Joe DiMaggio (Jeffrey Dean Morgan) permission to marry her daughter before saying, "Excuse me, I have to make my rounds. Oh, and did you tell him you can't have children?"
Morgan, also currently co-starring in the History network's
Texas Rising
miniseries, brings authority and presence to his portrayal of the fabled New York Yankee Hall of Famer, But the survivors of "Joltin' Joe" won't be at all happy with some scenes. By all accounts, DiMaggio deeply loved Marilyn. By this account, his jealous rages also led him to beat her. In one sequence, DiMaggio decks Marilyn after calling her a "whore." She arrives on a movie set the next day with deep bruises on her arms and shoulders.
DiMaggio later apologizes but Marilyn eventually moves on to her Arthur Miller phase. The famed playwright assaults her with his tongue, telling his wife that her miscarriage was due solely to her addictions. "She starved while you gorged yourself on pills and booze!" Miller (Stephen Bogaert) rages about the daughter they never had. "You murdered her."
Marilyn later tells psychiatrist DeShields that "Joe could be mean but he wasn't mean-spirited" while Miller had a way of being just plain "cruel." DiMaggio later re-enters her life after a kicking, screaming Marilyn is institutionalized in New York City. He doesn't mince words in the film, this time aiming his physical intimidation at a clinic administrator. "If you don't release her, I will tear this goddamned building apart -- piece of wood by piece of wood," he threatens. "Joltin' Joe" got his way.
Secret Life
also touches on Marilyn's dalliance with Jack Kennedy, but without ever showing him. She falls hard for JFK, telling his sister, Pat Lawford, that the president intends to leave Jackie to marry her. Pat, who has been a friend and confidant, is aghast at such delusions.
Through it all there was always mama. Marilyn repeatedly is told to give up on her, but she can't. The daughter's fealty is palpable. Her Aunt Grace (Emily Watson) serves as a supportive, surrogate mother. Still, being famous is worthless to Marilyn if she can't get Gladys' approval. She never really did, although the movie tacks on a surprisingly effective fantasy scene in which mother and daughter cuddle on a beach blanket and talk about living happily together.
A printed epilogue notes that Gladys ended up outliving her daughter by 22 years.
Secret Life
is unlikely to be remembered for anywhere near that long, given the jumble of Marilyn Monroe movies to choose from.
In the here and now, though, Garner convincingly captures the ill-fated, love-craving blonde bombshell while Sarandon summons up more than a one-note character and Morgan brings DiMaggio back to prideful, brutish life.
GRADE:
B
Email comments or questions to:
unclebarky@verizon.net