NBC's The New Normal crashes into view
09/06/12 01:27 PM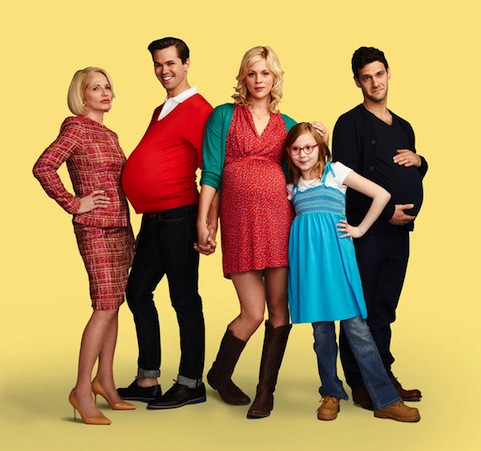 And baby makes six: the cast of The New Normal NBC photo
Premiering:
Monday, Sept. 10th at 9 p.m. (central) on NBC before moving to regular Tuesday, 8:30 p.m. slot
Starring:
Andrew Rannells, Justin Bartha, Georgia King, Ellen Barkin, Bebe Wood
Produced by:
Ryan Murphy, Ali Adler, Dante Di Loreto
By ED BARK
@unclebarkycom
As the presidential campaign heats to a boiling cauldron of vitriol, here's a new comedy that would be booed off the stage at the Republican National Convention while getting a big hug from the Democrats.
NBC's
The New Normal
, sneak previewing at 9 p.m. (central) Monday after the Season 3 premiere of
The Voice
, is both audacious and sometimes unintentionally off-putting. Not principally due to its subject matter, but because creator/executive producer Ryan Murphy (
Glee
) has taken such a heavy-handed, two-by-four approach to these proceedings.
This is grossly evident in the scenes featuring bigoted "nana from hell" Jane Forrest (Ellen Barkin), whom Murphy has cast in the same mold as
Glee
's super-snippy Sue Sylvester.
Nana spews in ways that even Archie Bunker might find appalling. In her mindset, the series' featured gay male partners are "salami smokers" while a decidedly plain-looking lesbian duo are dismissed as "ass campers" in an opening scene. But to prove she's an equal opportunity neanderthal, Nana later tells a busty Asian woman who broke up her granddaughter's marriage, "You people are so darn good with computers. And thanks for helping build the railroads."
At least she's not speaking in code. But as an in-your-face neanderthal, Nana gets old in a big hurry. She's not a hoot. She's a vile stick figure caricature of any right-of-center viewpoints in a sitcom that also works in a "Calista Gingrich hair-do" slam after the series' too-good-to-be-true surrogate mother is asked whether she's a "secret operative for the Republican Party."
Down-on-her luck Ohioan Goldie Clemmons (Georgia King) is the willing carrier of a baby that eventually is to become the son or daughter of ultra-fashion conscious Bryan Collins (Andrew Rannells) and sports loving David Murray (Justin Bartha).
Fleeing Ohio after catching her lay-about husband in bed with the aforementioned Asian knockout, Goldie and her prototypically precocious eight-year-old daughter, Shania (Bebe Wood), hijack Nana's car and impulsively head to L.A.
She had dreams of becoming a lawyer and wants to rekindle them while also giving Shania a shot at being somebody. The $35,000 stipend for being a surrogate seems heaven-sent. And by the end of Episode 1, Goldie just might be pregnant.
The set-up for all of this is Bryan recording a video for his future newborn before
New Normal
flashes back to Goldie's back story in what he calls the "faraway land known as Ohio."
While she's finding reasons to flee Ohio, Bryan falls in love with a little boy in a stroller during one of his shopping trips. It prompts him to tell David, "I want us to have baby clothes. And a baby to wear them."
They quickly go to a playground where any and all forms of parents are minding their kids. Included is a dwarf mother who rides off with her daughter in a toy pink convertible. "Face it, honey," Bryan says to David. "The abnormal
is
the new normal."
Those signature words are intended to be something of a red hot poker aimed at anyone who might think otherwise. And there's more than a little too much of this in
The New Normal
, whether it's the steaming pile of intolerance from Nana or Bryan's disinclination to be with Goldie during the embryo transplant procedure.
"I faint at the sight of a vagina," he says. "They're like tarantula faces."
Modern Family
's depiction of gay dads Mitchell Pritchett and Cameron Tucker is far better rendered -- and much funnier, too. And Ed O'Neil's old school Jay Pritchett is a case study in subtlety compared to what comes out of Nana's mouth.
The performances in
New Normal
aren't the central issue here. Bartha's portrayal of prissy Bryan is funny and/or endearing in spots. King and Wood also bring some nice touches to their mom-daughter duo of Goldie and Shania.
As for Barkin, well, she's delivering what's given to her. And so far that's the series' principal drawback. Creator/producer Murphy, who's openly gay, wouldn't deny that he's pushing an agenda here, as he also does with
Glee
. But in this case he's pushing way too hard, at least in the early going.
One can be tolerant, accepting and open-minded while at the same balking at the overall sledge hammer approach of
The New Normal
. Maybe the series will find itself as the relationships thicken and Goldie's pregnancy looms larger. For now, it's a disappointing polemic that mainly offends by being lazily or awkwardly executed more often than not.
GRADE:
C