ABC played with fire until Roseanne Barr finally burned her last bridge (updated)
05/29/18 02:46 PM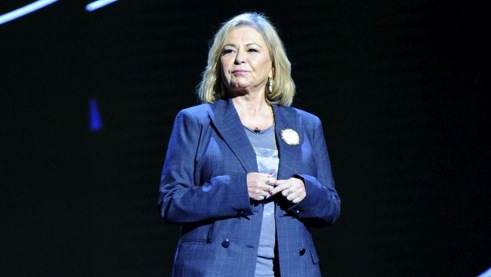 Roseanne Barr taking the stage two weeks ago at ABC's mid-May "upfront" presentation to Madison Avenue buyers. ABC photo
By ED BARK
@unclebarkycom on Twitter
Hindsight is always 20/20, which happens to be the name of another ABC show.
Still, perhaps the network should have abided by the hook in that vintage Rolling Stones song: "Don't play with me, 'cause you're playin' with fire."
ABC's abrupt and unequivocal
cancellation of Roseanne
Tuesday, in reaction to a racist tweet for which she later apologized, underscores the perils of doing business with a renowned troublemaker. Roseanne Barr's long history of being her own worst enemy dates to the constant upheavals on the set of her original hit sitcom, which ran from 1988 to 1997 on ABC.
It was just a matter of time before the latter day outspoken supporter of President Trump found another way to self-destruct. Even so, the swiftness of ABC's action got the post-Memorial Day week off to a jolting start. The network's
Roseanne
reboot, which rocketed to the top of the ratings charts and received an instant pickup from its blown away network, is now nothing more than a vacancy in next fall's Tuesday prime-time lineup.
Just two weeks ago, Barr took the stage alone at the start of ABC's annual "upfront" presentation to advertisers. "Here's the guy who really writes most of my Tweets," she joked in introducing the network's big bossman, Ben Sherwood. The entire network is now choking on that rich-in-irony one-liner.
Both Sherwood and ABC entertainment president Channing Dungey (who announced
Roseanne
's cancellation in a terse, one-sentence statement) raved about the show's huge, renewed popularity. At one point, Sherwood said "You're welcome" after wondering aloud whether anyone in the ad-buying audience was playing a drinking game based on how many times
Roseanne
would be mentioned.
Somebody needs a stiff drink, all right.
Let's be very clear. ABC rightly dumped
Roseanne
after its star said of former Barack Obama advisor Valerie Jarrett: "Muslim brotherhood & planet of the apes had a baby=vj." She later deleted the Tweet and apologized for making a joke that was in "bad taste." But ABC couldn't be swayed. Nor could Barr's talent agency, which also has now dropped her.
(Barr said she'd be leaving Twitter, but quickly returned with a volley of tweets that alternately expressed regret and defiance. She also blamed her Jarrett tweet on the sleeping aid, Ambien.)
Some will find a way to decry the cancellation as politically biased retribution against a full-blown Trumpeteer. Those people should have their heads examined, as should any network or streaming service that even thinks about picking up
Roseanne
. As with dozens of disgraced millionaire male stars -- many of them with pronounced liberal leanings -- Barr at long last should be over and out in terms of landing another TV show of any sort. Those who are still defending her likely are many of the same people who decried her
infamously off-key rendition of The National Anthem
, complete with crotch-grab.
ABC executives admittedly resurrected
Roseanne
in large part because they feared the network had disenfranchised a significant percentage of the viewing audience -- namely those who had put Trump in the White House. Dungey, who is African-American and the first woman of color to ever head a network entertainment division, took a considerable risk in embracing a loud-mouthed loose cannon in Barr. But then the ratings came in for ABC's double-episode, March 27th relaunch of
Roseanne
. The network immediately renewed the show for a Season 2, with any misgivings about its volatile star assuaged by the potential big profits she embodied. Then it all blew up in ABC's face.
Notably, the two biggest sitcom stars of the 1980s -- Barr and Bill Cosby -- have now put themselves in exile via their own off-camera words and deeds. In both the 1988-89 and 1989-90 TV seasons,
The Cosby Show
and
Roseanne
ranked one-two in the prime-time ratings. They were markedly different in the families they represented, but both became trailblazers. Cosby's Huxtables were the first African-American family to "cross over" into runaway acceptance among families of all colors while Roseanne emerged as the first woman to wear the pants in a working class sitcom -- and be wildly successful in doing so.
ABC for a time looked the other way in respect to some of Barr's previously unhinged tweets. In purely mercenary terms, money talked louder. But she finally went too far, as anyone should be able to see. I thought her sitcom revival had a number of funny and strong moments during the course of its nine episodes this season. It seemed to be a show that genuinely sought to bridge some of the country's seemingly ever-wider divisions. Roseanne Conner, pro-Trump in broad terms, also showed an ability to see other sides of the equation as the sitcom settled in.
But in the end, the star "made good" on her reputation for doing her worst. One is tempted to say it didn't have to be this way. But with Roseanne Barr, It inevitably always is.
Email comments or questions to:
unclebarky@verizon.net