HBO goes Camping for fun, but don't expect to have any
10/10/18 05:55 PM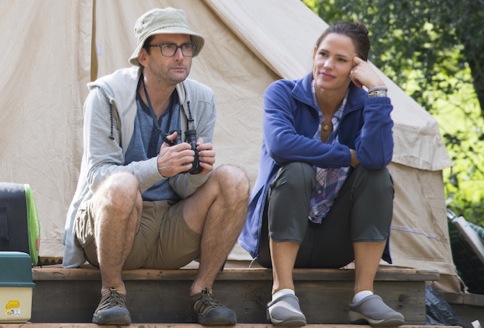 Into the wild: David Tennant/Jennifer Garner in Camping. HBO photo
Premiering:
Sunday, Oct. 14th at 9 p.m. (central) with back-to-back episodes on HBO
Starring:
Jennifer Garner, David Tennant, Juliette Lewis, Chris Sullivan, Janicza Bravo, Brett Gelman, Ione Skye, Duncan Joiner, Cheyenne Haynes
Produced by:
Lena Dunham, Jenni Konner
By ED BARK
@unclebarkycom on Twitter
The Great Outdoors comes down with a case of seemingly incurable human infestation in HBO's
Camping
, in which Jennifer Garner segues from those cheery Capitol One commercials to star as a scrunch-faced Debbie Downer with a self-described "dysfunctional pelvic floor."
All of which means that her sexually deprived husband, played by David Tennant, hasn't made a tent pole in his pants for the last two years by his count. So beware of hiking into a would-be comedy series co-executive produced by Lena Dunham of
Girls
fame and Jenni Konner, the head show runner of that series. What you'll experience, during the four episode made available for review, is marginally more pleasant than poison sumac disease. But please don't hold me to that. There are eight episodes in all.
Kathryn McSorley-Jodell (Garner) is the very rigid organizer of what's supposed to be a nature-centric getaway in celebration of husband Walt's (Tennant) 45th birthday. She's reserved a small tent park from a pair of burly lesbians who try to arm her with a BB gun to ward off the wild bears. Kathryn recoils in horror. And away we go.
Their fellow campers are Walter's brother, George (Brett Gelman) and his wife, Nina-Joy (Janicza Bravo); Kathryn's sister, Carleen (Ione Skye) and her boyfriend, Joe (Chris Sullivan from
This Is Us
); and an unexpected mega-free spirit named Jandice (Juliette Lewis), who's along for this ride with Miguel (Arturo Del Puerto) after his wife left him. Walt and Kathryn also have a put-upon pre-teen son, Orvis (Duncan Joiner) while Carleen and Joe are accompanied by an insolent teen girl Sol (Cheyenne Haynes).
Lewis, as she is wont, throws herself into this role with an early full frontal skinny dip after Kathryn has insisted that this particular day is for bird-watching. The others, save for Kathryn, jump in to join her. Wah-wah, that's the end of Episode 1.
Orvis later is "injured" in one of those ridiculously staged jump-around football games, prompting Kathryn to rush him to a nearby medical facility and dote on the poor unhurt kid for the rest of Episode 2. Everyone else, save for hangdog Walt, takes off to a bar to drink jelly donut shots at ribald Jandice's insistence. But fisticuffs almost break out when George learns that Joe, a recovering addict, has called his wife "Li'l Chocolate."
Episode 3 begins with an odd and wholly gratuitous scene in which Carlene is shown fully naked while taking a shower. Dunham became somewhat infamous for her drop-of-the-hat nude scenes in early seasons of
Girls
. So maybe that explains it, although if the producers of this series were men, they might well be called on the carpet for what can be seen as pure sex-ploitation in the #MeToo era.
Garner's character remains a rigid sourpuss until Episode 4, when Jandice mistakenly gives her an upper instead of a downer to help her sleep. But even a wired Kathryn isn't all that much fun.
It's hard to discern the overall intent here. Most of the characters are either sad sacks or in Jandice's case, demonstrably unhinged. But whatever situations they're put in,
Camping
all in all is less fun than waves of dive-bombing mosquitoes. Hell, even a good ol' baked bean-infused fart-fest around the campfire would be a welcome diversion. But a
Blazing Saddles
intervention seems unlikely.
GRADE:
C-minus
Email comments or questions to:
unclebarky@verizon.net