First impression: the opening episode of TNT's Dallas re-do shouldn't have anyone hangin' their heads
12/19/11 01:50 PM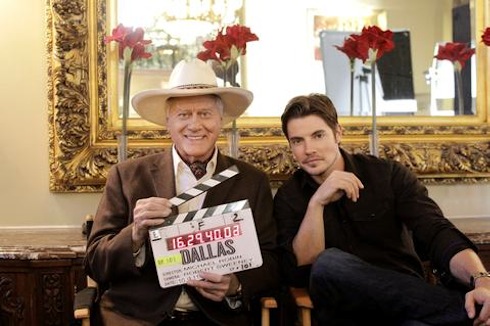 Larry Hagman and his TV son launch filming of new Dallas. TNT photo
By ED BARK
TNT's new version of
Dallas
won't be premiering until sometime next summer. But the network already has the opening episode completed, and sent it to TV writers in advance of the cast's scheduled appearance at January's network TV "press tour" in Pasadena.
This won't be a full review by any means. Instead consider it an extended first impression. And in that context,
Dallas
will be getting off to a high, wide and handsome re-start, beginning with a jolt of an early scene in which one of the principal characters gets some life-changing news that propels the rest of the action.
To tell more would be a "spoiler," and TNT sent the review DVD out with a request that not too much be given away. So we'll respect that because most prospective viewers indeed will want to see for themselves rather than have key elements spilled out.
The famed
Dallas
theme song remains in place, with Reunion Tower still a key player along with updated visions of both Jerry's Palace and Rangers Ballpark. The pilot episode's closing scene also originates from the palatial home of the Cowboys, with two characters striding purposefully to the big blue star on the 50 yard line in a meeting of devious minds.
Original cast members Larry Hagman, Patrick Duffy and Linda Gray are returning to their most famous roles, as most everyone knows by now. But Duffy has five or six times as much screen time -- in the opener at least --- than either Hagman or Gray.
The younger Ewings, particularly J.R. and Sue Ellen's son, John Ross (Josh Henderson), shoulder a good part of the show's trademark conniving. Very basically put, the flash point is a war over Southfork Ranch, which Bobby wants to sell to a protective conservancy while John Ross is intent on exploiting a major new oil discovery. As Bobby puts it, "I promised momma there would be no drilling on Southfork." Well, we'll see about that.
It's a briskly entertaining hour, although the city proper is very little-seen -- if seen at all -- after the opening credits roll. Most of the outdoor action is set at Southfork, site of a big planned wedding for Bobby's adopted son, Christopher (Jesse Metcalfe) and his sexy and seemingly sweet fiancee, Rebecca Sutter (Julie Gonzalo).
Meanwhile, John Ross has taken up with Christopher's ex-girlfriend, Elena Ramos (Jordana Brewster). She's the daughter of the Ewing family cook, Carmen. And unlike the original
Dallas
, this Hispanic hired helper actually has some speaking lines. There's even a black sheriff deployed in an effort to spike the show with at least a spattering of diversity.
Duffy as Bobby makes a very game effort to breathe new life into the character while Hagman warms slowly to the challenge of again playing the devil incarnate. That's because early scenes find him silently suffering from clinical depression for reasons that go unexplained. But he's back to his old self in due time, noting that "I'm the one who belongs on Southfork. It's mine and only mine . . . Bobby may not be stupid. But I'm a helluva lot smarter."
Gray has the least to do in Episode 1, but does have a galvanizing scene in which she makes it clear who's side she's on. There also are brief cameos from two of the original's old hands, Steve Kanaly as foreman Ray Krebbs and Charlene Tilton as Lucy Ewing.
A passing reference is made to "that idiot, Cliff Barnes," but so far there's no Ken Kercheval. Victoria Principal's also out of the mix, but Brenda Strong of
Desperate Houswives
fills in very ably as Bobby's new wife, Annie.
It all plays much better than one might expect, given the
overblown trailer
that TNT previously made public. Maybe
Dallas
does in fact have a second wind -- with a mix of new and old Ewings now battling for bragging rights, land, lucre and booty.
"I am sick to death of this family devouring itself over money!" Bobby rages. Yeah, like that's gonna change. TNT's
Dallas
will see to it that the Ewings keep eating each other alive. And its all-important first episode manages to stir the pot and then some.