Unable to participate: otherwise Mike Wallace would have been part of Sunday's 60 Minutes tribute to Don Hewitt
08/24/09 12:03 PM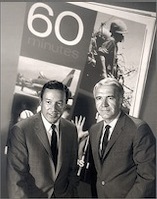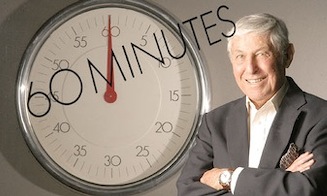 Anchors Mike Wallace/Harry Reasoner and creator Don Hewitt.
By ED BARK
Sunday's
60 Minutes
tribute to the program's creator, Don Hewitt, was notable for its absence of new comments from its other driving force, Mike Wallace.
Wallace, a charter anchor of
60 Minutes
with the late Harry Reasoner, could not participate because of health reasons, a CBS News spokesman said by telephone Monday.
The 91-year-old Wallace is "being challenged by the constraints of old age," the spokesman said. "He hasn't done any interviews for some time now."
Wallace, who currently lives on Martha's Vineyard, had triple bypass surgery in late January of 2008, shortly after his headline-making interview with Roger Clemens over allegations that the dominating pitcher had used steroids. That was Wallace's last appearance on
60 Minutes
and he's now fully retired from the program, the spokesman said.
Sunday's tribute relied on old footage of Wallace, who was and always will be
60 Minutes
' most famous gumshoe. The tribute also included fresh interviews with correspondents Morley Safer, Steve Kroft and Lesley Stahl, plus a closing commentary by Andy Rooney.
Another of the program's stalwarts, Dan Rather, wasn't asked to contribute to the Hewitt remembrance. Rather has an ongoing lawsuit against CBS News in connection with the now infamous "Memogate" story that questioned George W. Bush's Texas National Guard service. The piece aired on the since canceled
60 Minutes Wednesday
during the stretch run of the 2004 presidential campaign.