Alex, Inc. finds Zach Braff back in prime-time, this time as a family man on (where else?) ABC
03/27/18 10:56 AM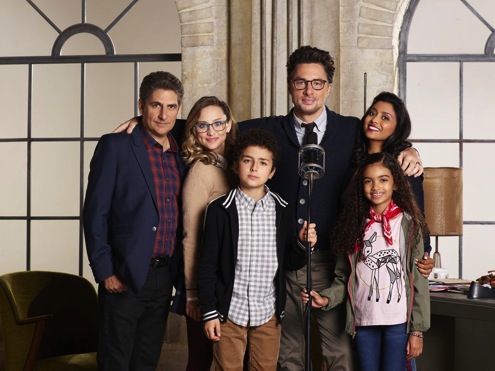 TV vets Michael Imperioli, Zach Braff are the front men of Alex, Inc..
ABC photo
Premiering:
Wednesday, March 28th at 7:30 p.m. (central) on ABC
Starring:
Zach Braff, Michael Imperioli, Tiya Sircar, Hillary Anne Matthews, Elisha Henig, Audyssie James
Produced by:
Matt Tarses, Zach Braff, John Davis, John Fox, Alex Blumberg
By ED BARK
@unclebarkycom on Twitter
Disney-owned ABC is the polar opposite of NBC when it comes to mom, dad and the kids comedies.
Not a single one of the Peacock's sitcoms this season, whether new or returning, puts a family or families at the forefront of its overall premise. All but one of ABC's laughers has parents and their kids on prominent display. And the lone exception,
The Mayor
, has already been discarded.
That's not a value judgment, but it's certainly a striking contrast. Until this week, ABC's sitcom roll call went like this:
Modern Family, The Middle, black-ish, The Goldbergs, Speechless, American Housewife
and
Fresh Off the Boat
. And now the network has added three more, with the
Roseanne
revival and
Splitting Up Together
premiering Tuesday, and
Alex, Inc.
launching Wednesday. That's a grand total of 10 kindred comedies, with roughly three times as many kids in this mix. ABC's not Mickey Mouse-ing around.
Zach Braff, principal star of
Alex, Inc.
, was anything but a family man in his last TV series venture, NBC's
Scrubs
. He returns, after an eight-year absence, as radio journalist Alex Schuman, who's grown weary of telling sappy tales on a show called
Cheer Up
. So he impulsively quits in hopes of launching his own more engaging podcast with help from
Cheer Up
producer Deirdre (Hillary Anne Matthews) and a wise guy second cousin named Eddie (Michael Imperioli).
"Roonie, this is my moment," Alex tells his supportive Indian wife, brightly played by Fort Worth native Tiya Sircar. She's a Manhattan public defender, and they have two children, Ben (Elisha Henig) and Soraya (Audyssie James).
The series shifts back and forth from home front to workplace in the three episodes made available for review.
Alex, Inc.
is at its best, though, when the parents and their kids are interacting. Ben, a budding illusionist, proves to be a scene-stealer, save for when his little sister one-ups him at school in Episode 3.
"Too bad you didn't get this multicultural skin, or a name like Soraya," she tells her brother in Episode 3 after Ben envies the sex appeal of a classmate who flaunts his ethnicity.
Alex, Inc.
isn't preachy in this respect -- even when Roonie's demanding old-school mother pays an impromptu visit, also in Episode 3. By the end of this half-hour, Alex finally has a name for his company. You'll see it coming, because the show also can be predictable in the ways its conflicts are resolved.
The workplace sparring between cousin Eddie and Deirdre doesn't provide
Alex, Inc.
with its finest moments. "She gets an F in boobs," he says of her during their battles to one-up one another for the right to
not
sit in the unstable "tippy chair."
Deirdre also has a crush on Alex, noting that it's her job to get the "special sauce" out of him as a storyteller.
"You say filthy things without realizing it. I like you," Eddie ripostes. And that's a pretty good riposte.
Braff generally wears glasses while at work, and at times talks in a semi-nebbish Woody Allen whine -- whether he realizes it or not. He also can be rather clumsy, afflicting the show with a few forced pratfalls.
Still,
Alex, Inc.
is an enjoyably comfy fit among all of those fellow ABC family comedies. Braff and Imperioli are the name brands, but the wife and kids quickly make their own strong and appealing impressions. In Episode 2, the workplace sniping simply can't compete with mom making a mess of Ben's Abe Lincoln costume by using mismatched socks for a beard.
"You look like a tiny rabbi who got stuck in the dryer," Alex riffs. But Rooni regroups and soon has Ben in an Eleanor Roosevelt outfit for a school competition. And you really should make a point of seeing that.
GRADE:
B
Email comments or questions to:
unclebarky@verizon.net