NEW SEASON: ABC's No Ordinary Family is no extraordinary series
09/28/10 06:15 AM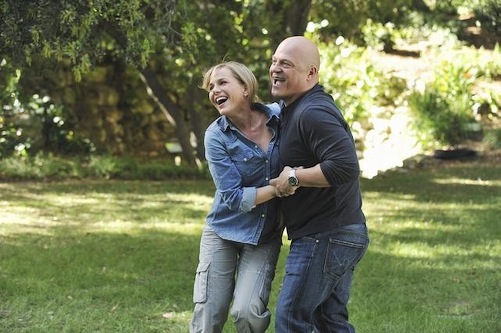 Julie Benz & Michael Chiklis seem to like their new venue. ABC photo
Premiering:
Tuesday, Sept. 28th at 7 p.m. (central) on ABC
Starring:
Michael Chiklis, Julie Benz, Kay Panabaker, Jimmy Bennett, Stephen Collins, Romany Blanco, Autumn Reeser
Produced by:
Greg Berlanti, Jon Harmon
By ED BARK
Last seen as swaggering, scowling, intimidating Vic Mackey on
The Shield
, Michael Chiklis is now an angst-prone married father of two with an unfulfilling career. "Who am I? A failed painter? An ineffectual police artist?" he laments to a co-worker.
Last seen dead in a tub of blood on
Dexter
, Julie Benz is now a workaholic executive vice president of research who devotes more time to her job than her husband and kids.
Their respective acting U-turns take them to ABC's
No Ordinary Family
, the network's last realistic chance to emerge with a legitimate hit new fall series after tepid early returns for the likes of
My Generation, The Whole Truth, Better With You
and
Detroit 1-8-7
.
It's a watchable but hardly extraordinary fantasy-drama that resorts to familiar ABC territory in an early scene. That would be an empowering plane crash, which leaves the four members of the Powell family with distinct super abilities that can be used to fight crime, eavesdrop, get somewhere in a big hurry or -- in the parents' case -- ramp up a flat-tired sex life.
Tuesday's first episode begins with talk-to-the-camera narration from Jim Powell (Chiklis), who tells viewers rather generically, "Every story has a beginning. But ours doesn't start the way you might think."
Powell otherwise yearns to "do something together as a family," and in fact is too earnest with these repeated proclamations to engender much sympathy from viewers -- or his family. But they agree on a vacation trip to Brazil and an eventual eventful overhead tour of the Amazon rain forest. It ends with the Powells deposited in a magical body of water while their pilot not only misses out on the super powers but winds up dead.
Safely back home, Jim learns through trial and error that he can catch speeding bullets, leap tall buildings in a single bound and bench-press 11,000 pounds. Wife Stephanie (Benz) discovers she has super-speed and temperamental daughter Daphne (Kay Panabaker) gets the initially unwanted Sookie Sackhouse consolation prize of being able to hear people's thoughts.
Daphne's younger, picked-on brother JJ (Jimmy Bennett) notices nothing different about himself until an end-of-the-episode classroom scene. The producers of
No Ordinary Family
would prefer to keep you guessing, so we'll leave it at that. Another late-in-coming but consequential "reveal" injects some intended danger and intrigue into future storylines. You may not see it coming, and then you might wish it hadn't arrived. I'm not sure if it will serve the series all that well.
The producers also induce a curious sub-plot in which "psychos in Obama masks" are robbing at will. Chiklis' character has a showdown with them, throwing one against a wall before another shoots him in what proves to be a somewhat vulnerable spot. There's always the danger that Fox News Channel will interpret this as an actual event, warning viewers that sinister clones of the President -- manufactured in a secret White House stem cell lab -- are bent on running roughshod over truth, justice and the American way. Meanwhile, MSNBC might say that the administration has no choice but to accomplish its noble goals by any and all means necessary, including armed robberies of fat cats who don't pay enough taxes. Stay tuned.
No Ordinary Family
will have to face off against two very potent competing hours -- CBS'
NCIS
and Fox's
Glee
. The premiere episode, book-ended by Chiklis' clunky narratives, strives more than a little too hard to be both meaningful and entertaining.
Heroes
had an awesome first episode before gradually unraveling. Maybe this one instead will find its footing in future hours. For starters, it's merely so-so.
GRADE:
C+