George Lopez hits the fast track with FX's Saint George
03/04/14 03:53 PM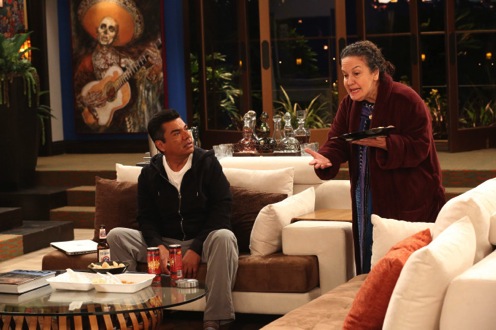 Mama Alma dishes out insults while son George absorbs 'em. FX photo
Premiering:
Thursday, March 6th at 8 p.m. (central) on FX
Starring:
George Lopez, Jenn Lyon,Olga Merediz, Diana Maria Riva, David Zayas, Danny Trejo, Kaden Gibson
Produced by:
Matt Williams, George Lopez, David McFadzean, Dete Meserve, Judd Payne
By ED BARK
@unclebarkycom on Twitter
The so-called "10/90 model" is code for assembly line comedy on a bullet train schedule in order to reach the magic 100-episode syndication mark in roughly one-third the time it traditionally has taken.
Following the lead of TBS' Tyler Perry sitcoms, FX has its own speed racer in play with Charlie Sheen's
Anger Management
. The network also has ordered a Kelsey Grammar/Martin Lawrence "buddy comedy" that has yet to be titled. While it warms up in the bullpen, FX launches George Lopez's
Saint George
on Thursday, March 6th in the slot preceding
Anger Management
.
Ten episodes initially have been ordered. And if a certain "ratings threshold" is reached, FX will green-light 90 more half-hours to be taped at a clip of roughly 45 per year. That doesn't give anyone much time to exhale let alone fine-tune the scripts and performances. So the first and perhaps less-rushed episode of
Saint George
may be about as good as it's gonna get. Which turns out to be not very.
The sex jokes fly furiously when George's character, conveniently named George Lopez, isn't being verbally slapped around by his battle-ax live-in mom, Alma (Olga Merediz). She begins the opening episode by calling her son "fat, boring and stupid" before ending it by calling him a "fat ass." Alma really knows how to nurture a guy.
George is recently divorced from his blonde, beautiful Anglo wife, Mackenzie (Jenn Lyon), with whom he has a nerdy-looking 11-year-old, very white son named Harper (Kaden Gibson). He's been out of the dating pool for quite a while but is making strides as an entrepreneur whose energy drink is now the world's No. 5 bestseller. George plans to next market it in the Philippines. Alma sniffs, saying that people whose only skill is making baskets with their feet will now be able to make them faster. The laugh track approves that message.
Beaten down by his mom and twitted by his ex-wife, George seeks solace as a night school history teacher in downtown L.A. The moderately attractive assistant principal, Concepcion (Diana Maria Riva), thinks he's ripe for the picking.
"You know, every time you see me, you hit on me," George protests.
"Then let me hit it and I'll quit hittin' on you," she fires back, adding, "I know you've undressed me with your eyes."
Meanwhile, George's randy Uncle Tio (Danny Trejo) and cousin Junior (David Zayas from
Dexter
), are hell bent on getting him back into the dating mix. Junior takes a selfie of his penis in an effort to stand in for George in the "sexting" department. George is chagrined, because it looks "like a flaccid Tootsie Roll."
Lopez is a pro, though. And his avid fan base may be enough to take
Saint George
to the promised land. The show's roster of executive producers, besides Lopez, includes ring wise Matt Williams, who previously helmed two of ABC's all-time sitcom success stories,
Roseanne
and
Home Improvement
.
Williams and Lopez are certainly capable of churning this stuff out and cashing in before the Hollywood sun sets on them. Just don't expect much, if any, craftsmanship. But do expect to hear a lot from Mama Alma, whose tagline apparently is going to be, "Can I tell you something and you won't get mad?"
She then slams home the premiere episode's last line: "That's what the dating world needs. Another fat ass out there." She says this out of love, of course. Cut, print and let's get the hell out of here.
GRADE:
C-minus
Email comments or questions to:
unclebarky@verizon.net