Cinemax's Hunted offers quantum espionage
10/18/12 01:39 PM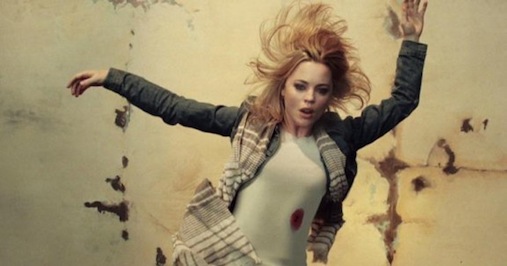 Melissa George gives as good as she gets in Hunted. Cinemax photo
Premiering:
Friday, Oct. 19th at 9 p.m. (central) on Cinemax
Starring:
Melissa George, Adam Rayner, Stephen Dillane, Adewale Akinnuoye-Agbaje, Stephen Campbell Moore, Morven Christie, Lex Shrapnel, Patrick Malahide
Produced by:
Frank Spotnitz
By ED BARK
@unclebarkycom
Tough as Nikita and arguably more traumatized, operative Sam Hunter comes to Cinemax with the tagline "Never Make An Agent The Enemy."
She's the badly wronged woman driving the action in
Hunted
, an eight-episode espionage yarn presented in Cold War-ish washed-out colors. Cinemax sent the entire series in the mail. But even super-dutiful TV critics might be hard-pressed to find that much time amid all the other reviews begging to be written. Last I heard, you're supposed to have a life, too. So I watched the first two hours.
Hunted
so far alternates between furious action, slowly paced interludes and flashbacks that tend to get repetitive rather than instructive. Creator Frank Spotnitz, who's also the head executive producer, is accustomed to taking his time after spending a lot of time on
The X-Files
. He wrote 48 episodes of that series and also has delved into a number of other dark dramas, including
Millennium
and
Harsh Realm
.
Melissa George, a Golden Globe nominee for HBO's
In Treatment
, stars as the No. 1 field operative for a private intelligence and security firm known as Byzantium. After an opening nude scene in Tangier, she's targeted in a complex double-cross that leaves her seriously wounded before events move forward one year.
By this time, Sam is getting back up to speed via rigorous workouts and breathing exercises in a remote location. No one at Byzantium has had any idea of her whereabouts -- which is more than a bit of a stretch -- until Sam saunters back into headquarters in anticipation of resuming where she left off. She also plans to find out who set her up.
"Did you think about the chaos you've unleashed?" asks the icy Byzantium maestro (Stephen Dillane as Rupert Keel).
"Do I get my job back?" she asks in turn.
Well, yes, but she'll be on a short leash. And Sam also will be the point woman in an undercover operation aimed at infiltrating the home of up-to-no-good multi-millionaire Jack Turner (Patrick Malahide). He has a nefarious "game" in play, and an undisclosed secret Byzantium client is willing to pay lots of money to thwart him. One of Jack's associates is sinister Dr. Horst Goebel (Peter Vollebregt), whose specialty is plunging needles into eyeballs.
Hunted
will spend its entire eight hours sorting all of this out, and ample patience will be required to reach that point. This is no walk in the park, and certainly not on the level of
Gorky Park
. Plus, some of the machinations that get Sam into the Turner estate -- as schoolteacher "Alex Kent" from Indiana -- are quite simply not to be fully believed.
While Sam searches for information on Jack Turner, his far more gentle-minded son Stephen (Stephen Campbell Moore) increasingly is taking a liking to her. She's the first person that Stephen's 10-year-old son, Eddie (Oscar Kennedy), has connected to since losing his mother. It also helps that Sam "rescued" the kid from a passel of Byzantium operatives playing fake kidnappers.
The team has now set up shop from afar, surveying goings-on in the Turner estate via hidden cameras cleverly arranged by Sam. When not sneaking around -- or engaged in fierce hand-to-hand combat on a side trip -- she regularly flashes back to the day her mother was murdered at a gas station while eight-year-old Sam watched in horror. No wonder she still broods a lot, with actress George's pouty lips regularly called on to work overtime.
The script is meant to be taut, but at times can be hackneyed. As when veteran Byzantium agent Deacon Crane (Adewale Akinnuoye-Agbaje) informs newcomer Ian Fowkes (Lex Shrapnel), "Speculation leads to assumption. Assumption leads to mistakes and mistakes will get you killed. You understand?"
Cinemax, HBO's longtime sister network, is striving to make a mark with its own latter day wave of original series.
Strike Back
was the first and
Banshee
(from
Six Feet Under/True Blood
creator Alan Ball) is set for a January 2013 premiere.
Hunted
may be too byzantine to gain traction on Friday nights, when many a tired, brain-weary viewer wants to relax rather than be overly taxed. The fight scenes are easily digested but those down times can really make your head hurt.
GRADE:
C+
unclebarky@verizon.net