CNN spotlights The Sixties in a 10-part docu-series that begins with TV's role
05/29/14 08:42 AM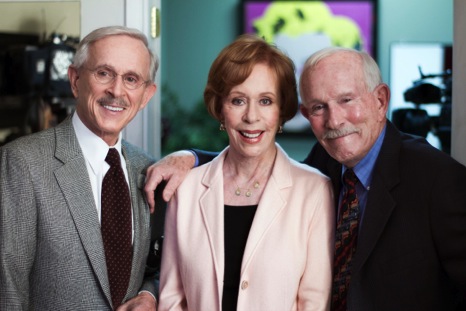 Carol Burnett flanked by Dick and Tom Smothers. CNN photo
By ED BARK
@unclebarkycom on Twitter
The new CNN tends to go "all in," and is still being ridiculed for its blanket, nothing-else-matters coverage of missing Malaysian Flight 370.
New developments on that front -- or no developments at all -- could waylay or delay the network's latest gambit. But on paper at least, CNN will be devoting a prime-time portion of every Thursday through August 7th to its 10-part dissection of
The Sixties
.
Produced by Tom Hanks, Gary Goetzman and Mark Herzog, it begins on
Thursday, May 29th at 8 p.m. (central)
with the one-hour "Television Comes of Age." Hanks himself book-ends this serviceable, talking heads/illustrative clips treatise with a pair of all-encompassing quotes.
"I don't remember a time without TV," he says at the start. "Television changed absolutely everything," he declares at the end.
The overall point is to make an overriding case that the much-maligned "boob tube" finally joined the real world during the tumultuous '60s. And that's certainly true to a point. TV united the nation during the assassination of John F. Kennedy, divided it with live coverage of the fractious, violent 1968 Democratic National Convention in Chicago and put it all back together again with those live, jaw-dropping pictures of astronaut Neil Armstrong making the first human imprints on the moon (and also providing the unifying theme for last Sunday's episode of
Mad Men
.
This also was the decade of interracial casting in starring roles via the drama series
I Spy
and the sitcom
Julia
. On the variety show front,
Laugh-In
and
The Smothers Brothers Comedy Hour
injected politics and social commentary into the venerable format while Carol Burnett, Dean Martin and Ed Sullivan simply aimed to entertain. And in late night,
The Dick Cavett Show
became a forum for provocative conversation while Johnny Carson played to the mainstream and methodically drove all of his competitors out of business.
"The world found its way in. It just had to," says producer Phil Rosenthal, whose best-known series,
Everybody Loves Raymond
, was more of a conventional throwback family sitcom than a trailblazer.
CNN also has new interviews -- some of them barely snippets -- with the likes of Burnett, the Smothers Brothers, Cavett,
Laugh-In
creator George Schlatter,
Julia
star Diahann Carroll,
Breaking Bad
creator Vince Gilligan, Sally Field, Dan Rather, Morley Safer, Petula Clark and four East Coast-based TV critics. Veteran and longtime friend David Bianculli, who recently wrote a book on The Smothers Brothers, easily gets the most air time of this quartet. But Rosenthal has the glibbest quote on TV-watching. "I didn't have color television until I was 16 years old," he says. " Yes, I lived like an animal."
Many of the clips are familiar and oft-played on retrospectives such as this. But some are still under-exposed, including Bill Cosby's acceptance speech after winning an Emmy Award for his role in
I Spy
. "Let it be known to the bigots and the racists that they don't count," he concluded. (Cosby won three straight Emmys as intelligence agent Alexander Scott in
I Spy
. More certainly would have come his way, but he refused to enter himself for his signature role as Cliff Huxtable on
The Cosby Show
.)
Television in the 1960s was still mainly hidebound, though. The CNN film makes no mention at all of either
Bonanza
(the No. 1-rated show from 1964-'67) or
The Beverly Hillbillies
(No. 1 from 1962-'64). It wasn't until the 1968-'69 season that
Laugh-In
became prime-time's most popular series. But the rest of TV's Top 10 was still pretty much made up of same-old, same-old:
Gomer Pyle, U.S.M.C.; Bonanza; Mayberry R.F.D.; Family Affair; Gunsmoke; Julia
(the notable exception);
The Dean Martin Show; Here's Lucy
and
The Beverly Hillbillies
.
There's much ground to cover, though. And "Television Comes of Age," in less than 45 minutes minus commercials, can't be expected to cover everything. Future chapters of
The Sixties
will offer more in depth looks at the JFK assassination, the pivotal year of 1968, the Vietnam War and the space race.
The final segment, August 7th's "Sex, Drugs and Rock 'N' Roll," charts the decade's wild swings in popular culture. One-hour running times hold for everything except June 12th's "The Assassination of President Kennedy" and June 26th's "A Long March to Freedom," both of which get two hours.
Whatever the topic, it would be nice if CNN would take that big block-lettered "FOR SCREENING PURPOSES ONLY" off of any future review DVDs. Instead it squats down and stays there for the entire "Television Comes of Age." The frequent use of time codes and other print disclaimers make for far too much clutter. TV critics are used to "rough cuts," but this was the worst I've seen -- or at times tried to see. Here's an example from Carson's
Tonight Show
after guest Ed Ames (then co-starring on NBC's
Daniel Boone
series) got one of the longest sustained laughs in TV history by hitting a cowboy drawing in the crotch with a tomahawk throw.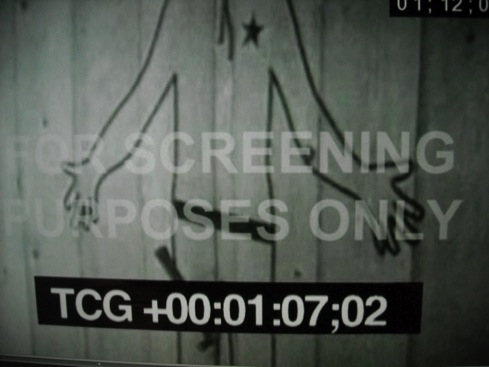 GRADE FOR "TELEVISION COMES OF AGE:"
B
GRADE FOR QUALITY OF REVIEW DVD:
F
Email comments or questions to:
unclebarky@verizon.net