NBC's Camp packs an adult punch in addition to mosquito repellent
07/09/13 12:19 PM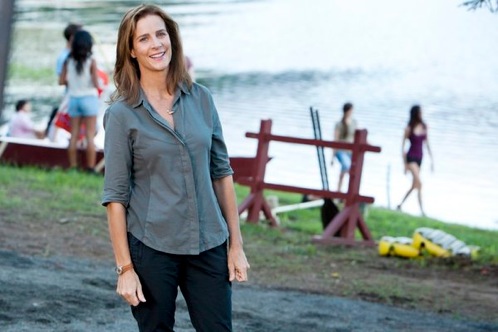 Rachel Griffiths heads the cast of summertime's Camp. NBC photo
Premiering:
Wednesday, July 10th at 9 p.m. (central) on NBC
Starring:
Rachel Griffiths, Rodger Corser, Thom Green, Charles Grounds, Nikolai Nikolaeff, Lily Sullivan, Dena Kaplan, Tim Pocock, Natasha Bassett
Produced by:
Liz Heldens, Peter Elkoff, Gail Berman, Lloyd Braun, Eugene Stein
By ED BARK
Ah, the joys of summer camp.
Swimming, Capture the Flag, talent night, mosquito bites, bullying, being caught masturbating by your mom . . .
The latter event, which won't occur until the July 31st episode, is one of the reasons why NBC's
Camp
is scheduled at the unusually late hour of 9 p.m. (central). Although heavily populated with tweens and teens, this is something of an adult "dramedy" starring Rachel Griffiths of
Six Feet Under
fame as the newly divorced proprietor of the struggling Little Otter Family Camp.
Ten episodes have been ordered, and this is a reasonably pleasant surprise quality-wise for viewers who were expecting junk on the bunk. The situations and story lines are no more complex than a pup tent. But Griffiths, as oft-vexed but ever-nurturing Mackenzie Granger, gives
Camp
a little heft in the midst of all those young love triangles and coming-of-age yearnings.
Some of the kids are all right, though. Kip Wampler (Thom Green), one of several counselors-in-training, is a brainy, bookworm-y leukemia survivor who declares to his well-meaning dad, "I'm not changing who I am to conform to some freakish outdoors-y cult mentality."
But his resistance is soon tempered by cute Marina Barker (Lily Sullivan), a kindred spirit and fellow CIT who for some reason is immediately ostracized and hazed by a trio of resident mean girl counselors.
Mackenzie's son, Buzz (Charles Grounds), likewise feels like an outsider. So the three of them bond while returning counselors Robbie Matthews and Sarah Brennen (Tim Pocock, Dena Kaplan) continue to sort out their feelings for one another during the course of making love, smoking pot and enjoying adult beverages.
Sarah, the most appealing character in the regular cast, still takes regular dips in the adjacent lake. This enables her to swim right into a paddle being stroked by a hunky, successful author who's using the posh, nearby Ridgefield Lodge as a retreat. She tells him of being an Olympic swimming hopeful until losing her scholarship. Both might as well have "Smitten" tattooed on their foreheads.
Mackenzie's carefree boob of an ex-husband also is part of the mix. But her enabling of him is counter-balanced by a growing attraction to jaunty, cocksure Roger Shepard (Rodger Corser), owner of the Ridgefield Lodge and eager to buy the comparatively ratty Little Otter camp and remake it to his specifications. Meanwhile, a twentysomething camp handyman named Cole (Nikolai Nikolaeff) wants her to want him instead.
Mackenzie otherwise hangs out with the male gay parents of a camp kiddo and a married female friend who keeps carping about how bad her husband is in the sack. This is quite an encampment all in all. Have we mentioned that young counselor Robbie's mom is a hard-core gambling addict who keeps disappointing him?
Meanwhile, Kip pines for Marina but she increasingly has eyes for someone else. This leaves him with an off-and-on consolation prize, the vacuous, self-absorbed Chloe (Natasha Bassett). But even she is perhaps a bit misunderstood.
Camp
is buoyed by the rooting interest a viewer might develop for several of the principal characters. Griffith's Mackenzie deserves some happy days, as do Kip, Buzz, Marina, Robbie, Sarah, perhaps Chloe and maybe even Roger.
What emerges, in the three episodes made available for review, is an accessible, easily imbibed summertime series that basically beats actually going to camp for an entire gut-wrenching summer. So c'mon in, the water's not bad once you get used to it.
GRADE:
B-minus
Email comments or questions to:
unclebarky@verizon.net